SLIVOCHKA GUESTS COMMENTS
Virgin Islands Charter June 12, 2019 Charter
We had an amazing time! The boat was very well appointed and perfectly
accommodated our group. Dylan and Isabella were incredible. They were
knowledgeable, interesting, professional and just fun to be around. Bella is an
amazing chef and all of her food was delicious. We were all baffled by how she
cooked such gourmet meals in such a small space. Dylan did an excellent job
leading our dives and providing a fun and safe environment for all.

This really is an incredible vacation for anyone. It is so relaxing, rejuvenating and
a genuine break for day to day life.

The meals were so delicious that one of the kids wanted to propose to Bella! The
food was perfect. Bella did an amazing job working around the needs of
someone with a nut allergy and a pescatarian. The meals were interested and
beautifully presented. She was very mindful of our preference sheet.

The yacht was beautiful. It was clean, well-maintained and well appointed. The
provided toiletries were high end and very much appreciated. Everyone loved the
Sun Bum sunscreen and it was soo nice not to bring all that along. The cabins
were comfortable and the AC was great. We loved sitting on the upper deck on
our sails. It would have been a bit nicer if there was a little more shade up there
but it was not a issues. It was nicely situated next to the captain and it provided
a nice opportunity to talk with Dylan and Bella while crossing. There were plenty
of other shaded options on the boat.
We loved the coffee machine, snacks and fruit that were always out and
available. It was also super helpful to have the "lost & found" basket and the
sunglasses basket. Great idea!
The games and books were also a nice touch.

Our diving was a highlight for our family. We did two dives that were very fun.
Dylan and Bella worked seamlessly to get the equipment out, get us oriented
and prepared for the dive. Dylan did a great job reviewing skills (especially for
our kids), the dive plan and signals before were dove. We loved both the Indians
Dive and the octopus wreck dive.

The pace was a perfect balance of relaxing and active. We loved swimming,
snorkeling, diving, reading, paddle boarding, playing games & hanging out. The
cruising gave us the perfect amount of downtime between all the fun.
March 2019
After Charter Survey

What was your first impression of the yacht? = Immaculate
Was advertised equipment onboard and in good condition? - Yes
Did the skipper/hostess make you feel welcome and comfortable onboard? - Yes
Did you feel free to choose activities? - Absolutely

Please provide specific comments regarding your skipper and hostess. - They were both wonderful! We planned out where we would go, dive etc. with Dylan. Isabella was an amazing cook! She took us snorkeling and made sure we were all together. This was our 3rd time doing this and our best trip by far.

Were the meals and beverages as you expected? - Yes, even better! The food and wine were amazing. They waited on us and took care of our boys when they were hungry in between meals.
If you made any special requests were they met? - Yes.

Was this your first visit to the BVI? - No, 3rd by boat

Would you recommend this yacht for a charter vacation? - Absolutely

Dominique Charter: 28th April - 6th May 2018
"We just returned from an amazing week long private charter in the BVIs on the Slivochka with Dylan as our captain and Isabella as our first mate/chef. It was one of my favorite vacations ever and first ever chartered yacht experience. Captain Dylan worked with us in the planning stages to find out exactly what our interests were and charted the perfect itinerary for our week. He found the most awesome places to show us the amazing beauty of the BVIs. He gave us options throughout the trip and accommodated everything our group wanted to see and do. He guided us on snorkel and hike excursions and was a wonderful host. Isabella was equally knowledgeable and also made suggestions along the way of things to see and do. She also joined us snorkeling, but happens to be a trained dive master. She was the most gracious host, and made our week extremely comfortable. However, her gourmet cuisine was something we looked forward to each day. Her skills as a chef allowed us to dine as if we were at a 5 Star restaurant. She also consulted with us before the trip about our food preferences, and her menu for the week exceeded our expectations. I frankly don't know how she was able to prepare what she did on board because each meal was simply amazing. She does so much behind the scenes that I don't know when she slept. Together, they are the perfect team and made our week at sea the most memorable and outstanding vacation, that I will be booking our next charter with them. Thank you Captain Dylan and Bella for all that you did for us. We loved getting to know you and being on board Slivochka. "
February 2018
We are three reasonably well traveled couples who just finished a most extraordinary and delightful vacation, sailing with Slivochka through the British Virgin Islands. This week long cruise on the yacht Slivochka far exceeded our expectations making it one of our best vacations ever. The three most important factors in chartering a full-service yacht are the crew, the boat, and the itinerary. Beginning with the crew, they were outstanding. Prior to our arrival they had telephoned to discuss our plans. Upon arrival they warmly welcomed us on board Slivochka with cocktails and snacks. They were both so friendly and hospitable that by the end of our cruise they were a part of our family. Dylan was an extremely competent and knowledgeable captain, always finding sheltered anchorages for us to swim and snorkel. He also made all the arrangements for any shore excursions that we enjoyed. For anything that we wanted we simply had to ask Dylan.

The meals were exquisite. She is a fantastic cook and each day's offerings included fresh produce and salads, deliciously prepared grilled fish or meat and even some imaginatively created themed dinners. A special memory was when they joined us on Anegada for a lobster dinner in an outdoor restaurant under the full moon. They were such accommodating and congenial traveling companions who took such excellent care of us that we were sad to bid them farewell.

The second consideration was the yacht Slivochka. This is a 59-foot sailing catamaran with extremely comfortable lodging for the guests. Each air-conditioned guest cabin included a walk around queen-size bed, and in-suite head and very adequate storage space. The main deck area was spacious with indoor and outdoor dining areas, and there was a comfortable reclining area next to the bridge. On board were kayaks, paddle boards, snorkeling equipment and fishing gear for our use. The yacht was spotless and very well maintained. We had planned the itinerary with Dylan. This included stops at Norman Island, Virgin Gorda, Anegada, Jost Van Dyke and back to St. Thomas. In addition, we had many side excursions for snorkeling and exploring the beautiful British Virgin Islands.

We have charted several boats in the past in the Virgin Islands but they all pale in comparison to sailing on Slivochka. We give them our highest recommendations and hope they will be our crew for any future excursions.


Dylan and Keri
This has, by far been the most incredible trip for our family that I could have imagined. Dylan and Keri had all 16 of our guests at every meal which was important to us, thank you for setting up a 8 guest bare boat for the others to sleep in. We have grown to love you! Thank you for taking such wonderful care of our large family. Dylan the children loved you. Spending our evenings sharing dinners together and just relaxing watching the fish or looking at the stars was exactly what we had hoped for. We will all go home with memories.
The Adamsons.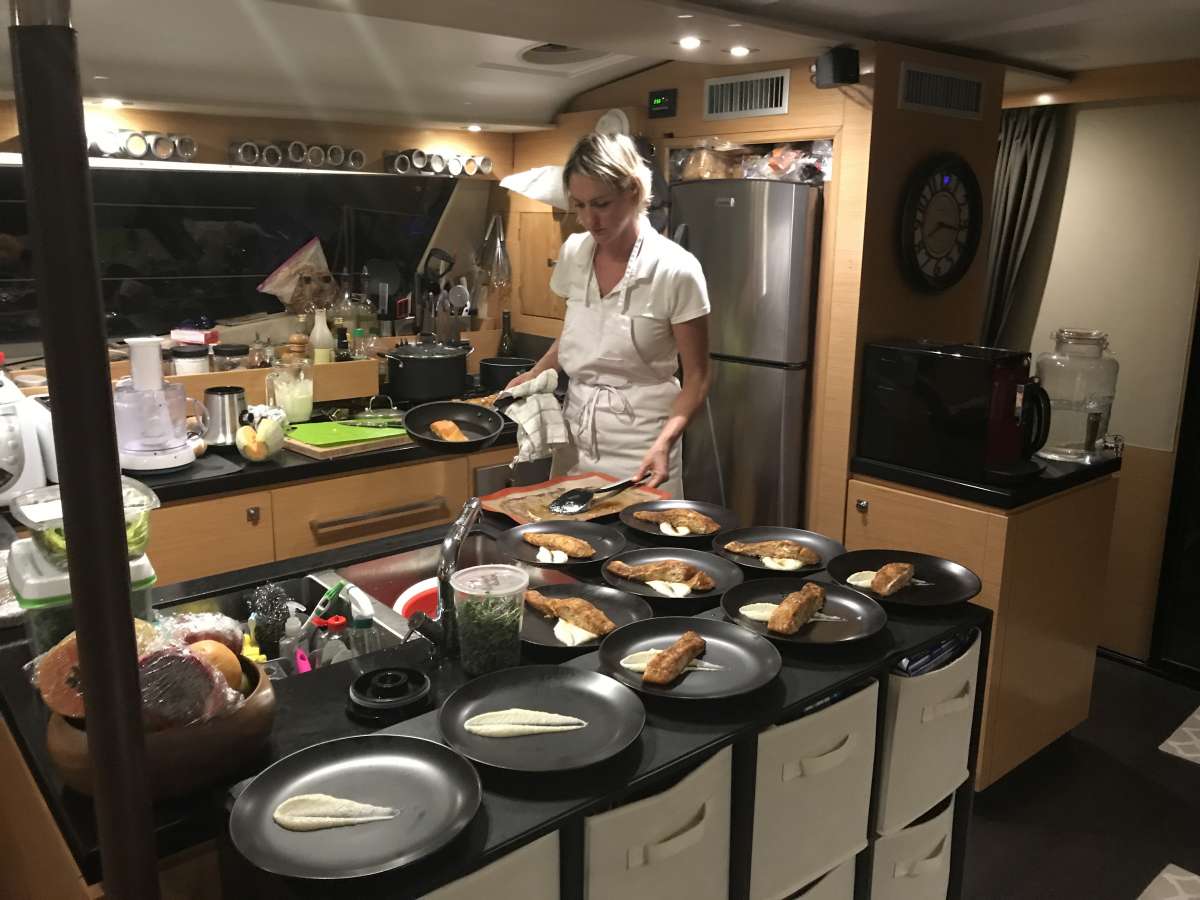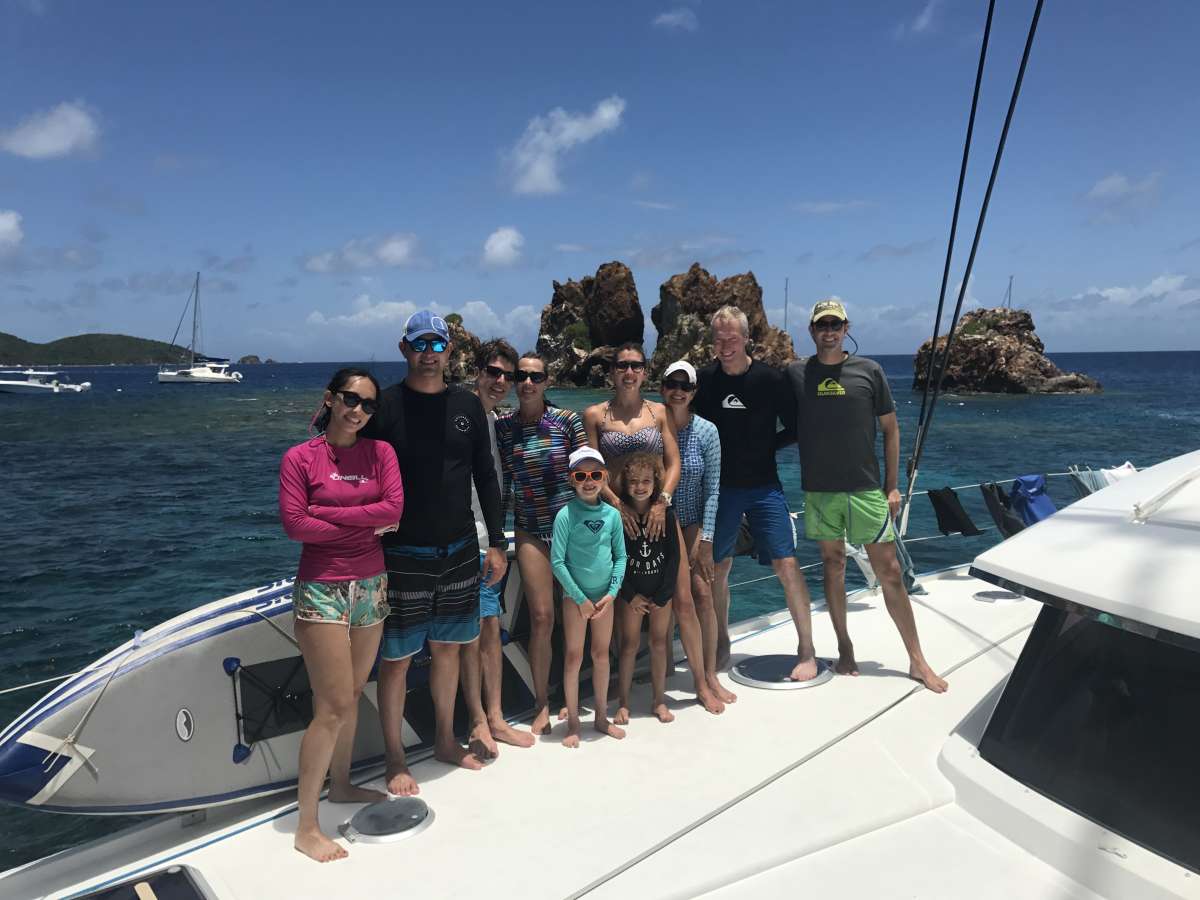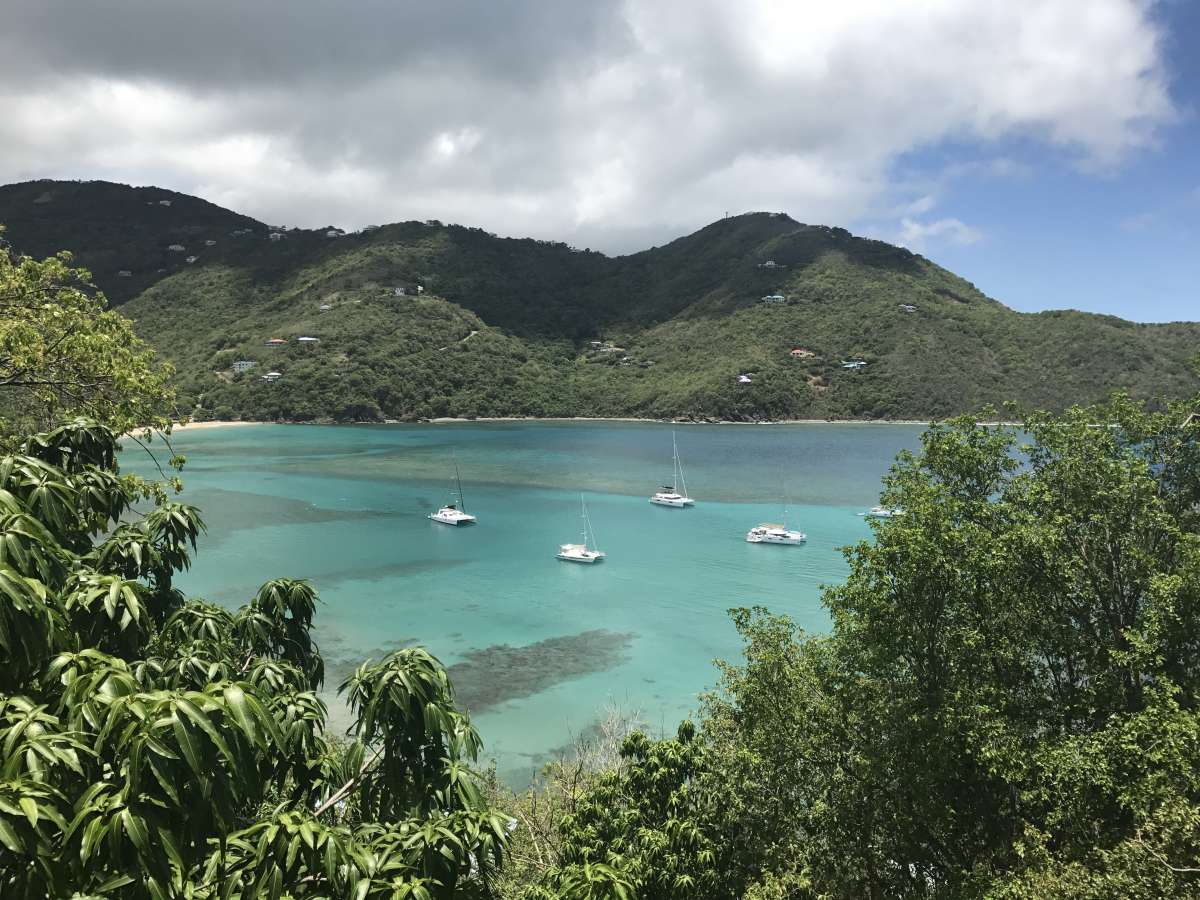 DYLAN & KERI
Dylan and Keri, We had planned to do this unusual vacation for 5-7 years and we selected the best crew and catamaran, our children loved you guys.
You shared so many of your stories about your lives and interacted with us all of the time. It was great to have you do this and make us feel so at home! We felt that you are an extended part of our family. We were comfortable and at home all the time! Dylan your great sense of humor – you challenged the kids and I to competitions, nice – it wasn't a job it was something that you liked to do. You are very talented at what you do. You shared with us various tasks and gave us all mini lessons on sailing! Each and every meal was far superior to what we have imagined it to be, can we take Keri home with us? Please keep in touch.
Dennis and Wendy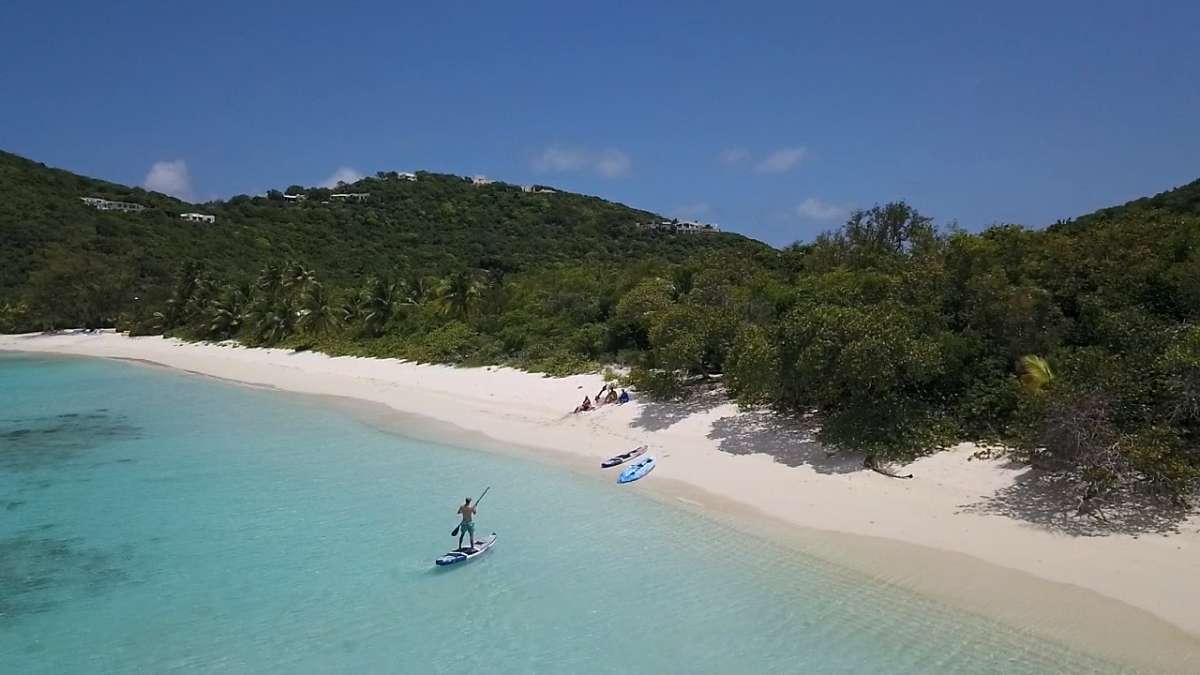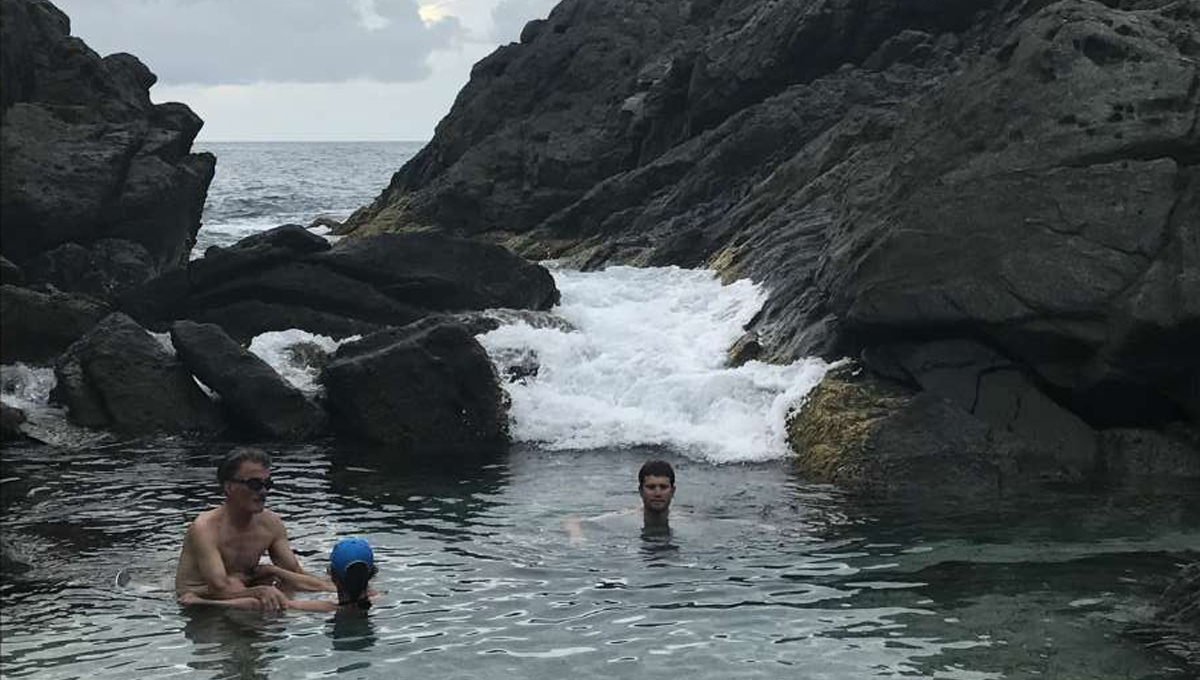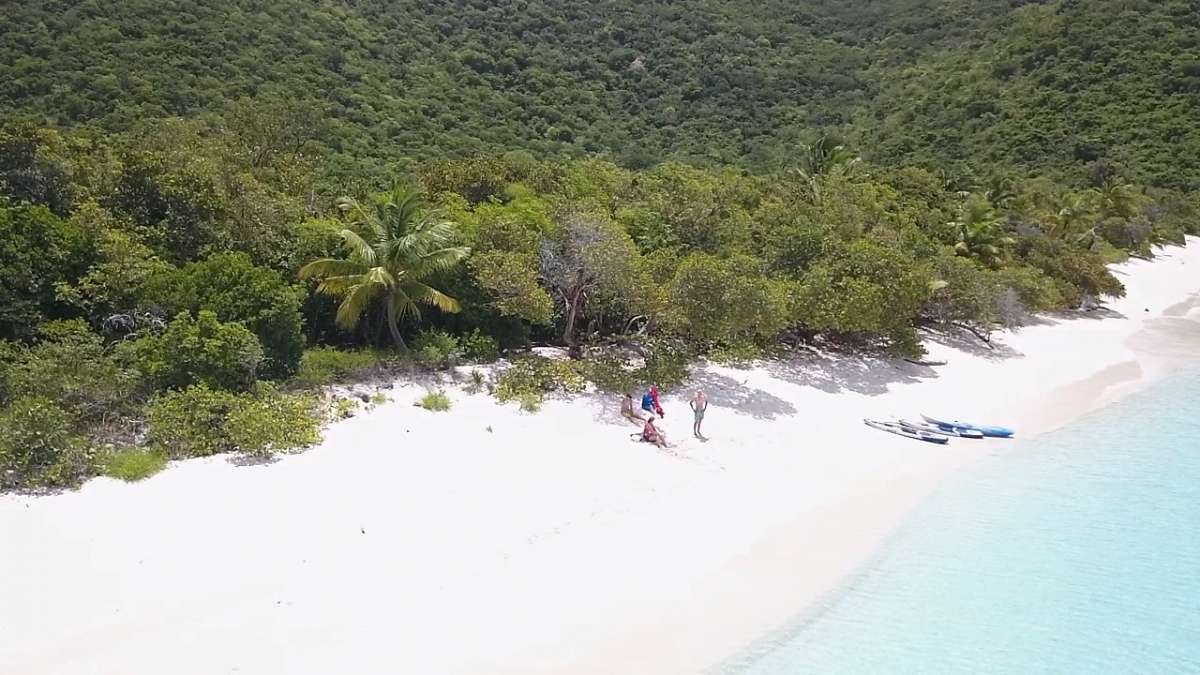 SLIVOCHKA WONDERFUL
Dear Broker,

Slivochka was wonderful for our family of 7 adults + 2 children, neat and clean. The crew did a fabulous job of keeping all of our rooms, the salon and their busy kitchen neat and clean. They were also amazing at hanging our towels each time we came out of the water. They also made sure the deck was clean at all times.

This is our 5th time chartering. Both Jason and Kate were hands down our favorite crew. This is the top captain and chef we have every had on our private charters. They were both attentive to what we wanted to do while taking into account the conditions of that day. Kate + Jason organized a treasure hunt for our 4 year old grandson. Kate drew an amazing map based on the landscape of where we were. I think it was Peter Island. Kate burned the edges of the map and stuffed it into a plastic bottle. They put it in the water so that it would float in front of my grandson allowing him to discover it. Everyone jumped into the water and headed to shore. Poor Jason had to make at least 3 prior trips in to add additional clues and bounty. They turned our family trip into a magical adventure. The crews expertise was exceptional. They sometimes had some challenging winds to deal with. Jason handled the boat well in all conditions. Kate too.

We had a previous charter where the food was awful. Since then we have always specified that we wanted someone who knew how to cook. WOWcan that girl cook. She sometimes had to make 3 different meals for one dinner. One for my grandson, one for someone who was allergic to the main course and the main course.

Would we charter this yacht again? YES!!!! We are heading back out with Jason and Kate in November. We talked about chartering a different boat for November because we only have 4 couples so a boat with larger bedrooms would have been nice. But we would not consider sailing with anyone else after being with Jason and Kate. Your company would be smart to keep these two happy so that they stay with you for a long time.

Burt & Melissa
January 2017
Wattin Charter
Dear Broker,

Dolphin Splash, Dolphin Splash, trying to get that word and fantastic vacation out of my head and back to work.

Our whole family really liked our week and Kate and Jason are just truly professional and very nice people as well. So thanks a lot for your recommendations to us We will for sure recommend Dolphin Splash and especially Kate and Jasonthey really made our week.

Our total comfort on board was great, with the cleanliness on board perfect. It was both captain Jason and Kate who made our trip most special. Their service and attention to detail top notch, plus we loved them.

Kate is a whizkid when it came to meals, we looked forward to each meal always. Her meals looked tasty and were tasty. When next we pop over and do this again we only want Jason and Kate to be our crew.

Best!
The Lee Charter
My daughter said to me today, Dad you know when we were on board Dolphin Splash it felt like I was in a dream, it was like the Disney World cruise, but better! I can say that making my children happy also makes me delighted, so all of us really loved being with Jason and Kate.

It worried me a little that my family and I were going to have strangers at every meal, but I was surprised (I bet it was their mega yacht experience), that at many meals they were nowhere to be seen, very smart, we all had our family bonding time, then they would magically appear and be serving wine.

The first impression always impacts people the most, my wife and I were happily impressed with a crew in white uniform meeting us. We did not feel they had to wear their uniform, but my wife and I are superbly delighted we did have the best captain and chef team. It was little things they did that impressed my whole family. Every single aspect of this charter on board Dolphin Splash was magnificent, we are delighted we selected Dolphin Splash! The kids insist we get back with Jason and Kate, see you soon.

The entire happy Lee Family!
February Charter
Hi Kate and Jason,

Finally we get to send you both a note of thanks for making our BVI experience beyond our expectation. We appreciated the attentive concern you professionally provided to both of us. Hope all is well, we have shared our photos with family and friends and continued to hi-light our captain and chef at every opportunity. You are an awesome couple.

Again, many thanks and Big Hugs!

Vince and Heather
New year 2015 charter
Happy Guests during charter:

Hi Trish! (Booking Broker)
We are having a fabulous time, and could NOT have a better crew! We HIGHLY recommend Jason and Kate!!!
Thanks again for providing us with a great boat and absolutely wonderful crew! Details to follow after the trip...


The comfort, condition, cleanliness and luxury of Dolphin Splash was perfect. The congeniality, service, expertise and flexibility of the crew were exceptional. They made our tip! Very attentive, personable, fun! A delight to sail with! A++++. The quality, presentation and variety of the meals was great. Delicious, savory, varied and nicely presented! Our sailing itinerary was perfect.

We would definitely charter with the crew again! Our trip was absolutely marvelous and full of wonderful memories! Thank you to Kate and Jason for making our end of 2015 and beginning of 2016 so very fun and spectacular!