Previously named Vita Bella

CREW PROFILES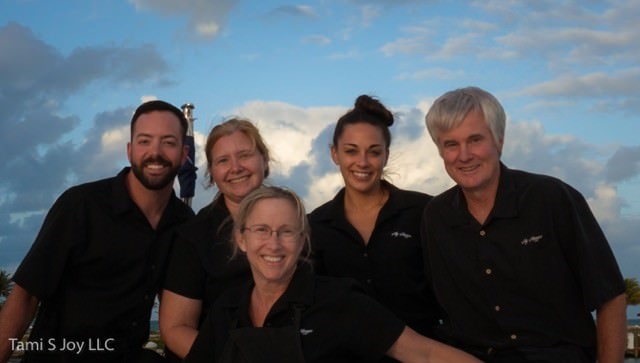 Title
Name
Nation
Born
Licenses
Captain
Robb Shannon
USA
0
0
Number of Crew: 5
Languages:
Crew Profiles:
Captain Robert P. Shannon
Captain Robb grew up sailing in Montauk, New York. After art school in Mexico, he moved to Seattle, WA & built a successful construction business. In a midlife pivot he went back to his first love, sailing the ocean. Captain Robb holds a 1600-ton Yachtmaster surpassing 300,000 nautical miles underway. Captain Shannon's resume includes 12 Panama Canal transits, sailing the South Pacific from California to Japan. He spent ten seasons sailing throughout Alaska & British Columbia. Captain Robb has been in command of My Maggie since 2008; his attention to detail provides every guest with a safe and extraordinary experience.

Chef Tami Stewart
Tami is from Dallas, TX but spent all her summers in San Diego enjoying thePacific Ocean. After 18 years in the healthcare industry, Tami left the corporate world for a life at sea. Tami and Robb joined forces in 2006, combining their love of the sea and laughter. Tami specializes in designing menus for discerning charter guests. Whether it is kid friendly menus, vegan, or meat and potatoes, Tami aims to please. Guests can expect home baked muffins for breakfast, fresh cookies every afternoon and a blow your mind dessert to celebrate the end of another glorious day.

Chief Stewardess Monica Bolet
Monica is from West Palm Beach, FL. Her mother is Colombian & her father is
Cuban. Monica is fluent in Spanish & is a dual citizen of Colombia and United States. After attending art school for fashion design she moved into the hospitality industry as a mixologist in high-end restaurants of Palm Beach. She transitioned to yachting in 2013, falling in love with life at sea. Monica's professionalism, creativity and hospitality are evident in every aspect of her work. She is always cheerful while maintaining the highest standards in of guest service.

Mate Engineer Josh Proctor
Josh is from Sarasato, FL. Josh brings to My Maggie a wealth of experience as an expert fisherman, all around fix everything guy & a calm demeanor. He can not remember a time when he was not sailing & fishing on the waters off the west coast of FL. He is a upbeat Mate who can take guests fishing for tuna or jet skiing through the mangroves. He is the consummate professional always ready for the next adventure.

The crew of MY MAGGIE will have a professional stewardess join them for charter.