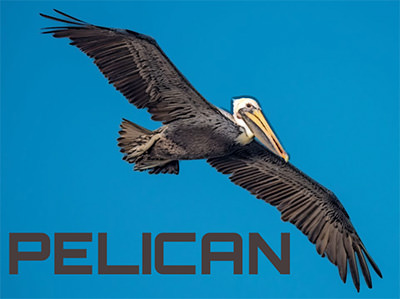 Previously named FANTASY ISLAND

PELICAN GUESTS COMMENTS
Late May, 2019, guests aboard catamaran PELICAN wrote:

Late May, 2019, guests aboard catamaran PELICAN wrote:
I am sorry that it took me so long to reply. I was slammed with work after vacation. Our vacation was amazing and Shawn and Autumn were incredible. Here is our review:
We celebrated our 40th birthday with Shawn and Autumn onboard the Pelican. The boat was perfect for our group, so many activities, inviting common areas, and two huge hammocks where I spent most of my days! The rooms were much larger then we expected and the boat was clean and well maintained. The itinerary itself was everything we could have asked for, from massages on Scrub Island to visiting the Rum Distillery on Tortola, we loved every minute. The views were amazing and we LOVED each spot. The absolute best part of the trip was the hospitality of Autumn and Shawn. Every single meal felt like we were at a gourmet restaurant and the Painkillers made by Autumn were the best we had on the trip! Shawn and Autumn were the best hosts that we could ask for! Shawn was an amazing Captain, but he really came through helping our group with their fist ocean diving experiences. 10/10 stars isn't enough. This was a vacation of a lifetime. We miss Shawn and Autumn!!
March 2019 guests wrote
They say teamwork makes the dream work. After spending the last 7 days with Autumn and Shawn that saying could never be more true. For 7 days, our lives were a dream come true because those two put all of their energy and heart into every aspect of our trip... I didn't think it was possible to relax like this!
Natalie
Early April, 2018, guests aboard catamaran PELICAN wrote:
Just wanted to send you a short note about our BVI charter. Paul and Kristen were awesome. The trip in itself was great and very worth it but the two of them took it over the top. Please relay our feelings to the boat owners also. I am speaking for all eight of us that went on the charter. We have highly recommended both your company and the boat and crew to our friends.

Thanks,
Tom
Guests aboard PELICAN in January, 2017 said:
First of all it was a fantastic trip we enjoyed the week with the boys and girlfriends and the surprise was a hit. Eva and Paul were the perfect fit for us and the boys. We had amazing meals and we did lots of stuff whether it was heading into shore to visit a bar or using the toys on the boat. We told them we would be doing a write up on trip advisor for them as well.
Guests aboard PELICAN in early January, 2017, said:
Missing you guys already. Thanks so much for being such wonderful hosts.

You 2 made our trip with your delicious food and the entertainment/skill of Captain Paul. There was just the right amount of relaxation and activities. The guys and gals tell everyone it was the best trip of their life, and they have all been to Asia, Europe and Mexico, etc.

We really enjoyed our stint at the helm.

Thank you for sharing your love of BVI with the Murphys
More guest comments for Paul and Eva on PELICAN:
We had an amazing vacation aboard the Pelican. The boat is clean, newly renovated and absolutely beautiful sailing along the water. Paul is an amazing captain. He is very knowledgeable in all aspects of sailing. We learned a lot and it was so great that he was willing and interested to teach us about sailing and he is a lot of fun! Eva is an amazing chef! I still dream about her incredible meals. From her special cocktails at sunset to her pulled pork that she was making for days, I had some of the best meals of my life. Every breakfast, lunch and dinner was absolutely beautiful in presentation and had incredible flavors. She also makes sure that she knows the likes and dislikes of everyone on the boat so that she can ensure that everyone has a great meal every time. This was our second boat vacation and again we loved every minute of our trip!

...For me, I say without hesitation that this was the greatest vacation of all time. It actually felt more like two trips: an exotic adventure crossed with a five star food and wine excursion.

...The Boat so much larger than expected. The rooms were two to three times larger than the beds. The showers were large even though we chose to use the outdoor showers after exiting the water. We found that the community areas were perfect to hold all nine of us and there were also many places to hide and get some alone time when needed.

...Paul Paul has this amazing knack of anticipating our needs. When we wanted adventure, he gave us adventure. When we wanted to get off the boat, get off the boat, just hang and relax, he always was one step ahead of us. He was so accommodating and could easily transition between this first class butler/attendant, adventure surfer/guide, DJ, bartender, and all while safely navigating the BVIs!

... Eva - She spoiled us with super creative, beautifully plated dishes. I literally could not wait to see what she prepared next from breakfast to lunch followed by a post activity snack and dinner. ...Every meal had different proteins, varied ethnicities, fresh veggies, and amazing flavors. She constantly surprised and taught me so much about new combinations and techniques. Long story short, Look up the Pelican/EVA/PAUL for some amazing food, adventure, relaxation and safe non sun-burnt fun in the BVIs. We cannot wait to sail with them again.

Our kids still ask about Paul and Eva. They were amazing teachers about the craft of sailing and all things BVI. Safety came first; they made it fun for the kids and relaxing for the parents. They took all of our (often disparate) plans and wishes into consideration and did so openly and graciously. Christmas 2016 was among the best for us (maybe the single best?) and Paul, Eva and Pelican deserve credit and many thanks for that!

November 2016 guests aboard Pelican said:
Paul and Eva are tremendous. It's not easy to welcome new guests into your life, andthey did it with grace and ease. We see the USVI/BVI trip as one of the most amazing and rewarding trips we take every year. To have trusted crew that have a genuine concern for our well being - in addition to some exceedingly brilliant meals - I'm honored to have their company. And yes, he's a brilliant photographer. And yes, Eva cooks up a storm. Bravo!

Marco Larson