P.O. Box 306417, 5D-2 Estate Misgunst, St. Thomas, VI, 00803, USVI
(844) 522-3913 / (340) 774-5687


BLUE MOON C58 GUESTS COMMENTS
New Years 2016/17
Thanks so much! We look forward to our next sail! I highly recommend the Blue Moon Catana 58! The boat is unbelievably comfortable, fast and great crew.
Tobago Cays and Union Island were unbelievable. Captain Steve and Ms. Ellie were the perfect crew not only for us, but kept my 12-year-old busy. I also want to take Ms. Ellie home.
Stephanie
Graves Family in the Grenadines
Check out this great video of some of the highlights of the charter in the Grenadines and the island of Bequia.
https://youtu.be/XzMuoNbqDSQ
The Hinkle Family August 2015 and July 2016
We've sailed the Greek Islands and explored the coast of Maine on the beautiful Blue Moon. Our experiences have been simply unforgettable. Pampered from the moment we were welcomed aboard, the crew made sure that all our needs were met. The meals prepared by the talented chef Ellie were incredibly delicious, with diverse and plentiful menus created using the freshest ingredients from local markets.

Captain Steve planned daily outings to gorgeous beaches and idyllic snorkeling spots and shuttled us to shore whenever the mood struck to go exploring. Our evening anchorages were stunning. The owners have made sure that Blue Moon is beautifully appointed...the staterooms are lovely and private, and both the interior salon and exterior spaces are extremely roomy and comfortable.

Whether you are traveling as a couple, a group of friends, or an extended family group, leave the details to the Blue Moon crew and enjoy one of the most relaxing vacations of your life. We did, and can't wait for our next adventure aboard the Blue Moon.
Greg Fisher and Teresa Imm August 2015, January 2016 and July 2016
We have a long history with the Blue Moon. We've sailed with her in the Caribbean, Mediterranean, and the north Atlantic. Each trip has been unique but has one characteristic in common - it has been fantastic. We've hiked, swam, drank, sailed, partied and collected memories to last a life time. The crew is gracious and talented, locations well thought out and fun and the boat is modern safe and comfortable. Chef Ellie's meals have been amazing. Typically prepared with locally purchased food and crafted with creativity and skill. Each trip we've come away with copies of some of her fantastic recipes. Captain Steve allowed us to participate in boat handling to as great an extent as we desired while at the same time maintaining his focus on safety. This is something, as a wanna be sailor, I personally appreciated. Then, saving the best for last, the Blue Moon is a dream boat. Roomy, modern, comfortable, stable, safe and fast. What more do you want? To close, we will definitely be future visitors to the Blue Moon and if she ends up in the South Pacific, we'll be the first to book.
Charlotte Bolland December 2015 - January 2016
From the moment we stepped aboard the Blue Moon we were made to feel at home. Captain Steve and First Mate Ellie said to us immediately that this was our boat for the week and we should treat it as our home. Blue Moon proved to be a wonderful home for us during our stay. We are a family of 5, with 3 children aged between 7 and 12, so we are not the easiest of guests to have on board. We sailed over 200 nautical miles during the week, saw dolphins swimming at the bow, had some strong winds and big waves, had some wonderful sailing experiences and, in general, had a wonderful time. Ellie went over board (not literally!) to cater for our picky children, she provided healthy fresh food with a smile. Captain Steve took us to some wonderful coves and beaches and with all his experience, there was never a worry about safety. Ellie and Steve were also very good at keeping in the background and allowing us to enjoy family time together. Altogether it was a wonderful trip, we were sad to leave, I wish we could have carried on sailing into the sunset..!
Martin Couture and Marie-lise Dec 28th December 2014 – 4th January 2015
Guest Comments Martin Couture and Marie-lise
Dec 28th Jan 4th 2015

Let us start by saying its been a delightful vacation. It has been probably the most relaxing 7 days we have spent as a couple. The BVI are a wonderful playground that allowed us to rediscover sailing at a different level, as the Catana is a true thoroughbred. A lot of this has to do with the physical environment of the boat, which can be described as extremely comfortable, but even more important is the ambiance created by the crew, Captain Steven and first mate Eleanor. In fact, it is the only boat that has not shrank the traditional/mythical 3 feet per day! They have been great at respecting our space and catering to our every needs.

If they tell you there is a great restaurant on some island dont believe them the food is much better on board! The Captains professionalism and his calm approach made our trip stress free, while Eleanors caring made us feel privileged.

Truly a vacation to be repeated!

Marie-lise and Martin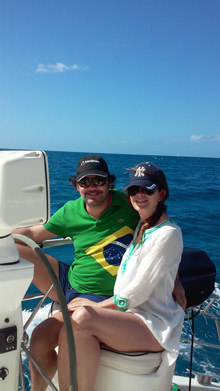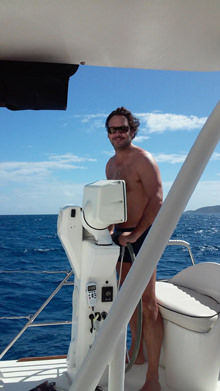 Hannah Park
"My Blue Moon trip to the Galapagos Islands was my first yacht expedition and the Catamarans elegance, ease, and speed far exceeded my expectations. The accommodations below the deck were not only safe and comfortable through rough weather, but also charming and spacious enough for six people to lounge around in the cabin together. On deck, the options were endlesswhether it be jumping off to dive into the water with sea lions or simply catching some sun while reading a book, there was always something new and exciting to do. At the end of a long day of sightseeing and exploring the islands, the Blue Moon was the perfect place to retreat back to take a nice shower and to sit down to a meal on the widespread deck while watching the gorgeous sun set on the ocean. The Blue Moon experience epitomizes the luxurious, venturesome, and relaxing escape that holidays are meant to be like, and I would highly recommend it to anyone looking for a truly memorable cruise vacation."
Ann Sublette
I was lucky enough to sail on Blue Moon from Salinas, Ecuador to the Galapagos Islands and then onto Panama City. It was the adventure of a lifetime and I absolutely loved Blue Moon. I have sailed aboard other monhulls in the open ocean but I have never experienced sailing on a Catamaran. Wow, it is a totally awesome experience. We sailed fast and comfortably and caught lots of tuna and wahoo along the way. I didnt want to leave and I want to go again!
Rich and Regan White
We spent our winter holiday on Blue Moon, sailing from Shelter Bay to the stunning San Blas Islands. We have had other sailing holidays on traditional monohull sailboats and were excited to experience a large catamaran. We werent quite sure what to expect. Our initial reaction on boarding was, wow this thing is huge. Not only are the berths expansive but the saloon area and the cockpit are massive and provided plenty of room for six people to mill about. We also enjoyed sun bathing on the trampoline. Our favorite time though was enjoying the evening meal at the large dinning table in the cockpit and watching the sun go down over these stunning islands. We encountered some rough seas on our sail back from the San Blas Islands and were amazed at the speed and comfort of the sail. We would definitely recommend Blue Moon for a holiday experience.
Guy Mason
I spent ten days sailing on Blue Moon from Panama to Mexico and then to Florida. Whilst I had sailed a number of sailing boats in different parts of the world before, I had never experienced a long ocean crossing or the pleasure of an ocean-going catamaran. The Blue Moon is an amazing boat and was the perfect way to experience both of these firsts for me. On our 4-day sail from Panama to Mexico we sailed the whole time between 10 and 12 knots, and it was amazingly comfortable, compared to any other sailing boat that I have sailed. I shall never forget the feeling of seeing land again for the first time after 4 days. Id recommend the experience and Blue Moon unreservedly to anyone!