P.O. Box 306417, 5D-2 Estate Misgunst, St. Thomas, VI, 00803, USVI
(844) 522-3913 / (340) 774-5687



CREW PROFILES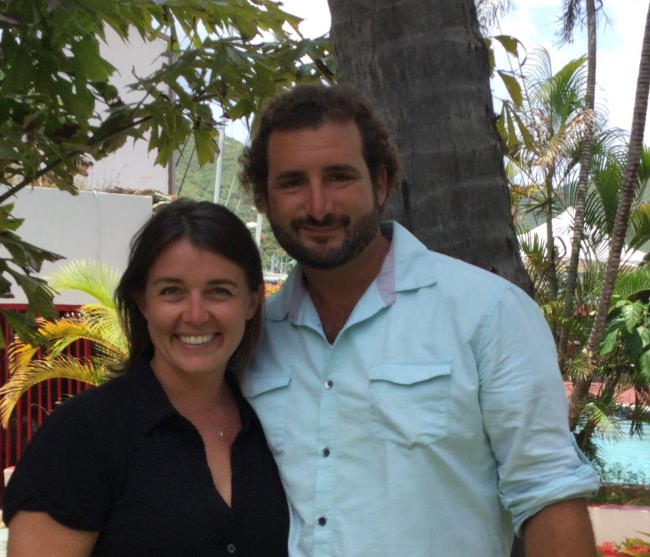 Title
Name
Nation
Born
Licenses
Captain
Sam Tadros
USA
1980
Masters 200 ton
Rosemary
USA
1981
Masters 200 ton
Number of Crew: 2
Languages: English, Arabic
Crew Profiles:
Sam and Rose are a fun, energetic couple with a shared lifelong love of sailing. They bring their shared skills and experience on the water and in the galley together to create an unforgettable vacation for their guests.

Captain Sam grew up in the middle of Cairo, Egypt. He learned to sail and windsurf on Marthas Vineyard during summers at his mothers childhood home there, and learned to dive in the Red Sea at the age of 14. After working for several years as an electrical engineer, Sam decided to leave the corporate world. He bought his first big boat, a 51 ft monohull, in 2007. He immediately sailed from New England to the Grenadines, and spent the next several years running charters everywhere from Bequia to Anguilla, sailing back north every hurricane season.


Sam has lived in and explored the Virgin Islands since 2010, working as a sailing instructor and charter captain. Additionally, Sam is a licensed PADI scuba instructor, and loves introducingeven the greenest beginners to diving!

Chef and First Mate Rose cant imagine a life away from the ocean. Hailing from Boston, MA, she grew up down the street from the harbor, and spent many happy summer days tide pooling and snorkeling in the murky waters of Cape Cod. She took her first free sailing lesson at the age of 8, quickly taking to the sport and returning to the same community sailing center every summer. She started teaching there at 14, and over the next 10 years went on to hold a multitude of positions, from environmental educator to regatta and event management to creating adaptive programming for the disabled. While looking for a big kid teaching job in the fall of 2011, a dear friend convinced her to drop everything and help deliver a boat from Annapolis to St. Thomas. Upon arrival, Rose decided that she liked big sailboats, warm clear water, and Sam. The choice to stay was easy.

Sam and Rose have worked together in the Virgin Islands for the last four years, first managing and teaching at a sailing school, then working as a captain and chef team since 2014. They quickly made their mark in the charter scene, becoming one of the busiest and most popular crews in the VI by the end of their first season. Rose applies her natural perfectionism to creating a healthy, fresh menu suited to your exact needs and desires, and provides a culinary experience that looks beautiful, tastes delicious, and makes you feel good! Sam has a knack for finding the best anchoring spot, and never says no to one more run on the tube! They are committed to creating your ideal vacation, whether that means scuba and hiking all day, sitting in the floating island with a cocktail, enjoying unplugged time with family, or dancing all night at the bar or on the bow!