P.O. Box 306417, 5D-2 Estate Misgunst, St. Thomas, VI, 00803, USVI
(844) 522-3913 / (340) 774-5687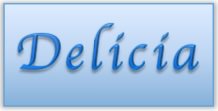 CREW PROFILES
Title
Name
Nation
Born
Licenses
Captain
Giancarlo Radaelli
Italian
1962
Chef
Rosangela Venturini
Italian
0
Number of Crew: 2
Languages: Italian, English
Crew Profiles:
CAPTAIN GIANCARLO RADAELLI

Giancarlo is an experienced skipper and marine mechanic who has been delighting his charter guests with the majesty of the Greek Islands for nearly a decade. As the charter owner-operator of a 40ft Sun Odyssey, he became intimately familiar with the region. Now he enthusiastically shares his favorite spots with his guests aboard DELICIA.

Giancarlo is an accomplished sailor, but that is one of many sports he has mastered. He says, "I have always been passionate about extreme outdoor sports. Over the course of my life, I have successfully mastered; sailing, scuba diving, windsurfing, paragliding, hang gliding, and motor cross. I was also a Hobie Cat and extreme kayak instructor for several years, and enjoy going skiing and mountain biking on the snow."

In the Greek Islands, there are some sweet spots for guests who'd like to try a new water sport challenge, or compare tips and techniques with a master. Alternatively, aboard DELICIA, guests also have the option to relax and be pampered by the superb crew, toast the afternoon with an ouzo on deck, and simply watch the world float by.

CHEF ROSANGELA VENTURINI

Aboard DELICIA, Rosangela is a chef first, but also a hostess and a tour advisor for her guests. In typical Italian family fashion, she takes care of everybody all the time. She has spent nearly a decade sailing through the Ionian and Cyclades Islands and Peloponnesus, Greece.

Guests benefit from Rosangela's many years of charter experience. She handles cooking for a crowd effortlessly. While her traditional Italian food gets rave reviews, Rosangela's extensive menu will please any palate, even those on restricted diets. She is also a source of excellent inside information when it comes to the best shore excursions, restaurants and activities.

Guest aboard DELICIA are treated to the very best; comfortable accommodations, amazing meals, beautiful sailing and enchanting ports of call. It's the luxurious way to appreciate the Greek Islands.