P.O. Box 306417, 5D-2 Estate Misgunst, St. Thomas, VI, 00803, USVI
(844) 522-3913 / (340) 774-5687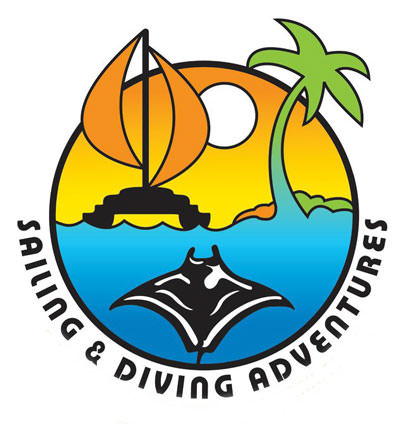 IMAGINATION GUESTS COMMENTS
A truly unique trip
To think 7 days ago we were strangers, now leaving as family. We trusted you to be our Captain and First Mate and you elevated the trip beyond what we expected. Between the snorkelling, Happy Island, Carnival and everything to make us feel like locals, it all made it a truly unique trip. Robert 2017

Superlatives cannot accurately describe the experience we've had. Much appreciated from the bottom of my heart! Richard 2017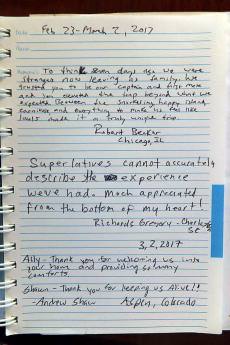 Loved every minute
What an incredible voyage! Wonderful sailing, fabulous drinks and the food....wow! Holly 2017

I felt safe and taken care of from the moment I stepped onto this beautiful sailboat. Incredible food, snorkelling, swimming and paddle boarding. My cabin was perfect as was the rest of Imagination. Thank you for an amazing adventure. Jennette 2017

Amazing sailing and snorkelling thanks to your knowledge, experience and commitment to making it a fun and full adventure for all of us. Sydney 2017

Loved every minute - first time sailing for us! Thank you for your genuine hospitality the food was great as well. Kent 2017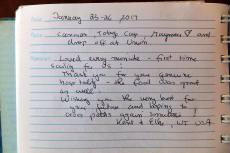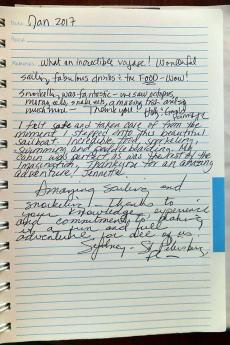 Thank you very much for making our honeymoon exceptional!
We loved every absolutely everything of our week on Imagination: snorkelling, swimming, diving in the most beautiful places, sailing with the dolphins, chasing turtles, eating amazing lobster on the beach under the stars.....Most of all we had a great time with Shawn and Ally! Thank you very much for making our honeymoon exceptional! Vanessa 2017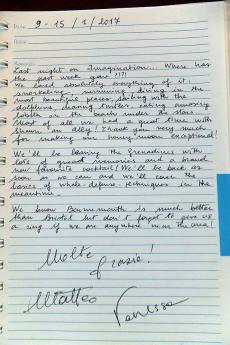 Fabulous 5 days aboard Imagination
Thank you so much for this incredible experience. It's been a fantastic way to celebrate our 25th wedding anniversary.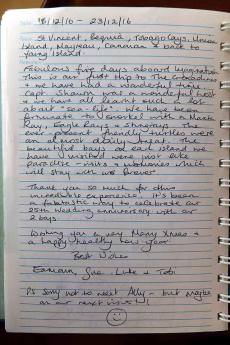 Wonderful experience
The last 5 days have been a wonderful experience...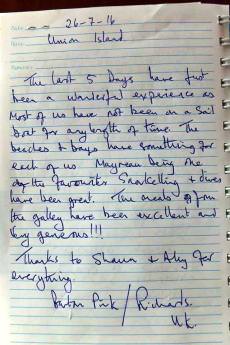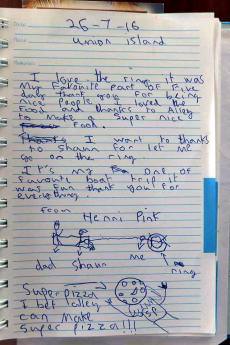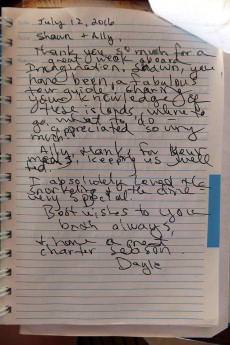 Incredible experience
Thank you so much for this incredible experience.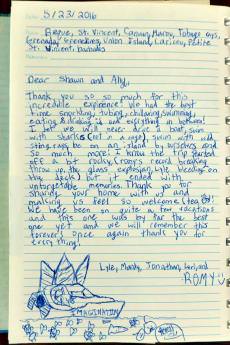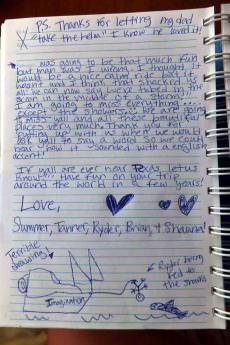 Some unforgettable days
Thank you for some unforgettable days. Every day was a present.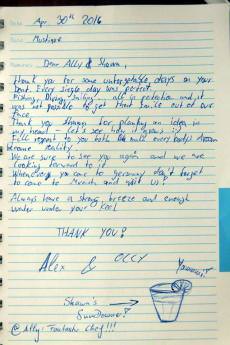 March 2016
We were told it was an older boat so we were not sure what to expect. It was so well maintained,clean and they are continually updating so it was just like new.I do not know how you would describe a crew you might not be familiar with but we felt very confident with Sean as a captain.We had high wind and seas but we never felt uncomfortable and every day he would let us know about the activities we could do at different locations and once we decided would either act as our guide or drop us off. Allie served delicious meals and they would both join us for dinner and friendly conversation.We were so satisfied that my friends are thinking of rebooking with them in the future.
April 2015
Clint and I just got back from the Caribbean yesterday, and I wanted to let you know that we had a wonderful time on the Imagination with Shawn and Ally. The sailing, snorkeling, and diving was amazing, and we also had some fun excursions on shore.

Shawn and Ally were great hosts. It was very convenient to dive right off the boat, and Shawn chose some great spots for us to explore on land and in the water. Ally fixed some amazing meals and accommodated my request for vegetarian meals. She went above and beyond my expectations and I have a list of recipes I am going to request.

Clint and I would recommend Shawn and Ally to anyone interested in sailing the Grenadines, and we will certainly go back to them when we return to that area. Thanks for recommending them!

Hope all is well with you!
Julie

I just wanted to let you know that we had an amazing sailing trip with Shawn and Ally. Beautiful islands, water, diving and snorkeling. Shawn and Ally are wonderful to be around, great sense of humor and Ally prepared delicious meals. We certainly want some of those recipes.
I think I can say for all of us that we would definitely recommend Imagination and their crew!!

Thought you would like to know for future inquiries.
Mary

April 2014 Charter
Thanks to both of you sooo much for a great week in the Grenadines!!! We had a blast!!! Thanks for entertaining us, feeding us, and putting up with the arguing and card slapping!!! : ) Have a feeling we miss you more than you miss us!!!! : )
We really had so much fun and the kids will have great memories!
Sarah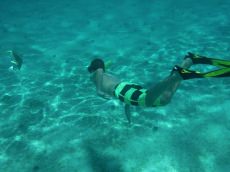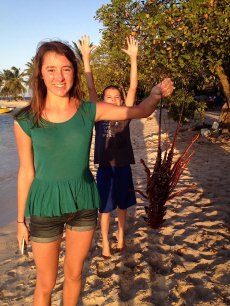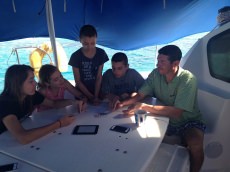 April 2014 Charter
I've waited two weeks thinking I might be able to temper my crazed post trip babble. I've traveled a lot. And this trip was one of the best things I have ever done. Peaceful exciting comfortable exhilarating eye opening sexy forthright honest funny delicious private. Shawn knew where when and how it to make it all happen. Flexible options. Oh I do have one gripe. One week was too short. I want more. Ally could not have more pleasant. Smart funny and beautiful. We wanted for nothing. Go now.
Patrick Callahan

For my 60th birthday I chartered the sailboat, Imagination and brought 5 dear friends along. It was AMAZING! The crew, Shawn and Ally, were superb. The boat had 3 bedrooms (berths) with a bath (head) in each with the crew staying in their own berth. It was totally adequate for our needs. We met the boat in St. Vincent and sailed in one direction, ending in Union island. The actual sailing was my favorite part. The captain, Shawn, was savy enough to the area to know just when to arrive to each island for our maximum benefit. Shawn escorted us on various hikes, sharing his knowledge of the various islands. Ally made the most incredible meals for us. We decided to do 7 meals ahsore and she prepared the rest. It was so fun to head up to the cockpit to a beautifully set table and delightful breakfast. One guest was a vegan and Ally went out of her way to accomadate her. I chose this boat for a few reasons, the crew being one of them. They seemed young and fun. Well, they lived up to that notion. They joined us in tubing off the dinghy and talked us all into the Carribean Slingshot. One of my guests was a certified diver and joined Shawn on a few dives. We were all afforded this opportunity and settled for snorkeling instead. One of my guests decided to try her hand at the helm and was given great instruction and encouragement. It was certainly a memorable vacation. The absolute BEST. We are already talking about who turns 60 next and doing this again. I've sailed the BVI on a bareboat and this trip on Imagination beat it by a mile. I am so grateful I listened to my gut and booked this trip. You won't be disappointed!!!
Susan Weisse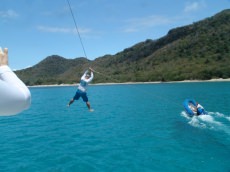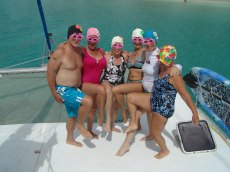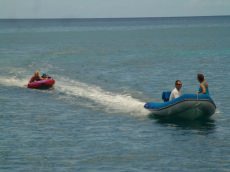 February 1, 2014
The three days we spent aboard the Imagination was definitely the highlight of our incredible ten day vacation. Shawn and Ally were the prefect hosts. The sailing was outstanding, the food was fabulous and the over all experience was an Olympic GOLD!!! You will never go wrong booking a charter on the Imagination.

Thank for everything! You were wonderful to work with!"
Dena

New Year Charter 2013/14
Not sure Imagination is an appropriate name for your boat as we didn't need to imagine anything, it all happened. And gosh, did we do a lot in a week. Apart from all the beautiful islands, beaches, cover walks, open seas, cute villages we had an amazing time really enjoying all you have to offer. The diving was just amazing, so lovely for Tabitha and Jemima to learn to work with someone so kind knowledgeable, patient and fun. They loved it and really learned to be excited, not afraid of what the deep holds! The snorkeling was amazing what with Turtles, Manta Rays, Rays, Lion fish etc..etc.. The kids laughed and laughed on the ring in Chatham Bay.

The route you planned and the places you took us gave us the very best of what we could do.
I guess most of all though, what made our holiday so special was the way you both looked after us as a family. Totally earning the trust and friendship of our girls and us. Ally, it was only on our last day that I realized that you had never ever left the boat, so busy were you cooking and caring for us.
We will be back.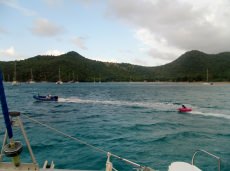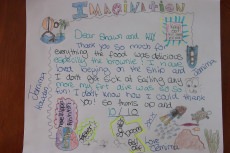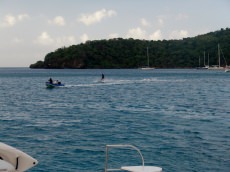 MAY 2013
Mamma mia, there we go again! We all want to stay another week, but we really have to leave tomorrow.

This trip has been amazing. We did not know what to expect taking our three kids sailing in the Caribbean. But you are very good hosts, for us and for the children. Ally, you are a great cook. You make delicious roetjes.

We take good memories home the turtles, the stingrays, manta and even a real shark we saw!

We hope you can show this wonderful world to a lot of kids on your catamaran.

We wish you the best and hope to come back again for another trip. Maybe well catch a fish . . . .

Hoping that the Mamma Mia songs wont stick too long in your mind!

Katleen, Eric, Bostiaan, Karlyn, Stefanie

April 2012
JANUARY 27, 2013
From the broker -

I just had a long chat with our client about their wonderful holiday. It was a huge success! They loved the Grenadines and are already thinking about their next trip. They were very happy with the service onboard and loved the food and the fact that it was all according to their specifications. You made them feel at home and relaxed and you all got on really well.

The boat was perfect for them. Being used to momohulls, they appreciated the larger space and comfort of a catamaran, especially at anchor.

Thanks to you and Ally for looking so well after the them.

January 17 - 27, Martinique to Martinique
JULY 2012
Setting the sails on the Caribbean Sea
It all started in the town of Bequia
In the best of hands with Capt. Shawn and First Mate Ally
So many amazing places, too many to tally.

A trip that was truly like no other
Two strangers who became a sister and brother
Rum punch in hand, but sure, Ill have another
As Steve says, You really did it this time, you mother.

The rules are simple always turn off your lights
Man overboard? You must never lose sight
Twenty pumps to the left, clear to the right
Two calls of four rings, Shawn will be there at night

We learned if you throw up
Do it through your respirator
Because if you do not
You will certainly die later

Sailing with Shawn and Ally
Is as fun as getting a Hummer
You could say its much like
Putting a sugar scoop on my summer

Thanks for an incredible time!
Graham & Seth

Thanks so much for a wonderful week of laughs, beautiful sites & beautiful views of different parts of the world. Yall are a great couple with lots to offer.
Robert and Susie, Austin, Texas
July 2012
JULY 2012
The experience I had while sailing on the IMAGINATION was the most overall positive experience I've ever had. The islands we visited were fantastic! Shawn and Ali were very gracious and accommodating in every way. They went the extra mile every time there was an opportunity. Shawn's sailing ability was excellent and he took us to all of the places that were recommended to me.

I've traveled the world extensively and my expectations were high. All of my expectations were exceeded. That really says it all.

Richards, July 2012
MAY 2012
Best birthday week in a very long time! Thank you for your hospitality & unending answering of questions. If you are ever in the States look me up.

Pam, Woodstock, GA
May, 2012
Once in a lifetime
Thank you so much for this once in a lifetime, awesome, incredible, amazing,exciting, fun experience.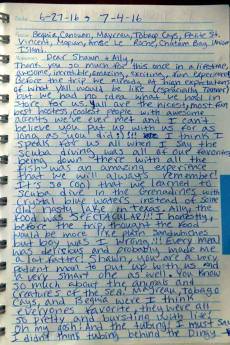 Superlatives cannot accurately describe the experience we\'ve had.
To think, 7 days ago we were strangers - now leaving as family.