P.O. Box 306417, 5D-2 Estate Misgunst, St. Thomas, VI, 00803, USVI
(844) 522-3913 / (340) 774-5687



PACIFIC WAVE GUESTS COMMENTS
28 December - 4 January 2018 - USVI/BVI Family of Five
"Dear Lynn and Mark

A lovely week, made so by your every attention, your good company and not to be overlooked Mark's cuisine. To have found the BVI after Irma was, from our entirely selfish perspective, delightful, yet tempered by the knowledge that many suffered and lost. That said, to have seen these pretty islands uncrowded and at natures own ease, was of particular pleasure. Pacific Wave is a lovely boat.
All the best Claude."

Claude, Amina, Aleksandr, Ursula & Marco – New Hampshire USA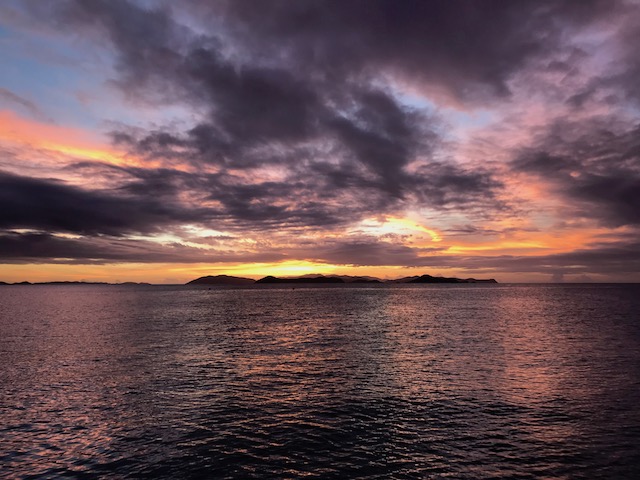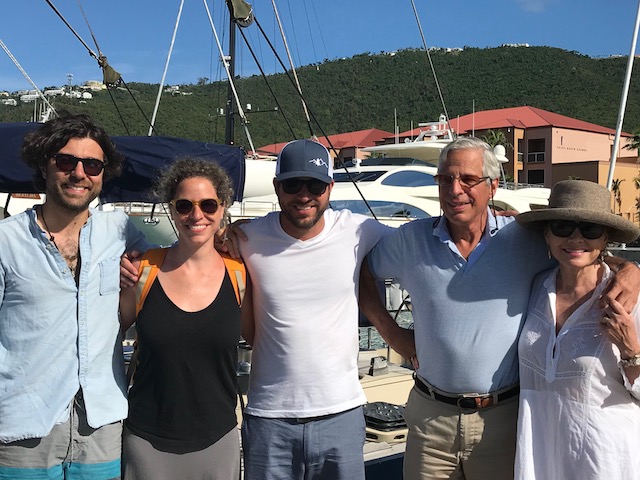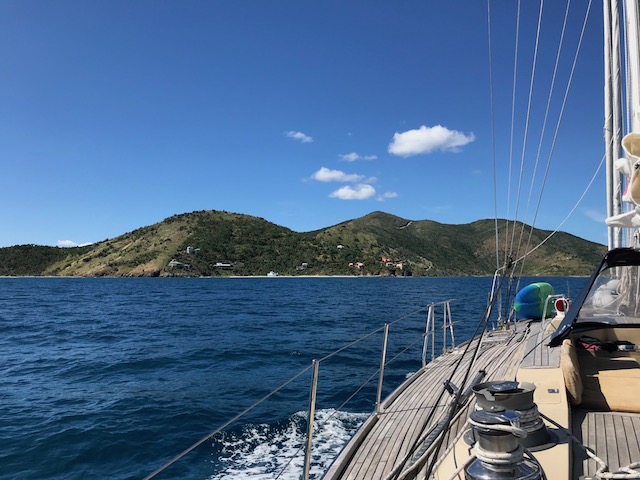 18 - 25 November 2017 - Grenada/Grenadines Honeymoon Couple
"Dear Lynn and Mark,

A few words cannot do justice to the great times we had aboard Pacific Wave. However, in an attempt to do so… thank you for a great, fantastic, wonderful & relaxing time during our honeymoon week! The food and the drink were on par, if not better than Michelin 3 stars. The rum punch is the best on the islands.
We enjoyed being on a true, gorgeous sailboat & your handling of her. You both knew the best places to go both above and below the water. The turtles were the highlight of Brooke's time snorkeling, and Lynn's knowledge of the local marine life was outstanding.
Thank you both for a honeymoon we will treasure for the rest of our lives. I guarantee we will be back on the Pacific Wave with you two again soon."

Brooke & Andrew – Scottsdale Arizona USA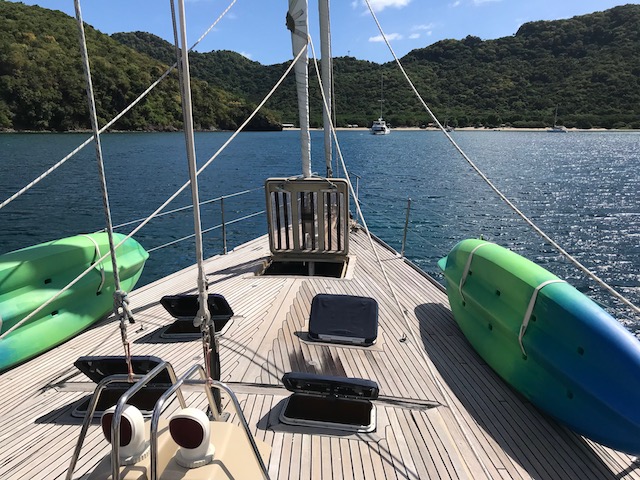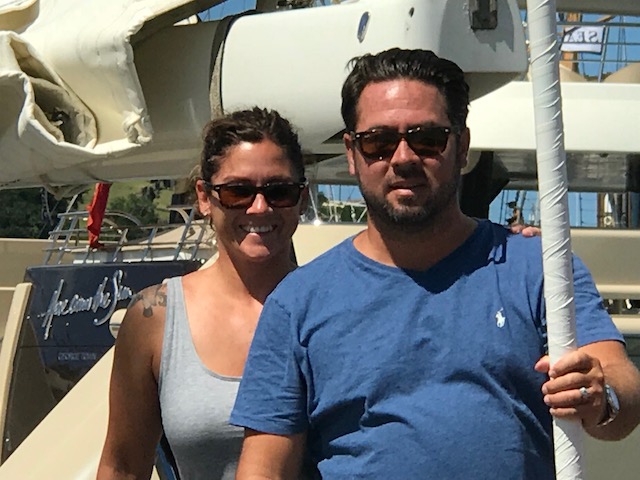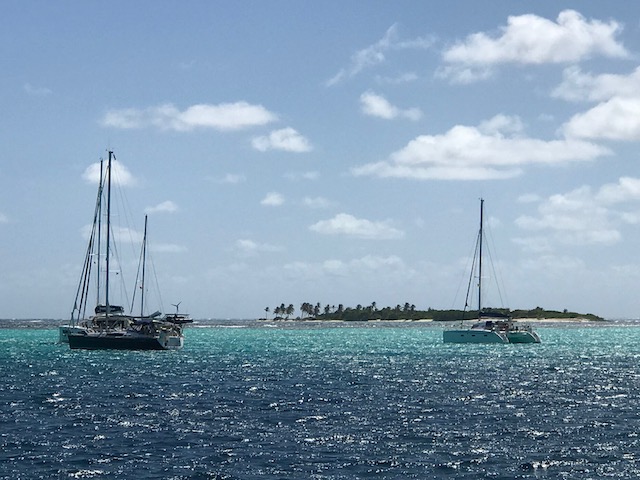 17 - 25 June 2017 - USVI/BVI Family of Five
"Dear Lynn and Mark,

This was our first trip on a sailboat and in the BVI/UVSI. You made our trip memorable from the snorkelling in the caves, to the delicious food, and wonderful beaches. We could not have asked for a more experienced couple to make us feel comfortable and safe. We will never forget these memorable 8 amazing days sailing!
PS thanks for the pancakes
PPS Mom and Dad love the coffee
Much love Katie – age 11

Well as usual, Katie had the last word! Thank you, thank you, thank you. After decades of dreaming of sailing in the BVI, we've just watched it all come true these past 8 days.
We truly hope our paths cross again – either in these beautiful islands or maybe up north sometime. Safe travels always and please keep in touch."

Ian, Karen, Will, Josh & Katie – currently in Philadelphia, USA but our hearts are in Nova Scotia Canada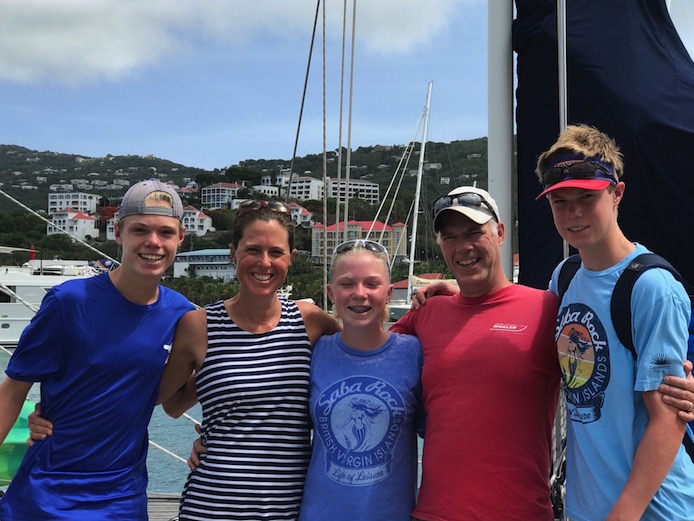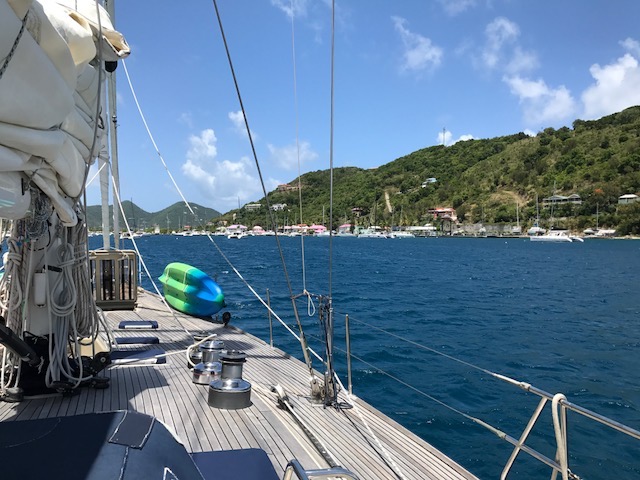 9 - 15 April 2017 - USVI/BVI Family of Five
Dear Lynn and Mark,

What a fabulous week! We could not have asked for two more experienced and knowledgeable pairs of hands to charter us through the British Virgin Islands. And what a comfortable and well appointed boat to do it in we had no idea our accommodations would be so luxurious!
We loved all the quiet anchorages off the beaten track that you took us to. We all enjoyed boating and swimming off the boat. The kids learned to snorkel and kayak and are all quite pleased they got to drive the dinghy. And as we said every day, the food was amazing! The meals far surpassed our expectations and were graciously served every time. The kids told us that we need to bump it up when we get home!
Gary has been talking about sailing in the BVI for some 25+ years and we will now all have our own memories of crystal blue water, white sand beaches, sunny skies and wind in your face as you sail across the waters.
Thank you for helping to make this a wonderful and memorable experience for our family!

Chantal, Gary, Bianca, Carter & Dempsey Brooklyn, NY, USA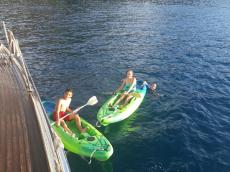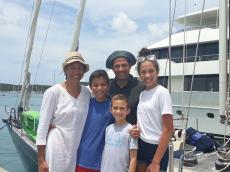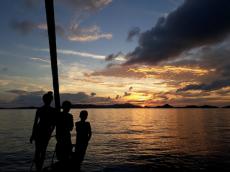 12 - 19 March 2017 - USVI/BVI Family of Five
Dear Lynn and Mark,

Thank you so much for the wonderful trip! Its not easy keeping 2 adults and 3 teenage boys happy but you did it! ☺ We had great weather and had great sails and fabulous snorkeling. Saw so many cool fish l cant even begin to list. And Mark prepared delicious meals everyday, which we ate hungrily after our snorkeling adventures. A great experience had by all!
Thanks again,
Sarane, Peter, Ross, Ian & Colin Rhinebeck, NY, USA

This was one of my favourite trips. My favourite part was the spotted eagle ray. It was about 6 feet long but a gentle giant. It was so pretty and it went in circles around me for 10 mins.
Colin age 12 years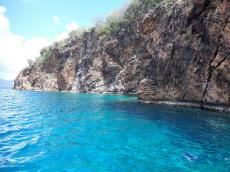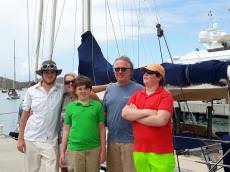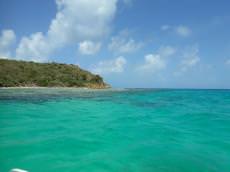 5 - 10 March 2017 - USVI/BVI 1 Couple
Lynn and Mark

We cannot thank you enough for sharing the Pacific Wave with Todd & me what a wonderful, much needed, relaxing time for us!
You are both such gracious hosts! The food & drinks were wonderful & we appreciated learning more about the history of the islands.
We cannot wait to share our memories back home with family & friends!!!
Thanks again

Todd & Julie - Colorado, USA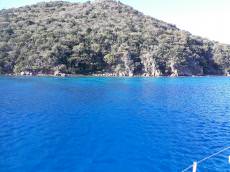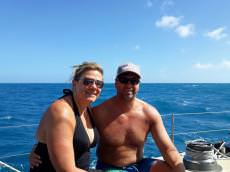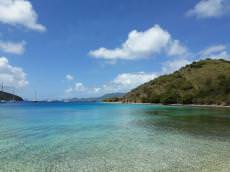 22 - 29 January 2017 - BVI 1 Couple
Dear Lynn and Mark

What an adventure on the Pacific Wave sailboat! Our hosts were so gracious, they described the different islands with an historical flair and always chose the best snorkelling spots. It was amazing to sail the Sir Francis Drake Channel and moor in an isolated, hidden away sheltered bay. It always felt like l was with trusted seaworthy people who had mastered finding the wind and sharing their passion for sailing.
Our meals were delicious and a great time to be merry and relax in such a beautiful setting. great sunsets and turquoise seas.
This trip definitely built wonderful memories of sky, wind, sun and sea.
Thanks so much for a wonderful week.
Sincerely

Joan & Tom Oregon, USA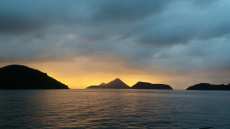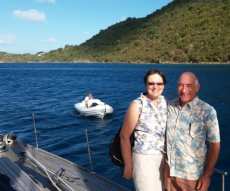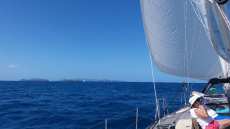 27 December - 3 January 2017 - USVI/BVI Family of Three
We had a great time: some excellent sailing, some spectacular snorkelling, and lovely food. We hope that Marks book goes well.
Thank you very much for a wonderful week. Cant wait to go back home and show everyone all the photos of the things we have seen here. You guys have a pretty good setup!
All the best

Robert, Megan & Robbie Belfast, Northern Ireland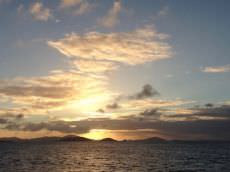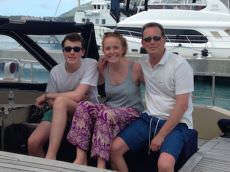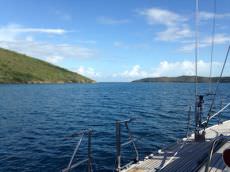 5 December - 12 December 2016 - USVI/BVI 2 Couples
Dear Lynn & Mark

Our week with you was amazing. This was one of my bucket list, and the first big trip (many more to come) for Cindia and me. The beauty, the soft winds, the amazing dinners and lunches, and (gasp) breakfast you served were great! Now for 2 months of dieting.
We hoped to have good diving, and you arranged a special and more expensive outfit, that was just great! Cindia and l loved our diving, so beautiful.
Your kindness, warmth and good humour were just incredible. Thank you so much for a fabulous week!

Cindia & David and Cindy & Steven California, USA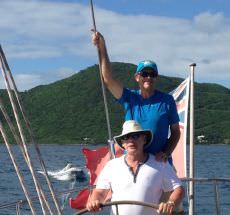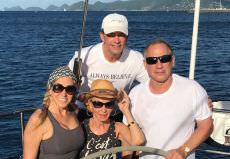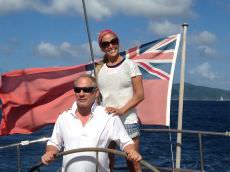 27 November - 3 December 2016 - BVI 2 Couples
Dear Lynn & Mark

Spent a wonderful week with you in the BVIs, our first trip here. Pacific Wave is such a beautiful sailboat. Marks culinary delights were amazing & delicious. Lynn is so meticulous and welcoming. Hope to return soon. Thank you for being so co-operative and helpful with our change of itineraries. All the best,
Gigi and Philippe

Gigi, Philippe, Liliana & William New York, USA & Italy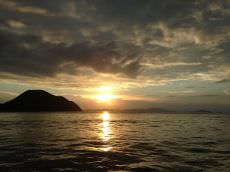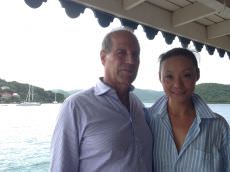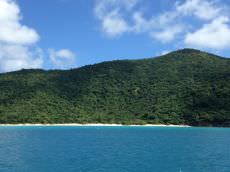 20 - 16 November 2016 - BVI Family of Four
Dear Lynn & Mark

Thank you very much for this great voyage! We finally had a chance to visit the BVI and experience our first proper sailing trip. Our girls love it very much so were all very very happy!
p.s. Sorry we brought a bit of Siberian weather into the Caribbean, however it was even more fun for us! Ilya & Anna

I love to snorkel Leticia age 6

My favourite thing was snorkelling in the caves. Lynns tea is the best! Vivi age 8

Lagutenko family

Ilya, Anna, Vivi & Leticia LA, USA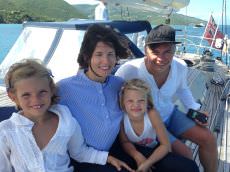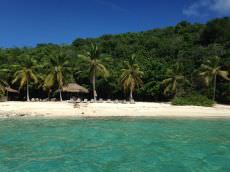 17 - 24 June 2016 - USVI/BVI Family of Five
For our family of five, we all agree that we would stay another week on the yacht if we could! We had an amazing week on the Pacific Wave! The snorkelling was the best weve ever seen. The dinghy pickup service on our snorkelling outings was first class! Lynns knowledge of the BVIs is book-worthy; start writing Mark! We had a lovely vacation and made memories to last a lifetime. The food was the best in the BVIs! Mark is a master in that tiny little kitchen & Lynn is a gracious host, even when we spill the pitcher of milk ☺. Thank you for an amazing vacation we did not have our sea-legs prior to boarding the Pacific Wave. Now, we are salty sea dogs and are sad our sail has come to an end. Please put a visit to Washington State on your list of things to do! Thank you for your kindness and for sharing this adventure with us! Well come back again. Let us know if you ever need any deck hands weve got 3 willing boys! Just need to feed them!

With love, The Duff family

Hospitality was amazing thank you both!

Greg D

Greg, Kristin, Parker (15yrs), Layton (13yrs) & Hudson (11yrs) Woodinville WA, USA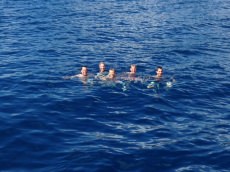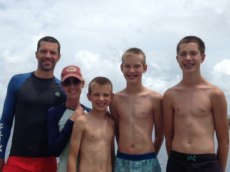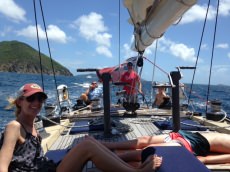 31 March - 7 April 2016 - BVI Family of Four
What a wonderful week we Boulinds had in your care we enjoyed sailing, snorkelling, trips ashore, Marks fantastic meals and Lynns delicious desserts and most of all becoming acquainted and re-acquainted with the BVI. Thank you for planning our itinerary, showing us so many wonderful sites and sharing your beautiful boat with us! Jeannette

Thank you Lynn and Mark! It was a great trip, and the kids really loved it. Next time we will have our diving certification so that we can see even more fish! Oliver

The trip was amazing! I saw 5,000,000 things. The fish were amazing! Henry age 12

I thought that it was an amazing trip. It was so cool to see all the colourful fish and reefs. Lucie B age 9

Jeanette, Oliver, Henry & Lucie London, UK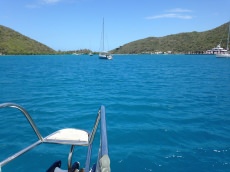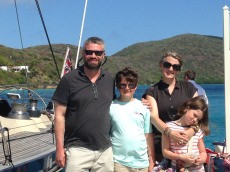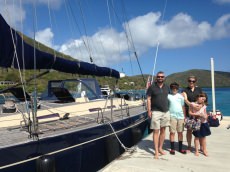 19 - 26 March 2016 - USVI/BVI Family of Five
We had a very nice family vacation week with our 3 boys. It was their first time sailing on a boat this size and Pacific Wave is a lovely boat. Thank you to Lynn & Mark for the experience. Great recommendations for snorkel and anchor spots and really good knowledge of the BVI.
Bob, Kelly, Grant, Harvey & Fin Columbus, OH USA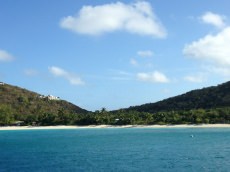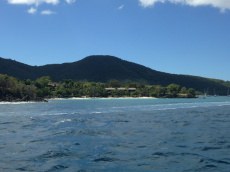 13 - 20 February 2016 - USVI/BVI Family of Four
Dear Lynn & Mark
Thank you for a great week full of snorkeling & sailing. We enjoyed your cuisine & conversation. Next time you are near Maine or New York City let us know.
Ken, Dee, Kimberley & Meridith Maine & NYC USA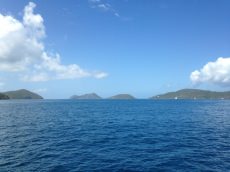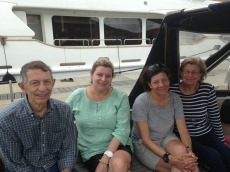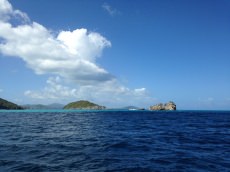 4 - 11 February 2016 - BVI 1 Couple
What a wonderful escape you provided from New York winter doldrums and the pressures of work and responsibility. Well return to our world refreshed ready to carry on!!!
Thanks for taking such great care of us, guiding us through the BVIs, feeding us, ligating us, and ensuring we had a wonderfully relaxing respite. We thoroughly enjoyed our short week on Pacific Wave. Thank you for hosting us for a truly fabulous and memorable time.

Marty & Susan NYC USA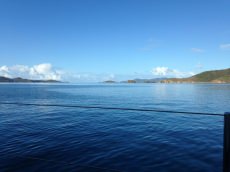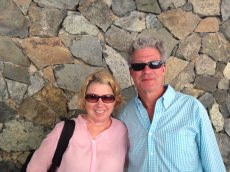 27 December - 3 January 2016 - USVI/BVI Family of 5
Dear Lynn & Mark

What a week! You have spoiled us rotten the sails, the seas, the food, the laughs we couldnt have asked for a better way to sail into 2016 thank you!
Your knowledge and expertise of sailing and all of the secret spots and coves in the BVIs made for a wonderful week. We loved stargazing with that alien machine we will surely be talking about that device for years.
We were honoured to have had the chance to read excerpts from Marks book what an incredible adventure! We look forward to reading it in print someday soon!!
We hope you have a happy, healthy 2016.
Hope to see you both soon,
The Wagner Family.

Lindsay, Whit & Helen, Charlie & Henry Boston, NYC, Denver USA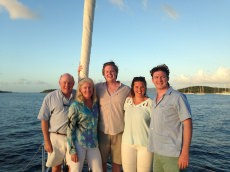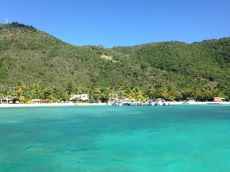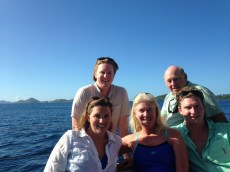 7 - 14 November 2015 - Martinique - Dominica - Guadeloupe 1 Couple
Dear Lynn & Mark
Our second cruise on the beautiful Pacific Wave & every bit as good as the first cruise, if not better! Its hard to find words to express how you have both made this holiday just amazing.
We have spent an amazing week in paradise cruising around the Caribbean Islands of Martinique, Dominica & Guadeloupe. The crews local knowledge was excellent, they knew exactly where to take us on each island & it was such a treat for us to explore these new destinations. Weve enjoyed a week filled with great company, fantastic cuisine, lots of fun & great sailing on the beautiful yacht Pacific Wave. Chartering Pacific Wave has been awesome & we cant wait to return.
See you both soon.

Simon & Carol - Perth Western Australia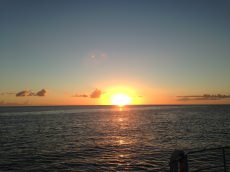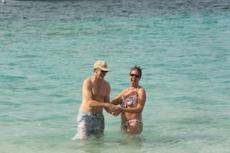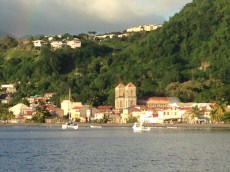 28 July - 5 August 2015 - Grenada - The Grenadines - Grenada 1 Couple
Lynn & Mark

Thank you for a wonderful & soggy adventure. We have wanted to visit the Grenadines for a long time and were so very happy to have had you show us the sights. Such a great trip with a terrific Captain & Chef.
Thank you and many happy sail days ahead

Suzanne & John California USA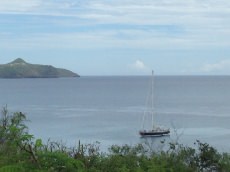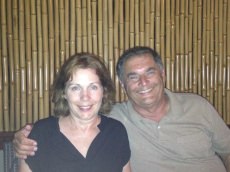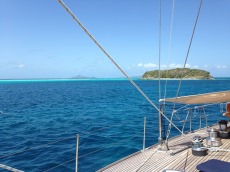 11 - 18 July 2015 - SXM - St Barths - St Kitts - Nevis 1 Couple
Lynn & Mark
Thank you for a great vacation aboard the Pacific Wave. I could not imagine a better way to spend my 40th Birthday! We cant wait to be back aboard, perhaps in the BVIs next time. Thank you again for the wonderful week.

Tom & Elaine LA USA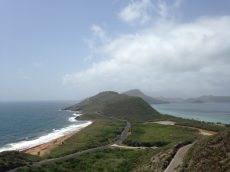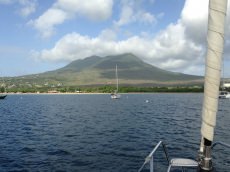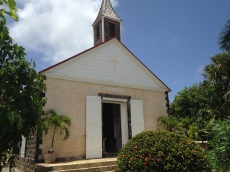 10 - 17 June 2015 - USVI/BVI Family of Four
Lynn & Mark
It takes a special crew to make a week in the BVIs special to our 89year old father. We cannot thank you enough for your patience throughout the week with an elderly old salt. My father was most impressed with Lynns sailing skills. To quote shes a hell of a skipper! Mark of course made his mark in our memory as a laid-back chef of considerable talent. To sum up, there would be no other vessel other than the Pacific Wave that could have made our time in the BVIs as special as it was. Furthermore, my fathers time in the BVIs (1950s, 1960s, 1970s) was the reason we took the trip. His happiness for returning one more time cannot be overstated! Thanks to you both for an incredible experience.
Ditto to my bros comments! Lynn & Mark were the perfect fit for us. Could not have been better at making sure 89 year old dad felt at ease! Loved your local knowledge and insight into the islands and creatures that live here!
The meals INCREDIBLE!!
Such special memories for all 4 of us. This has been a dream come true for my dad. To be sailing these islands with his 3 kids. Lynn & Mark are superb hosts. Their knowledge of the island, local flora & fauna and stories of their years of cruising these waters made each day a new and interesting experience. Not easy to sail with such an old croc (as my dad calls himself) but they were patient, gracious and attentive. Truly an experience to be treasured!

Liza, Andy, Tim & David New Jersey USA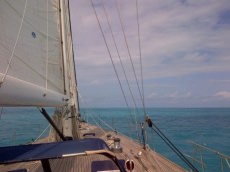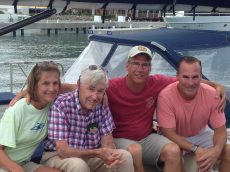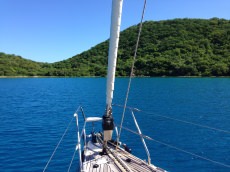 29 March - 4 April 2015 - USVI/BVI Family of Three
Lynn & Mark
Thank you for a super time. It was great to experience diving with Pacific Wave. Mark the food was terrific! Lynn we had some great sails. Terri
Thanks for the wonderful week. It was very relaxing and a great way to explore the BVIs. Charlie
Thanks for a wonderful time cruising on you beautiful yacht. It was great for us to get another cruise in with Charlie. Tom

Terri, Charlie & Tom Seattle USA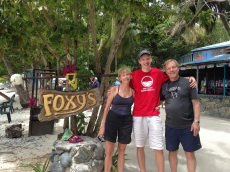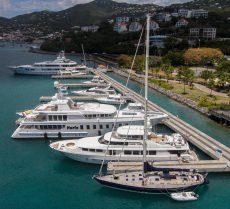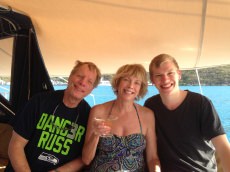 21 - 28 March 2015 - BVI Family of Five
Thank you Lynn and Mark, for a wonderful week! The sailing was tremendous, and you are both so knowledgeable about all of the islands. We loved every meal, and Mark was very kind to cater to our picky eaters. Pacific Wave is a magnificent yacht, thank you for sharing her with us
Catherine & David age 45 & Charles age 12

Dear Mark and Lynn
Thank you for taking us to be splashed by the waves on the beach. I had such a fun time!
Ann-Wylly age 11 & me to George age 7

Catherine, David, Charles, Ann-Wylly & George Portland, Oregon - USA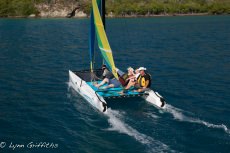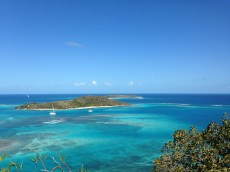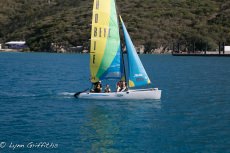 7 - 16 February 2015 - USVI/BVI 2 Couples 50th & 60th Birthdays!
Dear Lynn & Mark
We had such a fabulous time. We loved all the places we visited and people we met.
AnnaMarie & Jimmy had the trip of a lifetime!! They thank you for the great experience.
Peter enjoyed his birthday and will always remember your hospitality.
Mark the food was OUTSTANDING!
Best wishes

SallyAnn & Peter and AnnaMarie & Jimmy Boston USA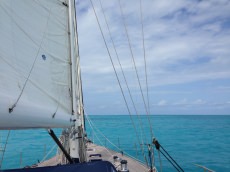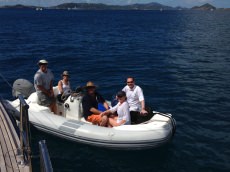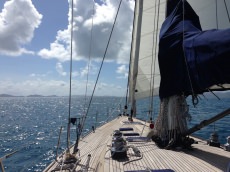 12 - 25 January 2015 - USVI/BVI 1 Couple
To Lynn & Mark
Our third cruise aboard Pacific Wave and we cant wait to return again soon! Fab food, great hospitality all aboard the beautiful Pacific Wave. This is the best holiday weve ever had!
Thank you so much

Janette & Leigh London - UK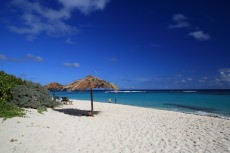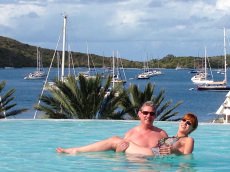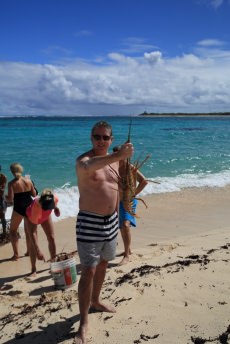 5 - 11 January 2015 - USVI/BVI Family of Five & Renewal of Wedding Vows
Lynn & Mark
Thank you so much for an absolutely unforgettable week! We could not have wished for a more beautiful backdrop for our 15 year marriage renewal. The sailing was phenomenal and meals not to be forgotten. We truly are grateful for such a memorable trip! Jeff

Thank you for a lovely trip. Amazing we really enjoyed it all. Jackie

Thanks for an awesome trip Ryder age 9

Thanks for a cool adventure filled trip for me and the rest of my family to enjoy. Seb age 11

Thanks for a very cool and amazing trip. The sailing and views were my favourite part. Spencer age 13

Jeff, Jackie, Spencer, Seb & RyderSan Francisco USA/Frankfurt Germany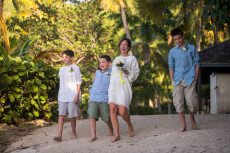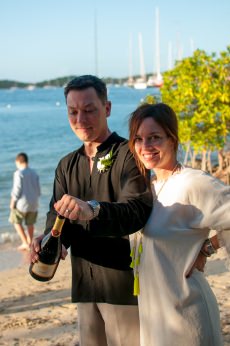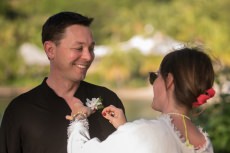 28 December - 4 January 2015 - USVI/BVI Family of Five
Lynn & Mark
We are so grateful for this wonderful vacation, your kindness, generosity, warmth & humour which will never be forgotten. Memories etched in our minds beautiful sailing, gorgeous weather, Marks delicious cooking (and hysterical stories!) Just perfect!
The Duprees wish you both a fantastic New Year 2015 filled with love, health, gorgeous weather & of course, happiness. Thank you for this amazing experience.
With love,

Charlie, Rachel, Margaret, Gus & Andy New York USA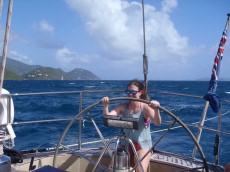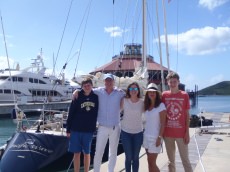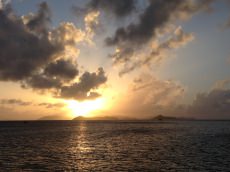 20 - 27 December 2014 - USVI/BVI Family of Four
Lynn & Mark
Thanks so much for an incredible week aboard Pacific Wave and a fabulous Xmas we wont forget, the Christmas Crackers, Xmas Pudding & Harrods Xmas Cake were great!
Carolyn & Alexandra had a terrific time diving, thanks for making it all happen including a Xmas morning dive!
Mark, its amazing what you can do in the galley, the food was outstanding, your hospitality has been great, weve had such a wonderful time sailing with you. and thank you for organizing Sir Richard Bransons sail by. you have some pull!
Before long, we will be sitting in front of our fireplace at home, warming ourselves with memories of our time with you in the BVIs.
Hope to see you again soon!

Ken, Carolyn, Alexandra & Janie!

PS In addition to the above, thank you for all your incredible warmth and hospitality you extended to me and my family. It truly was the best family vacation, more than we could ever hope for. I will always think of you Lynn on March 4th! Thank you, both for your kindness, Sincerely Janie

Dear Lynn & Mark
Thank you so much for making Christmas 2014 so memorable for us! It has been fantastic for us to be aboard Pacific Wave. You have made it a wonderful experience and it has been great getting to know you.
Merry Christmas and all the best for a great 2015!

Ken, Janie, Carolyn & Alexandra

PS Come visit us in Canada if you get tired of Paradise!

Ken, Janie, Carolyn & Alexandra Toronto Canada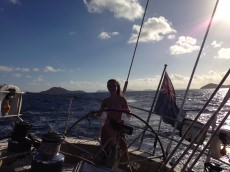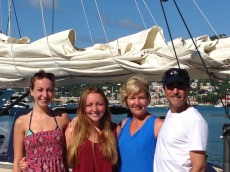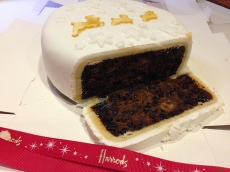 30 November - 6 December 2014 - USVI/BVI Three Family Members
Lynn & Mark
Very seldom do things go exactly as planned, almost never do things exceed expectations. this week was one of those times. The snorkelling was spectacular the sails were exciting, and above all, the company with Lynn and Mark seeing to our every need made this a wonderful week. Sadly now back to Philadelphia cold and dreary as it is this time of year but with warm memories with new friends in Mark & Lynn to keep the memories alive. See you again.

Bill

Thank you very much for taking us on a wonderful trip. You were fantastic hosts and we had an incredible time. Its going to be pretty tough to leave this all behind. Im glad we got to do this trip with you, and l wish you all the best

Billy

Bill Philadelphia, Billy Washington DC & Tom California USA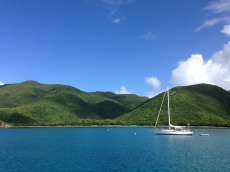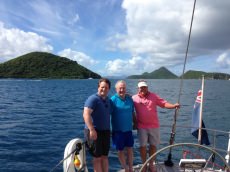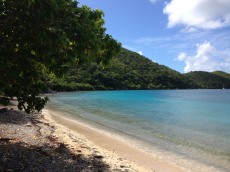 22 - 29 November 2014 - USVI/BVI Family of Five
Many thanks for a wonderful trip & celebration of Charles 70th. We loved all aspects & TLC you both provided. The boat is exactly what wed hoped for & we are delighted to have found you. The food was incredible, your detailed knowledge of all the best spots was invaluable, & appreciated by all. This has been a great success many thanks!

Stephanie, Charlie, Angus, Cordelia & Asa Boston USA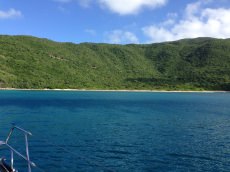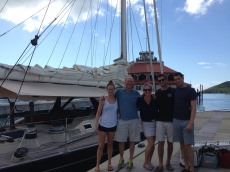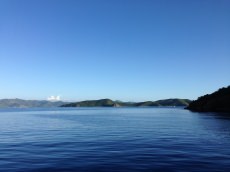 30 June - 8 July 2014 - USVI/BVI Honeymoon Couple
Dear Lynn & Mark

I couldnt think of a better way to spend our honeymoon! Im so happy Aaron found you!! We both absolutely loved all the meals onboard (I cant believe all those yummy dishes came out of Pacific Waves Galley! There is no excuse for me at home now), and the explorations to new islands everyday. Neither of us had been to the BVIs before, but now we will definitely come back. Thank you for your wonderful hospitality, your stories, and your willingness to teach us about sailing whenever we asked. We will always remember this trip with such great memories. Thank you!

Aaron & Sabrina New York USA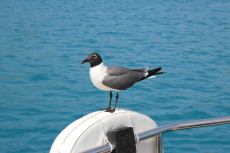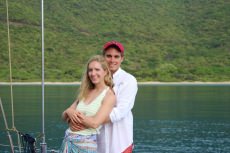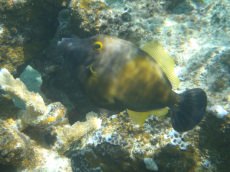 30 May - 6 June 2014 - USVI/BVI 1 Couple
Dear Lynn & Mark

This last week has been amazing! We have gone from tense to perfectly relaxed. Our skin from white to pink to tan and our livers pickled with Pacific Wave Rum Punch! Thank you for having us aboard Pacific Wave and providing us with new memories and a wonderful vacation!
Well miss you, keep in touch and hope to see you next year!

Martin & Kitty Newport Beach, CA USA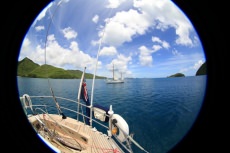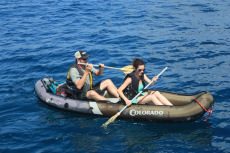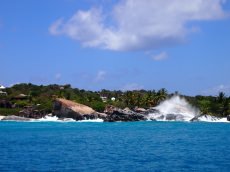 29 March - 8 April 2014 - BVI 2 Couples & 1 Guest - NYYC/RYS Cruise in Company
Lynn & Mark
What a wonderful time you have given us over the past week perfect sailing delicious meals and attention to every detail. Pacific Wave is so beautiful and it is has been a total pleasure being on her.

Micky - London UK

Thank you for all your hard work these past ten days. You both went the extra mile to look after us by providing us with everything we needed, including obtaining a pigstick so we could fly the Royal Yacht Squadron pendant. The meals were delicious and the culinary creativity of Mark never ceased to amaze us.

Christopher & Gaynor, Richard & Felicity - London UK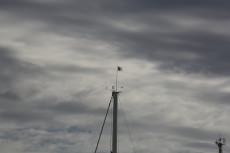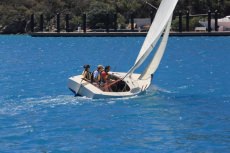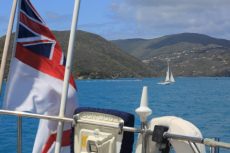 17-24 March 2014 - USVI/BVI 1 Couple
Dear Lynn & Mark
It truly does not get any better than this!
Beautiful boat, amazing crew and perfect weather - all in one of the prettiest places on the Planet. Thanks for taking such good care of us and seeing to our every wish and need. We are now relaxed, refreshed and re-energized ready to tackle the world again. Thanks for an amazing week that passed far to quickly!
Please stay in touch.
Ken

Lynn and Mark
What an incredible experience you have given us sailing in the BVI on your beautiful PACIFIC WAVE. I cannot begin to express my gratitude. You make such a good team the sailing, the accommodation, attention, THE FOOD, information about the area, etc., etc., etc. We loved the snorkelling, swimming, hiking, and watching the Super Yachts. Thank you for making all the arrangements off the boat as well. Every detail was covered. This has been a special week ..
Terry

Terry & Ken Birmingham AL, USA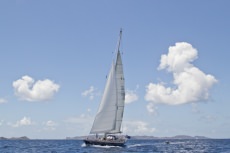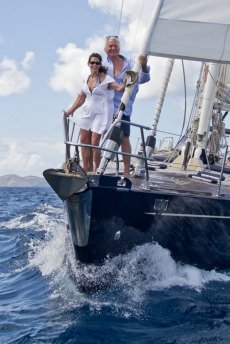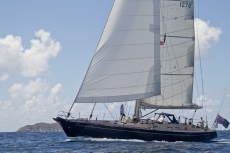 8-16 March 2014 - USVI/BVI 3 Couples
A dream vacation will return again.
Dean & Kathy

Perfect vacation in every way!!! Great food, natural beauty beyond my imagination, fantastic snorkelling, impeccable service, and most of all, great company
Pat

Lynn & Mark
Thanks for a wonderful week of sailing & exploring the BVIs! Your knowledge & advice on travel options was superb. The food was amazing & the service was thoughtful & gracious. As bare-boaters for many years, your excellent service will make it hard to go back to DIY again. I admired your stealthy ways of attending to the many details of sailing while leaving your guests undisturbed. Bravo! We hope to be back again.

You guys are AWESOME!! Thanks for the recipes Mark we will think of you fondly when we try to recreate your masterpieces!
Mike & Jeanne

L & M
It really was a WONDERFUL experience sailing, sunning, eating, drinking (a bit), eating (a bit more) all in lovely weather and with outstanding service
Cheers from Brad (Come visit us in Naples!)

Brad & Pat, Dean & Kathy, Mike & Jeanne Minnesota, USA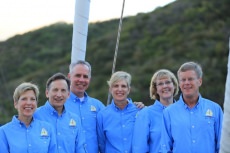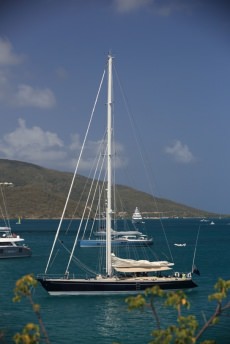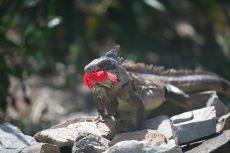 16 - 24 February 2014 - BVI 1 Couple
French guys sorry for the language
You know what??? We are happy . Why???
We thought we knew the BVIs, and a little about sailing but, but. We discover so many unknown places, new snorkelling spots and all that aboard an elegant sailing yacht. And more the comfort onboard SY Pacific Wave is top level Five Star ***** due to the permanent work of Lynn & Mark.
So .. everything is working perfectly onboard, sailing, comfort, anchoring choices.
More again . Lynn & Mark always smiling, always taking care of us, and permanently ahead of our wishes.
About the food now, we think unbelievable to find on a sailing yacht such a top level excellent cook. Mark has got a secret its the smile of Captain Lynn of course.
Thank you, LYNN, MARK & PACIFIC WAVE no end of dreams!

Louis & Anne Paris, France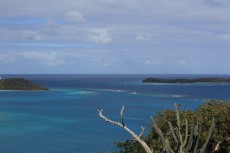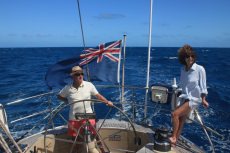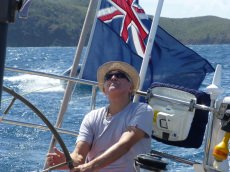 7 - 14 February 2014 - USVI/BVI 1 Couple
We would like to thank Lynn & Mark for a wonderful week aboard Pacific Wave. As committed motor boaters they have ensured our first foray into the world of sailing has been both informative and enjoyable but most importantly, great fun!
The food served on board has been excellent due to Marks skill in the galley, and Lynns attentive service has ensured we were very well catered for.
All in all a great holiday!

Ian & Caroline Peebles, Scotland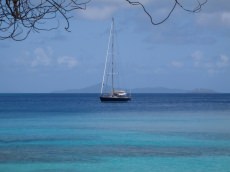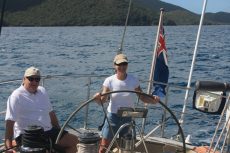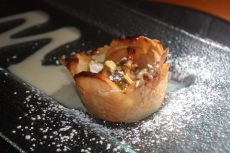 23 December - 2 January 2014 - BVI Family of 5
The first time l saw Pacific Wave on the Website l thought that is THE ONE! The boat is even better than l imagined and you both have made us so very welcome. The food, the snorkelling, the cocktails heaven.

Joan

Dear Lynn & Mark
Thank you for making our BVI dream trip even dreamier! What a joy to be welcomed by a dolphin and then be in the aquatic company of so many new and beautiful fish. Masterful sailors, chefs and super yacht informers. Heres to an adventurous and sparkling 2014!

Best, Averil & Asia

It is with heavy hearts that well step back on land from off the magical Pacific Wave. Lynn & Mark you did a fantastic job of looking after us all, responding to the hundreds of daily requests from our motley crew and making us feel so comfortable and welcome on your beautiful yacht. Rest assured we wont hesitate in recommending this fine vessel to ALL of our friends looking to sail The BVIs. We hope you have a fabulous 2014.

Araminta & Lorenzo

Joan, Averil & Asia, Araminta & Lorenzo London UK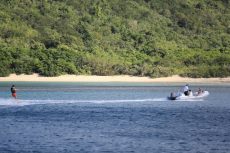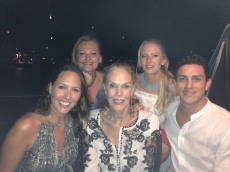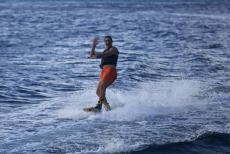 6 - 13 December 2013 - USVI/BVI 1 Couple
To Lynn & Mark
Thank you, thank you, thank you!
For delivering such an unforgettable experience in the British Virgin Islands!
You guys are super organised. You work together as an amazing team with seamless ease, whether it be sailing the Pacific Wave, producing the most amazing meals with the panache of a 5 star chef to identifying what we wanted in our time on this fantastic yacht. Your incredible friendliness has been the icing on the cake.
No amount of research could have found the fabulous spots that your intimate knowledge of the Islands could. from snorkelling off Mosquito Island to super swanky cocktail bars and off the beaten track eateries with breath taking views.
Its been an absolute joy that we have been lucky enough to share your stunning yacht this week, and, whats more, l think you may have sparked an interest to start sailing as a hobby!!!
You guys are the best!!!

Viv & Nicky Dorset, England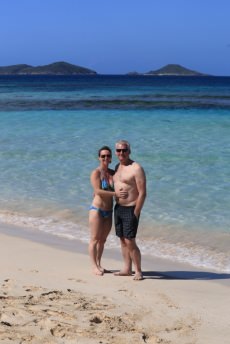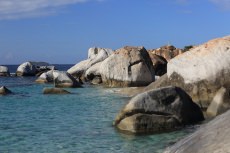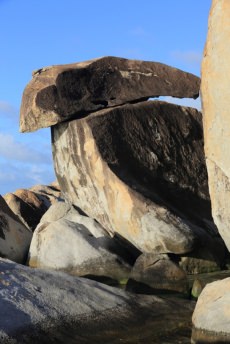 13 Novembre 2013 - BVI 1 Couple - Reference from UK Luxury Travel Agent to Yacht Charter Broker
"We had an amazing time and Pacific Wave was the highlight of the trip! Thank you so much for sorting it out.

I left the day as a complete surprise for Colin and he was completely gobsmacked when he saw Pacific Wave.

The day was perfect and Lynn and Mark let Colin sail us to Peter Island which he loved every minute of.

The food was outstanding 5 star restaurant standard. We also had a snorkel with Lynn and she was so knowledgeable about all of the different types of coral and fish.

I was thoroughly impressed with how professional but very friendly Lynn and Mark were, they made us feel at home. They have a beautiful yacht with all of the little touches of a 5 star hotel.

I cant thank them enough, they made a lovely holiday a very special holiday indeed.

Thanks again
Anna"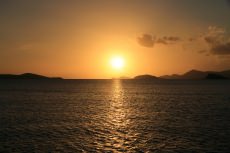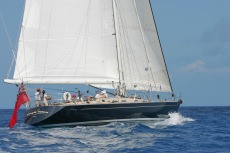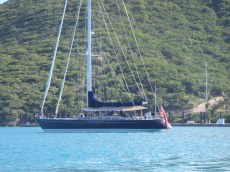 24-31 October 2013 - BVI 1 Honeymoon Couple
Lynn & Mark
What a fantastic trip! Highlights were three fantastic dives off the Dogs and Tip o Scrub. We saw turtles, a shark, eels, and a deep cave. The spa at Peter Island was incredible! Loved the Bitter End as well.
Lynn & Mark we loved it all, great laughs and great food! Mark you are now an expert at Canadian drinks.
Hope to see you soon!

Marci & Scott Toronto Canada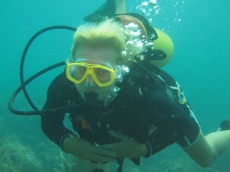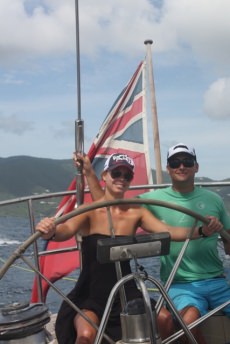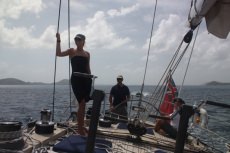 9 - 17 July 2013 - USVI/BVI/St Martin/St Barths/St Maarten 1 Couple 20th Wedding Anniversary
Dear Lynn and Mark,
We so appreciate your kindness. It is apparent that you sincerely want your guests to have a world-class vacation, and we have! You make it look easy: sailing, cooking, and taking care of our every need all the while. We felt so proud to re-board the most beautiful sailboat Pacific Wave. We have enjoyed getting to know you both. Thank you for your lovely hospitality. You are an amazing couple with a beautiful yacht. We wish you the very best.

Karen & Mark St Louis, USA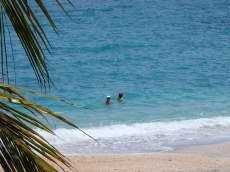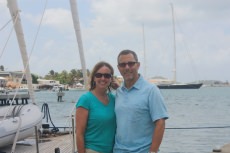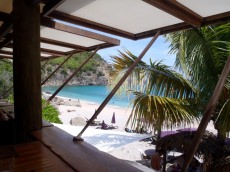 29 June - 5 July 2013 - USVI/BVI 1 Couple
Dear Lynn & Mark
It is hard to find words to express how you have both made this holiday just amazing! It has only been a dream to come to Paradise. Bless you both for making this amazing dream come true. You have both helped us make memories that would not of been possible without you. It would be totally awesome to have you both come to Perth, whenever you are free. Thank you Captain Lynn & First Mate Mark.
Lots of Love"

Carol & Simon Perth, Australia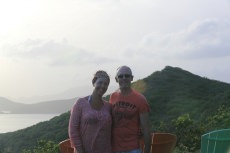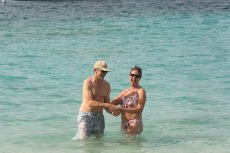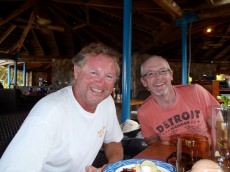 15-23 June 2013 - USVI/BVI Family 2 Adults & 3 Children
Dear Lynn and Mark,
Thank you for making this a wonderful vacation for us. Your beautiful boat and hospitality was a great way to enjoy our family vacation. Your Samurai Cook Look and results will top the Jamie Oliver craze. Come and see us in Austria and we will cook for you.
Thanks again!

Hans, Trixi, Jacob, Max & Lilly Austria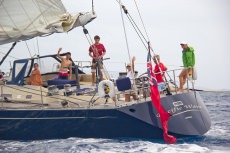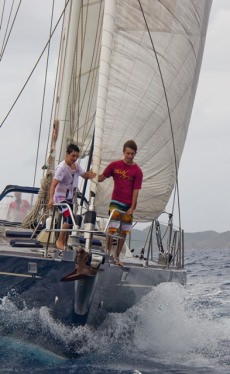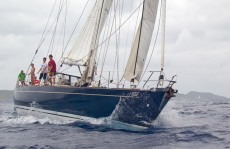 13-20 May 2013 - BVI 1 Couple - Broker Reference
Hi Lynn & Mark,
Vince emailed me with the following glowing report about his charter with you (below in italic). You obviously did an over-the-top job to make this "the best vacation of their lives"! It's been an absolute pleasure working with you and I'll try and send some further business your way soon.

Thank you,
Lynne
-----

"It was the best vacation of our lives!

It was the best sailing we have ever done and we have sailed all over the world. I have been sailing for 53 years and my wife for 35 years. We took turns day by day and did most of the sailing. We covered a hundred miles.
Based on the vacation we are buying another boat. I am retiring next year and we are going to sail from San Diego to Seattle and Vancouver where we have family and friends and then to Hawaii and Tahiti
We are buying a new Island Packet 485(52)
Thanks for all your help in setting this up
I am recommending the cruise to several couples here at work

Thanks again
Vince & Jan"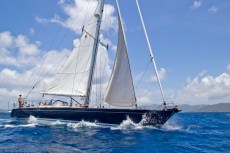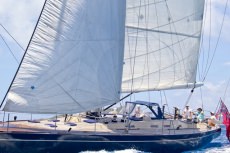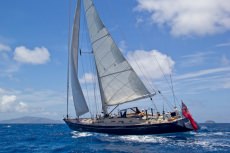 13-20 May 2013 - BVI 1 Couple
To Lynn & Mark
My wife and l have been sailors all our lives. This is the best sailing we have ever done. The boat is awesome. The weather was fantastic. Every meal on Pacific Wave was perfect. Lynn & Mark are top notch sailors. Probably the best owner operator team we know of for chartering.
I have sailed all over the US, Europe, Hawaii and off western Canada, but my wife, Jan and l like the BVI the best so far. This was such a great experience it convinced us to buy a new boat ourselves.

Vince & Jan - California USA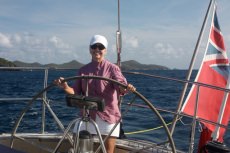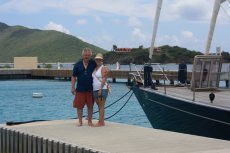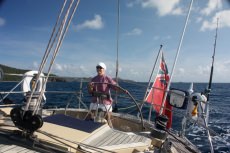 3-10 May 2013 - BVI 1 Couple
To Lynn & Mark
Thank you for sharing your very special yacht with us. We had a lovely experience getting to know the beautiful BVI on Pacific Wave. The Rhone was a dive we will never forget!
Best wishes for fair winds & a million bubbles on your dives!

Marisa & Raoul London UK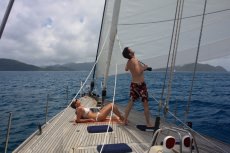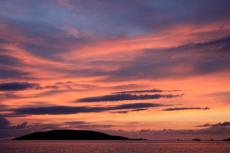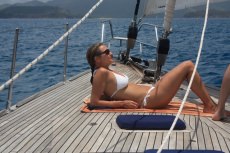 28 April - 2 May 2013 - BVI Family 2 Adults & 4 Teenagers
To Lynn & Mark
Thank you for a wonderful adventure. Lots of new experiences above & below the water line. The Canucks will definitely return to the BVIs some day. All the best.
PS Thanks Mark for the meals, the snorkelling & the drinks together onboard.

Michael, Lynne, Shelby, Tristan, Brett & Mackenzie Toronto Canada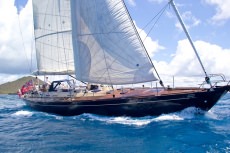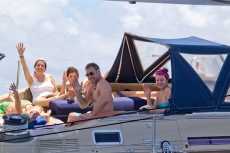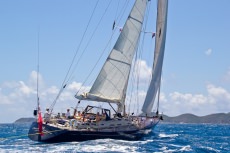 23-30 March 2013 - USVI/BVI Family 2 Adults & 2 Children - Broker Reference
Hi Lynn & Mark
Thank you very much. The Waldrons wrote glowingly about their cruise
with you on Pacific Wave...

"Wonderful trip... Boat was great, accommodations really comfortable, food was excellent... Lynn and Mark made us very much at home, and we really enjoyed cruising the BVI... we had been there before at a resort, but being in various anchorages really was enjoyable, and
the sailing was something different for us, and we all learned a little bit. Everything we had hoped for....
Regards,
Jeff"

Thanks. I look forward to sending more of our clients to cruise with you.
Sincerely,
Sylvia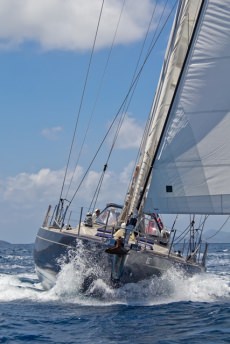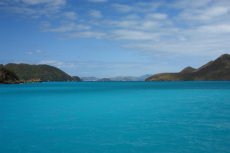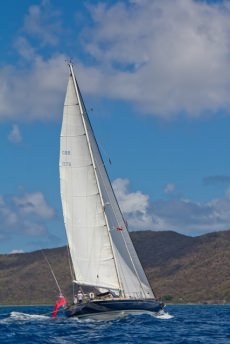 23-30 March 2013 - USVI/BVI Family 2 Adults & 2 Children
Lynn & Mark
What a fabulous week of experiencing the BVI onboard Pacific Wave! We came having had all the resort experiences, and were hoping to have a different kind of vacation, and l can truly say our expectations were exceeded. The two of you made our stay so comfortable, with the fabulous food (thanks Mark), the great accommodation, and all the fun activities. As a family, the chance to spend time together in such beautiful surroundings, without the distraction of home, has been a gift. I know the snorkelling that the boys did will be something they will remember forever and Shane will certainly relish being rummy champ! For Wendy & Myself, l think being able to sit and enjoy the solitude and surroundings of all the great anchorages was a highlight, and an inspiration to get even more out of our motor boat at home! Thanks Lynn for going horseback riding with Wendy, a trip would not be complete without a hack! Maybe next time we will play golf instead though! Most of all thanks for making us feel so welcome onboard Pacific Wave, & for sharing your knowledge and experiences with us. Hope to see you up our way in Long Island Sound!

Cheers, Jeff, Wendy, Austin and Shane New York USA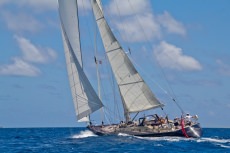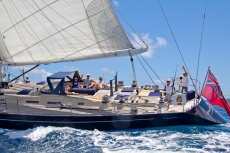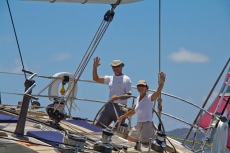 2-13 March 2013 - USVI/BVI 1 Couple
To Lynn & Mark
An amazing week and a half sailing the BVI. The food is amazing probably the best chef in the BVI is on the Pacific Wave. But also the willingness to entertain two beach bums trawling the bars of the BVI. Brilliant to sail such a beautiful big boat with all the other boats taking pictures. Thanks Mark for teaching me to snorkel. Mel has done some of her best diving on the Rhone with Lynn. Dont want to get off.

Melanie & Adrian London UK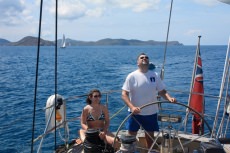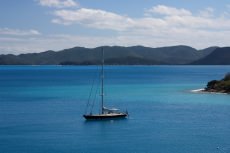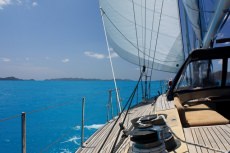 17-28 February 2013 - BVI/USVI 4 Couples
Dear Lynn & Mark
You have given us the most wonderful holiday, complete perfection in all we were spoilt with, the best boat to be privileged to be on the attention to our care, and enjoyment has been 2nd to none. The best gourmet food we have ever had. So many memories to cherish! This comes to thank you most sincerely with love and good luck always.
Alexander & Julia

Dear Lynn & Mark
We echo all that Julia has said. It has been an unforgettable week full of treats the way you have looked after and FED us has been unbeatable. THANK you for it all not least the interesting stories about the Caribbean!
Love William & Anne

Dear Lynn & Mark
Can we take Mark and his cooking & Lynn and Pacific Wave home to Berwickshire to sit on the Tweed? Contrary to reports Scotland is boiling hot all the time and were sure you will be blissful!
It has been an INCREDIBLE couple of weeks, thank you both so much. We feel like different people heading home and are so lucky to have had you both looking after us. You are complete stars. Hopefully (very much) this wont be the last time we see you.
Love Rupert & Louisa

Alexander, Julia, Henry, Catherine, Rupert & Louisa Scotland UK
William & Anne Hertfordshire UK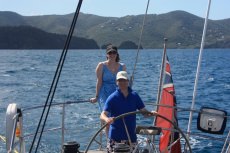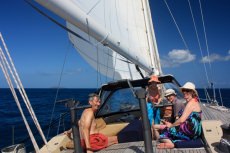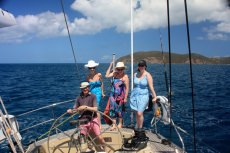 16-30 January 2013 - USVI/BVI 1 Couple
"To Lynn & Mark

Just wanted to say this is absolutely the best holiday we've ever had... and we've had plenty!
Thank you soooo much for your hospitality and defo. the Fab Food!"

XX Janette & Leigh - London - UK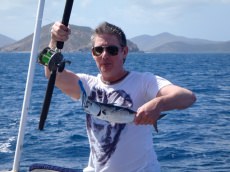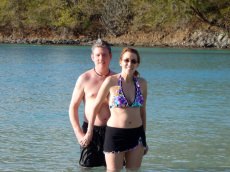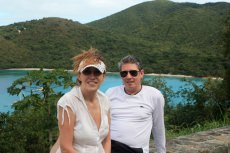 7-14 January 2013 - USVI/BVI 2 Couples
Captains, oh my Captains, Lynn & Mark

THANKS For .
XX Amazing food, let me repeat, THE FOOD!!
XX Adventures
XX Showing us Peter Island, what a postcard place
XX Snorkelling at Mosquito Island
And not to be forgotten, all the Pacific Wave Rum Punches!!!!

Hugs from Sofi, Stockholm - Sweden, Nick, Verbier - Switzerland, Irene & Klaas Austin Texas - USA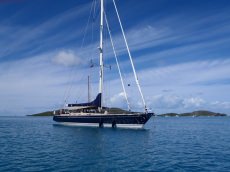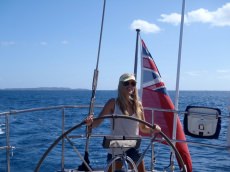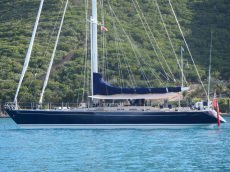 27 December - 3 January 2013 - USVI/BVI Family of 2 Adults & 2 Children
Dear Lynn & Mark

Upon arriving to the Pacific Wave we saw a beautiful yacht. Upon leaving, we saw it as that and so much more. We saw times of laughter, gourmet foods, exciting destinations, days of sailing adventures, fun explorations, and the gentle waves of the sea. What really made our experience amazing was the caring crew that took us on our journey. We have such wonderful memories of our voyage with you. We will forever remember the great times, delicious desserts, and awesome crew of the Pacific Wave xxx

Elli, Jayson, DeLisa & Barry North Carolina, USA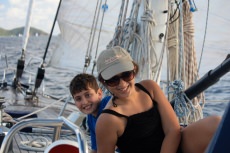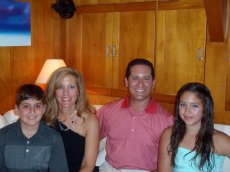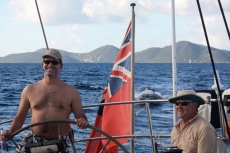 24 November - 1 December 2012 - USVI/BVI 2 Couples
Dear Lynn & Mark
Our first experience on Pacific Wave 2 years ago was so superb its hard to believe it could be bettered. but this week has been perfect. We all feel totally spoiled by our two very gracious hosts, nothing overlooked or too much trouble. Thank you both for a magnificent experience!

Helen, Suzanne & John Melbourne, Australia
Michael New York, USA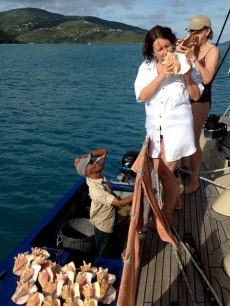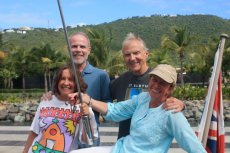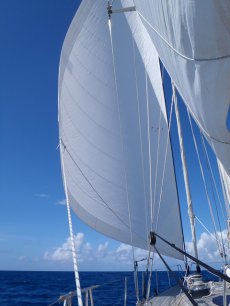 28 June - 5 July 2012 - USVI/BVI - Family of 5
Dear Mark & Lynn
Thank you so much for sharing your yacht with us. We have had an incredible week onboard Pacific Wave; she is absolutely beautiful!
Mark, we cannot believe how you can produce such fabulous cuisine in such a tiny kitchen! Every meal was superb.
Lynn, you really made us all feel at home. Your knowledge of the USVI and BVI is truly remarkable.
Thank you both for this enjoyable week. We will never forget it!

Sincerely, Lisa, Steve, Sophie, Charlotte & Lydia xxx Texas USA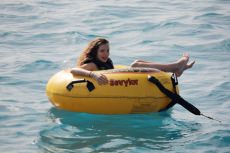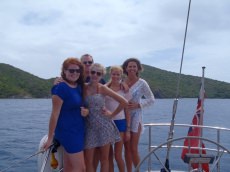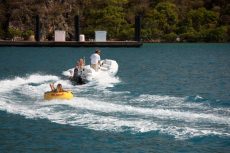 20 - 25 June 2012 - USVI/BVI - Family of 5
Dear Lynn & Mark

Thanks so much. We have had a great time. We enjoyed each island and the diving was great. We really enjoyed the wreck of the Rhone. You let us snorkel at great places and we loved it. It was fun watching Hall & Kassey wakeboard in the ocean. Mark the food was wonderful as l am sure you could tell because we ate it all. It is very beautiful and we loved it. Best, first & only 50th Birthday Ive had. Courtney & Mark

Thanks so much for your hospitality. We could not have asked for a better crew. Thanks for teaching me how to sail and for making such great food. It was a wonderful experience, and l would recommend you to anyone! Thanks. Miller

Thanks for sharing the Pacific Wave with us. I had a great time! Thanks. Hall

Thanks so much for taking us around to different islands and for telling us the best places to snorkel. I have loved every minute on your gorgeous yacht. Mark you are an amazing cook! Oh and l LOVED sitting on the bow while we sailed! Thanks so much for helping us celebrate Dads 50th Birthday! Love Kassey

Courtney, Mark, Miller, Hall & Kassey Birmingham AL - USA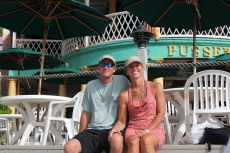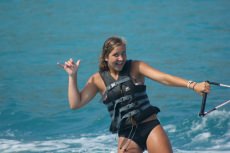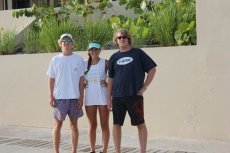 20 - 27 May 2012 - USVI/BVI - Family of 6 adults
Dear Lynn & Mark
What wonderful memories you have made for our family and our friends. Thank you for opening your yacht to us and sharing all the wonders of the BVIs. Should you visit Florida, USA in the future, we would love to have you as our guest!. Safe travels.

JD, Cindy, Britton, Keaton, Emily & Caroline
What a great week full of beautiful scenery, lots of sun and great fun! I cant imagine a better way to spend the week. Thank you so much for your hospitality. Pacific Wave is beautiful, and the weather was great. I am the tannest l have been in years (success!) Thank you again. Britton

JD, Cindy, Britton, Keaton, Emily & Caroline Florida USA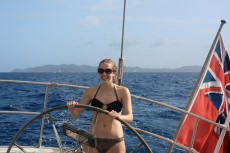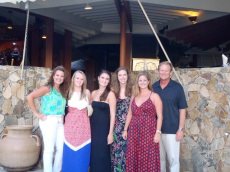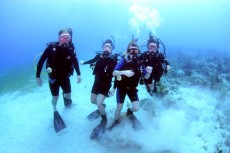 10 - 17 April 2012 - BVI - Family of 2 adults & 3 teenagers
What a fantastic week. Sun, wind, and a little rain one day made the sailing interesting and all the activities in between kept us busy while not under sail of course. I cant not mention the food which was way above expectations (i.e. unbelievably good) and on offer around the clock!
Needless to say, the next outing on the Solent will only serve to highlight how special the BVI, Pacific Wave and her crew/owners are.
Thanks from all of us.

Tim, Marie-Luce, Julia, Margot & Victoria London UK

This was a fantastic week! The weather was amazing and the mood was perfect. Between waterskiing with Mark and wondering around Peter Island this was an extremely and unbelievably fun experience.
Thank you so much.

Julia

Tim, Marie-Luce, Julia, Margot & Victoria - Family from London UK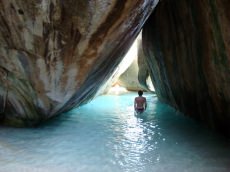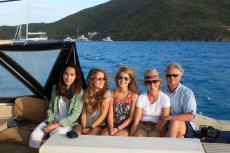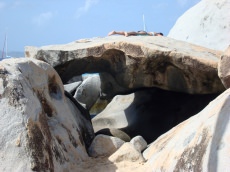 31 March - 6 April 2012 - USVI/BVI - 4 Adults
Dear Lynn & Mark
A great week in celebration of my 50th Birthday. I didnt actually think Id live this long, so this is just icing on the cake. Good friends, great crew, fantastic food and beautiful destinations combine to make this a truly memorable week.
Thanks to Mark and Lynn for your gracious hospitality, gentle demeanour and tolerance of our lack of temperance.

Dick, Scott, Ed & Gerry - CT - USA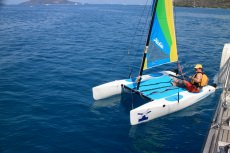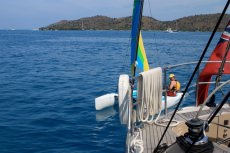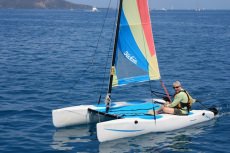 19 - 26 March 2012 - USVI/BVI - Family of 2 Adults & 3 Children
Dear Lynn and Mark
Thank you for everything! Everything we had hoped to experience and so much more! The Pacific Wave was perfect for our family of five, elegant, cosy, peaceful to the extreme. You read our minds as to what we wanted to do each day, including nothing at all.
Thank you for sharing your wonderful craft with us, for your easy humour, and great care.
Sophie thanks you for answering an un-ending stream of questions about everything.
Every meal was a treat, how you keep out doing yourself l will never know.
We cant endorse you more highly.
Thank you for the adventure!

Mike, Holly, Nicole, Colton, Sophie - Family from Georgia - USA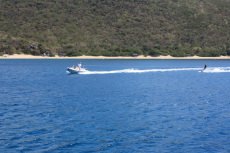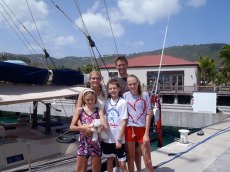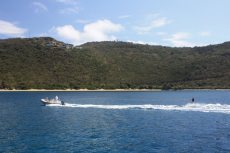 10 - 17 March 2012 - USVI/BVI - Family of 2 Adults & 2 Children
Dear Lynn and Mark
You guys have made my week so fantastic! I love how l got to stay with you while the others went diving. I hope that l can come back to PACIFIC WAVE!! Mark l loved your cooking! You have been spoiling us all along!!! You are very kind and nice! Lynn You are a great Captain! I loved snorkelling with you! You have been extremely great! You guys are the most enjoyable people in the world!
I will really miss you!

Love Nina (9 years old!)

Dear Lynn & Mark
Ren (11) and Nina (9) said it best, Pacific Wave is a beautiful boat but Lynn & Mark made our trip! Thank you for making our family so comfortable on your gorgeous yacht. As Nina points out, you two make the perfect team. Some of the memories we will treasure the most:
- Dolphins welcoming us to Peter Island
- Marks Egg, Bacon & English muffin breakfasts
- Lynn snorkelling with Nina and teaching her about fish, coral, sea cucumbers & more .
- Hollie, Ren and David becoming certified Padi Divers!
- Ren taking the helm in 15-20 knot winds with encouragement from Captain Lynn
- Mark pulling Nina waterskiing & Ren wakeboarding
- Spotted Eagle Ray jumping out of the water off of Tortola (1st for us, 3rd time for Lynn)
- Gourmet dinners onboard Pacific Wave followed by stargazing Venus, Jupiter, Mars
Most of all we will remember your amazing hospitality!
Thank you Lynn & Mark for the most memorable week, we hope to do it again. Until then if you find yourselves in Kansas City, your KC family looks forward to repaying your amazing hospitality!
The Lubys!

Hollie, David, Ren & Nina Family from Kansas City - USA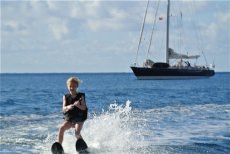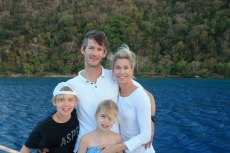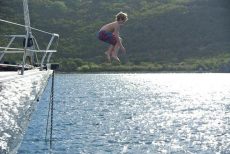 10 - 17 February 2012 - BVI - Honeymoon Couple
Dear Lynn & Mark
Thank you so much for making our honeymoon the most amazing time. We will look back on our week with you, each and every year, with such fond memories. Lynn you are truly a great sailor. Thanks so much for teaching Ash as much as you could in a week and for encouraging me to take the helm! We will also go away with great memories of your Pacific Wave cocktail! Mark, you amaze me! The meals you can create in a yachts galley is a feat that not many could do! The food has been exquisite in taste and presentation. You have inspired me to learn to make homemade pasta! That will be one of my culinary challenges for 2012.
The knowledge you both possess on the BVI adds so much to your guests cruise. Knowing the best places to go, see, eat etc., dependant on a guests needs is invaluable.
I definitely think this is the most relaxed l have every left a holiday and its all thanks to you both. You are such wonderful people who took wonderful care of us.
Thank you so much for sharing Pacific Wave with us.

Holly (Aussie) & Ash (Kiwi) - Honeymoon - Houston - USA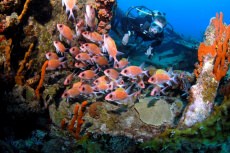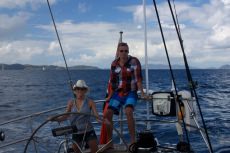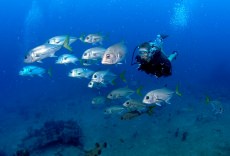 21 - 28 January 2012 - Antigua - St Maarten via Nevis, St Kitts & St Barths - 3 Couples
Dear Lynn and Mark
Thank you for a fun week of sailing! We very much enjoyed sailing and visiting the islands. Your knowledge of the islands and beaches was very helpful. Thanks to Mark for all the meals. The menu was fresh, creative and delicious! Thanks for sharing Pacific Wave, she is a beautiful vessel. We had a great week and appreciate your hard work.
Wishing you fair winds and friendly seas!

Mary, Lee Ann, Jason, Jeanne & Steve - 3 Couples Utah - USA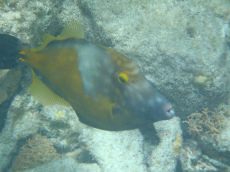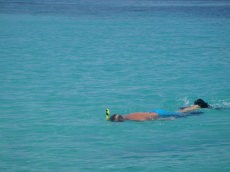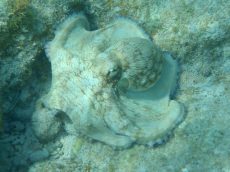 28 December - 4 January 2012 - BVI - Family of 2 Adults & 2 Teenagers
Boy time flies while youre having fun, we had a blast as this week flew by! Mark & Lynn you made us feel comfortable from the very first day we stepped onboard Pacific Wave. We enjoyed our relaxed dining experience with fantastic gourmet meals. We loved the snorkelling and perhaps in the next few years well progress to diving. Thank you Lynn & Mark for your excellent knowledge both on land, at sea and under the water. I cannot believe how much fun we have had! We had a great week because we felt secure with your professionalism and at ease with your hospitality. Hope to see you again soon.

John, Lisa, Lewis & Sarah - Family of 4 - Newfoundland - Canada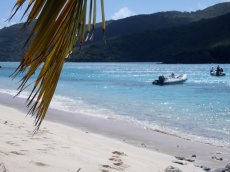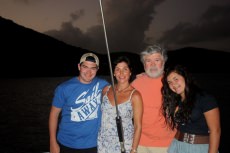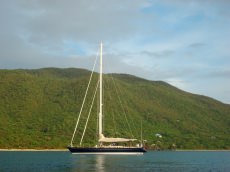 21 - 27 December 2011 - USVI & BVI - Family of 5 Adults
What a fantastic week! Thank you so much for a wonderful time. You two have truly made our experience in the BVI what it was. Pacific Wave is such a beautiful boat with lovely accommodations. It was all the best: scuba diving on Christmas Eve; snorkelling on Boxing Day; introducing us to Ting (we have to figure out how to import it to the US); sailing in glorious trade winds yet still seeming to find us a hidden protected cove each night. And the food! Thanks so much for a great Christmas we only hope Richard Branson can join us next time.

Lily, Hannah, Daniel, Cecile & Kirk - Family of 5 - New York - USA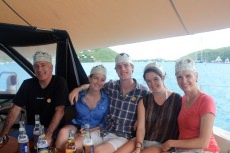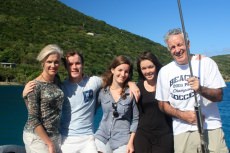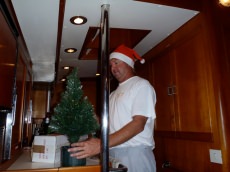 19 - 26 November 2011 USVI & BVI - Party of 5 Adults
Thanksgiving will forever in the future (particularly the meal) be a less exciting holiday! Excellent itinerary, to be repeated soon!

This has been a week in paradise in every way! Thank you so much Lynn & Mark please stay in touch

After a close encounter with the local night life we set sail for a relaxing week with Pacific Wave. The days drifted by blissfully fuelled by a plentiful supply of rum punches and a five star menu executed to perfection by samuria chef supreme Mark. Weather perfect, turtles friendly, scuba & snorkel most successful a great vacation onboard Pacific Wave. Thank you!

For a pregnant women to start her entry in the guest book raving about the food may be a bit clichd. but with food like this.! We started off the week with Marks Dorado Stacks, sailed through every starter and entre sent up the stairs and demolished the most amazing Thanksgiving spread! I and everyone onboard enjoyed every bite and will try our hand at the Dorado Stacks back at home thanks to the Dining on Deck Cookbook which features Marks recipe. During the occasional non-eating moment, this pregnant woman even took the wheel under Lynns supreme guidance. Thank you both Lynn & Mark for a spectacular week, next time well rig up the playpen in the dinghy!

Our vacation onboard Pacific Wave started with a bang! An aggressive drinking night at the Fat Turtle (in Yacht Haven Grande, St. Thomas) followed by a week of well needed relaxing on the open seas. Caribbean Thanksgiving might be the only way to do it! Thank you Mark & Lynn for an unforgettable Holiday!

Party of 5 adults - New York - USA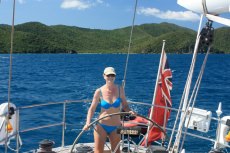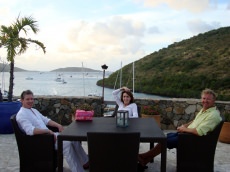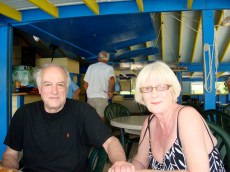 13 Nov - 18 Nov 2011 - BVI Honeymoon Couple
Dear Lynn & Mark

Thank you so much for such a lovely trip! The food was delicious, the service was fabulous, and we are leaving you tanned, rested and relaxed! Youve set the bar pretty high for our newly-married life we expect smooth sailing forever!
We had such fun watching the epic battles between the pelicans and the tarpon, diving the RMS Rhone, and eating that delicious vegetable terrine!
Thank you again for giving us such a wonderful start to our honeymoon!

Liesel & Ian New York - USA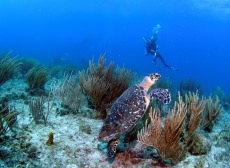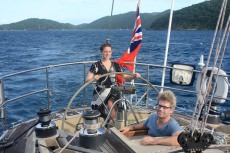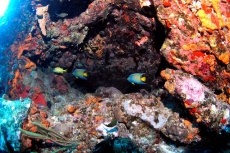 28 Oct - 4 Nov 2011 - BVI - 1 Couple
Lynn & Mark

The past week has been what us Paddies call the craic! . Great times, great food, great laughs and a great adventure!
Never in the entire history of navigation have two land-lubbers been more saddened by hearing land ahoy on the day of their departure!
See you both soon we hope, (whether UK, West Coast of Eire or back here).

Bon voyage, safe trip, god bless you both and all who sail with you.
xxx xxx

Tom & Pauline London - UK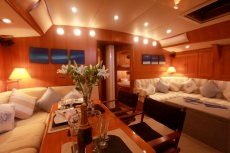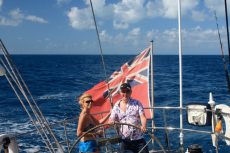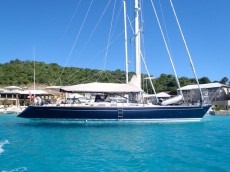 11 - 18 June 2011 USVI/BVI - 1 Couple
Lynn & Mark

Thank you so much for the loveliest week ever! Just stepping on the boat from a long plane ride, and immediately being swept up and away to the most beautiful islands, was an experience that we will always remember and cherish!

Great food, charming company, lots of laughs and contented sighs. What a miraculous week! Thank you so very much!

David & Meredith Austin - USA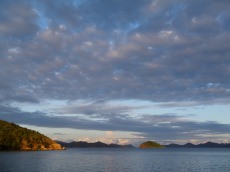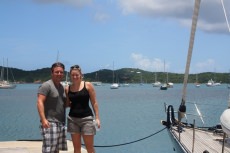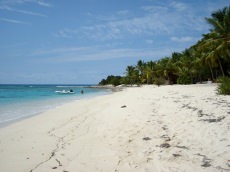 29 Apr - 6 May 2011 - BVI - 2 Couples
Happy 50th Birthday to Wendy!
Mary and Peter, Howie and the Birthday girl arrive onboard the Pacific Wave!
Lynn and Mark so friendly and welcoming! Pacific Wave Grog, naps, and wonderful food! Such a nice time, such special friends!
How lucky we are to have such friends! Heres to many more birthdays!
My memories:
Grog, Spotted Eagle Rays, Turtles, Snorkels, Great Food, Best Friends, Wonderful crew
Beautiful yacht Pacific Wave!
Thank you

Mary & Peter

Lynn & Mark

Wow! that was the shortest week ever! It was just a week ago when l boarded your beautiful yacht to celebrate my big 50th shhh!!! Birthday. The days have gone quickly as each day was filled with delightful fun memories. Loved all the stories of places we visited, loved the amazing yummy meals eggplant stacks, tamarind chicken, the bacon, Howies English breakfast, most especially the Grog forever to be known as a Pacific Wave at my house!
The turtles, the rays, my huge sand dollar were all fantastic, but the best part of the trip for me was spending time with dear old friends and meeting two special new ones. Good luck with all your ventures and travels and l hope to be with you again soon!
All the best and many, many thanks xxxxxx

PS Thanks for your help with boats and touring the English countryside. Oops! Forgot to thank you for the very special birthday card in my stateroom upon arrival and the chocolates

Wendy

Lynn & Mark,

After ringing the bell for having you place the most dinner reservations at the most restaurants for the same date in the most different countries, our cruise in the BVI with some of our intended guests was crack on! Thank you.
From Sopers to Norman, to Peter, to Marina Cay via Guana, Mosquito and Biras Creek, to Anegada for Lobsters and Grog and return, to Marina Cay via Leverick Bay and Great Dog, you spoiled us with fine cruising, good food, and a hell of a lot of fun!
We will join you again, and please sail with us aboard the next SY True.
Should you find yourselves in New England (Boston/Newport) or New York. Please look us up.

Kind regards

Howie CCA, NYYC, MYC, RKYC

Howie & Wendy Ipswich MA USA & Peter & Mary Cape Cod USA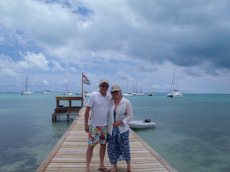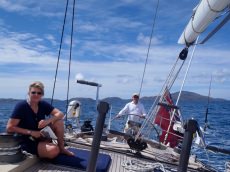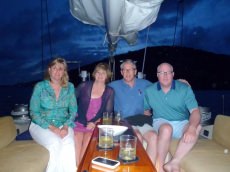 19 - 28 March 2011 USVI & BVI - Family Party of 2 adults + 3 teenagers
"... after reading all the wonderful accolades from previous guests, all we can say is "ditto." But there have been no words written yet to truly convey how we all have been touched by this experience at sea, and the privilege of sharing time with you both aboard PACIFIC WAVE. We always felt much more than your guests, we felt like your family. Seeing new places and adventures is only remembered by the people you share them with and how they made them special. .. what a thrill... to complete our Scuba Diving certification ...I only hope that Lynn, you and I will have the opportunity to dive together one day very soon. ... The purpose of life is to experience joy. ... just know that for 9 days in March, you both brought much joy in ours."

Love Sandra, Steve, Laura, Mark & Braden Toronto, Canada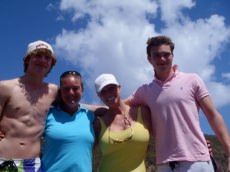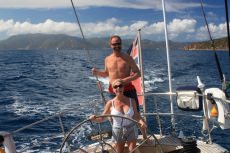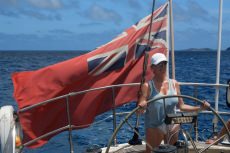 5 - 12 March 2011 BVI - Party of 2 Couples
As we are anchored alone in White Bay on this beautiful evening, we cant help but have wonderful memories of our week on your sailboat. Your knowledge of the BVIs made each sail and anchorage special most had fantastic snorkeling, and the seclusion that helped us to relax and have fun. Brian & Mona

Thank you for sharing Pacific Wave with us for a spectacular, but relaxing week of sailing, snorkelling, gourmet cuisine, Dark n Stormies, secluded harbours, and the Best of the BVI - a great privilege for us to be guests onboard. Please do call or email if you will be in New York or Connecticut. Chet & Suzanne

Chet & Suzanne and Brian & Mona - Connecticut USA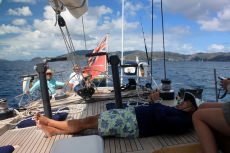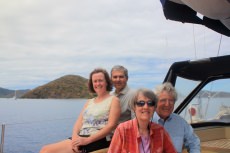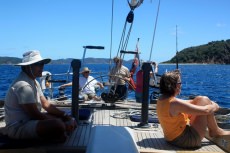 17 - 22 February 2011 - BVI - Family of 5 Adults
"... Pacific Wave was an oasis of welcome. An excellent first night dinner of Mahi Mahi followed next morning by a good sail to Norman Island and snorkelling in the caves - such a wonderful anchorage, the full moon rising was spectacular. The dolphins off Great Harbour were a true highlight swimming with a pod of 17! A heavy squall on the way to North Sound gave us a sense of adventure before reconnecting with landside at Bitter End then Mosquito Island snorkelling before a good run back to Marina Cay. What an incredible trip. The BEST of ALL our charters! - Martyn

When you have adult children leading busy lives in New York you have to offer a pretty spectacular vacation to pull them away and we did! Pacific Wave with Lynn & Mark exceeded everybodys expectation in every way! Thank you so very much we certainly hope to be back! - Grete

Weve swum, weve sailed, weve learned about the Rhone, weve been up close and personal with dolphins, weve had the most amazing meals . not to mention a rum punch or two, weve enjoyed a private beach and a glass or two of vino on board Pacific Wave in short an absolutely fantastic weeks holiday. Well be back! Thank you! - Magnus

An amazing trip exceeding my high expectations. Wonderful sailing on a magnificent boat around the many sights the BVI has to offer. Doubtless the best swimming pool in the World, enjoyed with knowledgeable hosts. Fantastic sailing and the secret to the perfect Pavlova too! Many thanks - Kerry

This was an incredible trip! Pacific Wave and the BVIs teamed up to provide fun, sun, and close encounters with magnificent fish and dolphins. Lynn and Mark made this trip as relaxing as possible and have forever ensured this as one of our best vacations. We will send pictures for the book! - Anna

Martyn, Grete, Anna, Kerry & Magnus - Philadelphia & New York - USA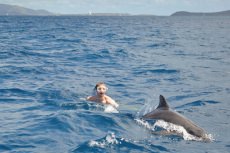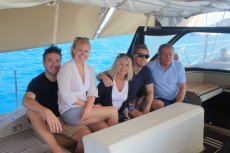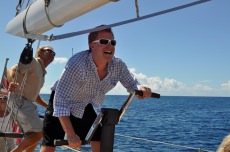 28 December - 4 January 2011 -BVI - Family of 2 Adults & 3 Children
We had warned the children that living on a boat felt like living in a small place you have both made the beautiful Pacific Wave feel like a very large place indeed such has been the most welcoming and relaxed way you have both looked after us from the very start. We were just sitting here, drinking our Rum and Cokes (Sarah and Guy!) and getting very nostalgic about our last night on Pacific Wave we were discussing if a sailing holiday was something to be repeated - emphatic yes all around. You both work consistently hard to look after your guests, relentlessly asking if we have all that we need the food did indeed present itself in an unrelenting gastronomic delight Mark thanks, amazing what is produced from the galley! As for Pacific Wave well we chose her on her looks and we have not been disappointed, she sets the bar high. On top of all this, what a nature trail .... Endless fish of course, but additionally swimming with pelicans, helping baby leather back turtles, finding struggling tarantulas, catching tuna for supper and so on and so on... Thanks masses from Guy and Sarah...

Thank you very much for a fantastic 7 days! I loved the snorkelling and thought the wakeboarding was great fun. It was wonderful to learn about winching and catching the tuna was an added bonus! Many thanks Oscar, aged 14

Thank you both so much for this week. It has been fantastic and I have particularly enjoyed the snorkelling, waterskiing, drinking Ting and sunbathing, but to be honest l have loved it all! I will miss everything here when l go back to England, but l would like to come back here again to Pacific Wave very soon! Thanks masses again for the great food as well. X - Phoebe, aged 12

Thank you both for an excellent week on the Pacific Wave. It was a highlight of the whole year. Many of the activities l enjoyed are; snorkelling (once l finally got into the water!), looking for shells on some beaches, and many others. The food was delicious all through the week, and it was very relaxing sunbathing. Thank you again for a great week xxx . - Immy, aged 10

Guy, Sarah, Oscar, Phoebe & Immy - Kent - UK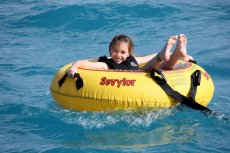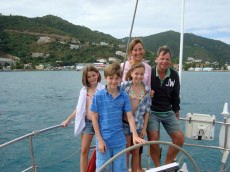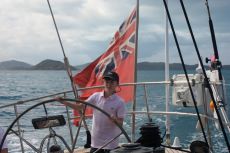 21 - 28 December 2010 - USVI/ BVI - Extended Family of 4 adults & 2 children
"That was great fun, and amazingly organized, not always the easiest thing to achieve when confronted with two quite small, opinionated children. Lynn ran PACIFIC WAVE with absolute, but understated authority, very reassuring. Mark worked the boat, cooked brilliantly for all demands, and had Rory clinging to him like an adoring limpet. PACIFIC WAVE was great. We have sailed quite a lot of boats and she handled beautifully and had a lovely 'feel' to the helm. Very splendid! Finally the BVI lived up to their billing with great weather, good (and very friendly) winds and spectacular anchorages. A great experience, and long may PACIFIC WAVE prosper." - Mary & Patrick

"Thank you again for a great week, and for being so accommodating of the whims and behavior of James and Rory. If you ever want to cruise Suffolk on a 26 foot yacht, you are welcome to borrow ours. Mark you could show Lynn all those riverside pubs." - Antony

"What a fantastic holiday, & beautiful boat! Thank you for looking after us all so well & putting up with all of our different -- & often conflicting requests. The boys will have quite a shock when they get home to our small boat; Rory will just have to use his imagination to dream up what he will build us! Thank you." - Jo

"Wonderful holiday for three generations. Lovely sailing, fantastic meals and a splendid Christmas! Thank you both so much." - Mary

"Thank you! We had lots of fun. Love, James & Rory"

Mary & Patrick, Antony & Jo, James & Rory - London - UK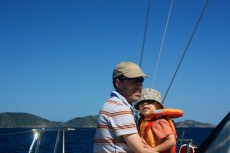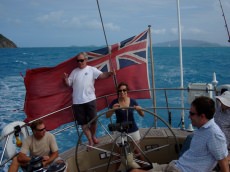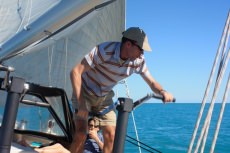 27th November – 4th December 2010 - USVI/BVI - Family of 4 Adults
In all ways, a perfect voyage boat, crew, routes, harbours, food, company, the islands, weather, more food you have given us a spectacular gift, and we have been happy in your care. Back next year! - Michael, New York USA

This week has fulfilled and exceeded our dreams of a perfect holiday in the Caribbean. The most wonderful, relaxed, pampered and altogether far-too-short few days! Mark, you astounded us with your creative culinary skills and Lynn, your organization and sailing. Thanks, both of you. - Suzanne, Helen & John, Melbourne Australia

Michael - New York USA - John & Suzanne and Helen - Melbourne - Australia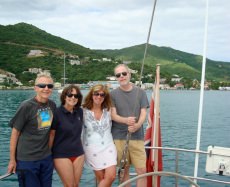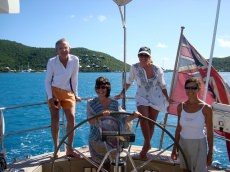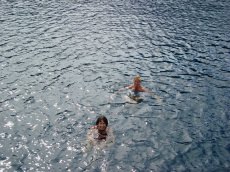 31st October – 7th November 2010 - Grenadines - Family of 2 Adults & 2 Teenagers
An absolutely perfect vacation! You are a wonderful couple and gave us the best vacation! Best ever! - Patricia

We appreciated so much to be sailing on a real sailboat with such a serious, and pleasant crew, that took such good care of the boat, as well as of the customers. The sailing was great. The food was great (thank you Mark in particular). Lynn, you were a fabulous skipper this week. And thank you for letting us participate in the sailing and the handling of the boat, in
particular our teenagers Carl & Jenny, they appreciated that a lot. We hope to be back soon! - Sigbjorn

Thanks for giving me the best time of my life! Sailing with you on your yacht was like visiting paradise! It was really inspiring as well! Now Im already planning to crew on a boat next year! I hope we will see each other soon! Hopefully we can stay with you in the BVI next year! Best wishes and thanks - Carl

Patricia, Sigbjorn, Carl & Jenny - Stockholm Sweden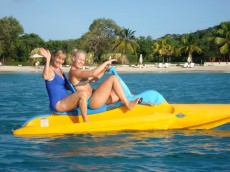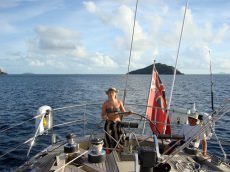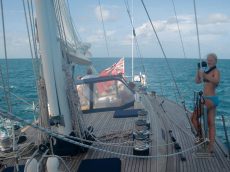 23 – 30 October 2010 - Grenadines - Family Party of 2 adults & 2 young children
We had a lovely time, we though it was the best holiday ever! - Ally & Loulou, Age 7 & 6 years (Loulou celebrated her 6th birthday onboard Pacific Wave!)

We had the best time ever! It was our dream holiday and it lived up to every expectation we had. Thank you Lynn & Mark for such a lovely time. Please come for dinner at Wisley Chase when you are passing through next time. All our love xxx

Nicola, Matteo, Ally & Loulou - Surrey England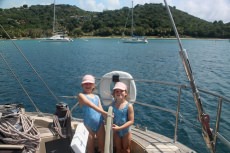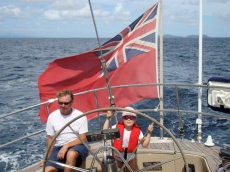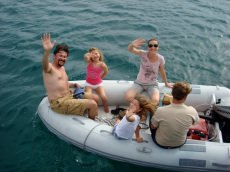 24 – 31 July 2010 - Grenadines - 1 Couple
Lynn & Mark
Thank you both so much for a trip of a lifetime! We didnt say because Hill doesnt like all the attention, but it was Hills 40th birthday cruise and it could not have been more special thanks to both of you. A perfect first cruise of many to come!" - Maggie
"Pacific Wave is truly a Queen of the Sea. Your attention to detail made for the most enjoyable trip. Mark you turned non- eaters into feasters. Now its double time in the gym. A+1 for professionalism. - Hill

Maggie & Hill - Florida, USA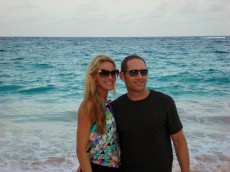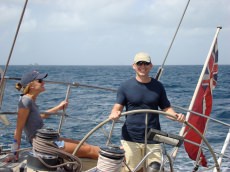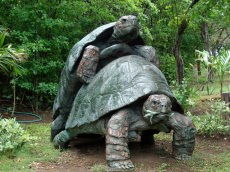 4 - 10 May 2010 - Grenadines - 1 Couple
"Dear Lynn & Mark
Thank you both for a really enjoyable sailing experience. This was Phyllis first sailing trip and she could not have had a better crew you have made a convert of her (my thanks for this!). Pacific Wave is a very special boat (Im very jealous) and you both made us feel very relaxed at all times (a great achievement given the market turmoil!!). Your knowledge of the area was a great benefit and snorkeling (the first time for Phyllis) in the Tobago Cays was marvelous. And talking about enjoyment, Marks meals were fantastic - we feel very spoiled. Thanks for everything you are truly great hosts. Please do come visit us next time you are in the UK we would love to see you both there. Warm regards."

Peter & Phyllis London UK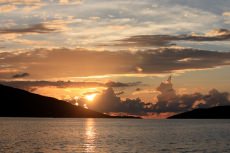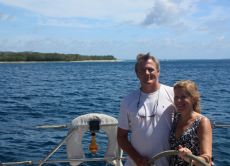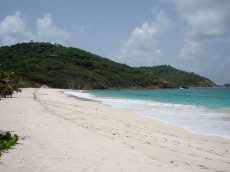 18 - 25 April 2010 - BVI - Family of 3 Adults & 3 Children 15, 13 & 8 years
Dear Lynn & Mark
On behalf of the grown-ups... thank you for EVERYTHING! We felt special and spoiled the entire week. The anchorages were perfect many were new to us in spite of several other bareboat charters in the BVI. The boat is special and gorgeous. And the food was beyond our wildest dreams. For all of us (kids too), some highlights are: Averys first water ski, Wreck of the Rhone by snorkel!, Seeing one (or more) sea turtles each day, The sail from White Bay to Sopers Hole, Our private beach on Mosquito Island, Keeping us away from the bad fish, Our night out together at Biras Creek & Saba Rock, Beatrix sleeping under the stars!, Isabels love of kayaking and starchy food ... swimming around the boat, Getting to know you both a little and swapping tales Thanks for the passage! We hope that youll come North. It would be our pleasure to host you - and show you around land or/sea in Rhode Island or Weston MA. Fondly.

Meg, Jonathan, Carter, Avery, Beatrix & Isabel Weston MA, USA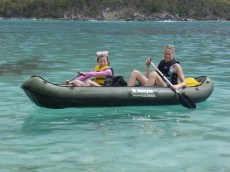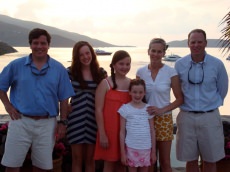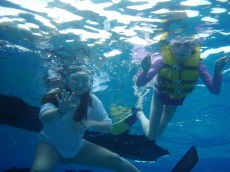 2 - 7 April 2010 - USVI/BVI – Family of 2 Adults & 4 Children
Dear Lynn & Mark
We leave you rested and full of memories to keep for a lifetime! From the moment we stepped aboard until our day of departure you made us feel so welcome and comfortable, attending to our every need. Thank you for allowing John to share the helm (he was in his glory), for filling us with your amazing meals, and showing us the beauty of both the US & British Virgin Islands. It was such a pleasure to get to know both of you, and we thank you for sharing Pacific Wave with all of us. If you ever bring Pacific Wave to Nantucket please let us know perhaps we can return a bit of your wonderful hospitality.
Best wishes to you both.

Fondly John, Donna, Lauren, Sara, Emily & Anne New Jersey USA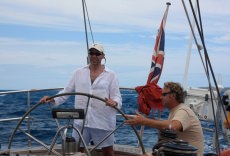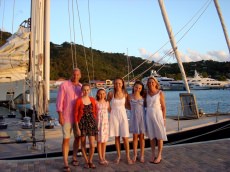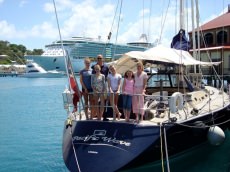 22 - 29 March 2010 - USVI/BVI – Family of 2 Adults & 2 Children
Dear Lynn & Mark
"Thank you so much for making our inaugural sailing trip so very special! We had such a blast and will never forget our time together on Pacific Wave. You two were such gracious hosts. Thank you from the bottom of our hearts."

Much love, Mark, Elisabeth, Caroline & Walker

Dear Lynn & Mark This has been the best sailing trip Ive ever been on, (it has been since its the first), but Im sure it will be the best if l go on more. Thank you!

Caroline age 11

Mark, Elisabeth, Caroline & Walker - Boston USA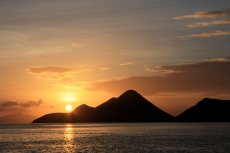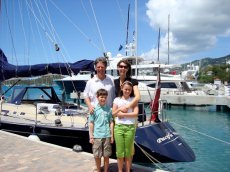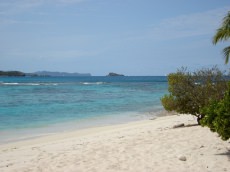 22 Feb - 1 Mar 2010 - 3 Couples - Sint Maarten – St Barths – Anguilla – St Martin – Sint Maarten
Dear Lynn & Mark
"Sailing on Pacific Wave has been a relaxing, fun time. I have to admit that l approached this adventure with a bit of trepidation would l be able to enjoy the voyage while worrying about mal de mer. Knowing that l had lots of support eased my concerns. You all were terrific. Your knowledge of the boat and the area helped me relax. Wonderful food, comfortable accommodation, and most of all, great company created lovely, memorable times. Merci.

Barbara Salt Lake City

Lynn & Mark Barbara & l thoroughly enjoyed this 7 day sail. You both were just wonderful sailing skills, attention to your guests & lovely personalities. We so appreciate your professionalism, friendship, attention to every need, wonderful meals, and a fine horses neck (Dark & Stormy). Thank you. We recommend you highly, had a wonderful time and are grateful for your great hosting &captaincy. Thank you.

Jim (AKA Jimmy Bob) Salt Lake City

Dear Lynn & Mark We have spent years bareboat chartering. What a pleasure it has been having you to plan our day sails with us, and providing such wonderful meals. It has been a spectacular voyage. OK many superlatives have come your way from our entire crew. They are well deserved. But let me add what might be a unique thought. Pacific Wave and its crew created an atmosphere where three couples, friends but not yet comrades, turned the corner and developed feelings for each other that are deeper, richer and more enduring. What a gift we received from each other. The sun, the ocean, & Pacific Wave were essential. The two of you provided the ingredients to work the magic, thank you both.

Michael Salt Lake City

Aboard Pacific Wave, a beautiful and elegant yacht handled by Lynn & Mark, a beautiful and elegant couple! Nonpareil service, sensational food, wonderful comradity. All in all a week to long remember. And, the added touch of captain to mate, and mate to captain referring to each other as Darling. You two are wonderful and deserve nothing but fair winds and smooth seas."

Fondly Tony & Carol Salt Lake City

Michael & Mary, Barbara & Jim and Tony & Carol - Salt Lake City - USA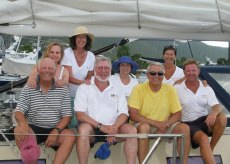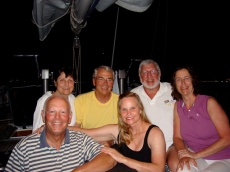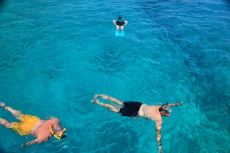 31 Jan - 7 Feb 2010 - BVI – Honeymoon Couple
Dearest Lynn & Mark
We were lucky to be with you for our honeymoon charter. We searched long and hard for the right boat and crew for this most extraordinary moment in our lives. We placed our trust in you, and in Pacific Wave, and we were rewarded one-hundred fold! We are so grateful to have spent this blissful week with you upon your magnificent yacht. She is a unique and singular experience floating in the World. She was meant for you and Mark, and we are blessed to have sailed with you both. Lynn, you are our captain. Mark, you are a culinary inspiration. And now, you are our friends. We wish you and Pacific Wave
the future you deserve, and send you our love and gratitude.

Jennifer & Scott Boston USA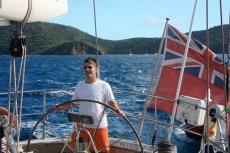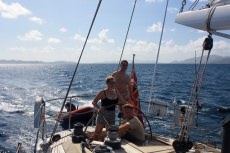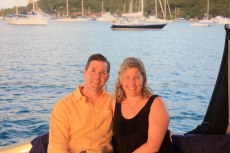 26 December - 2 January 2010 - USVI/BVI – Family of 2 Adults & 4 Children
Lynn & Mark
Thanks so much for welcoming the Heher gang onto Pacific Wave for such a wonderful cruise from St Thomas to Virgin Gorda and back. Highlights were many, too many to list, but here are some: Fabulous Captain(s) & Chef/Crew a great team! -Upwind trip from Cooper Island to Virgin Gorda - Run from Virgin Gorda to Peter Island - Great snorkeling & tubing - The Coffee Grinders - Calm, unique anchorages - The Shark (Tarpon in disguise) in Francis Bay - The Barracuda at Christmas Cove - The Sting Rays at Norman Island Eggs (Poached), Tamarind & Lime Chicken, Summer Fruit Compote, Garlic & Tomato Shrimp, Salads & Salad Dressing. Everything served was delicious, nutritious and fresh, and in exactly the right portions. Thank you so much for making this our BEST VACATION If youre ever inclined to visit New England, well be offended if you dont call us. We could even visit Newport RI and look at sail boats!

Eliot, Katrinka, Anneke, Eliot Jr, John, Abigail Boston USA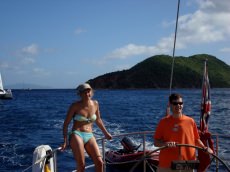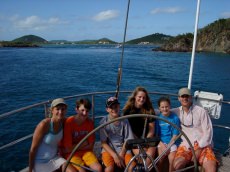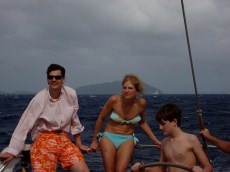 18 - 25 December 2009 - USVI/BVI – 2 Families - 2 Adults & 2 Children
We had a splendid time. Circum-navigating Tortola, we snorkeled, swam, water-skied, ate (amazing food), and sailed! Gorgeous! Absolutely beautiful boat and the most wonderful, capable, friendly captain and mate! Thank you!!

Marc & Julia New York

What was more fun? Wakeboarding around Le Chiffres mega yacht, the divine poached eggs and bacon or seeing the genoa unfurl on the passage from Sopers Hole to Norman Island? Getting the balance between looking after your guests and bothering them and letting them have a go at sailing and being in control is a fine art which you do really well!
The boat is of course beautiful! The excellent cooking solved the Caribbean food problem completely and left even the best restaurants (Biras Creek) in the shaded. Thank you for a first class week! We hope to sail with you again sometime

Simon London

Also had an excellent time! I loved wakeboarding, being under full sail and seeing the dolphins!

Thomas London

Marc & Julia - New York USA - Simon & Thomas - London UK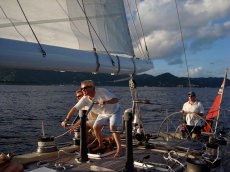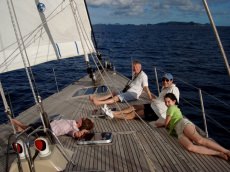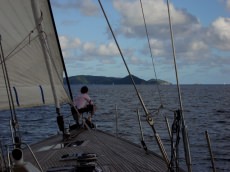 24 November - 2 December 2009 - BVI – Family of 6 Adults
Eight fabulous days aboard Pacific Wave, thank you Lynn and Mark. Very unfortunate that some of our party were forced to depart early, but all the more reason to come back again soon. The meals were outstanding and the islands and snorkeling just gorgeous. Pacific Wave is unsurpassed!

Diana & Ian - Canada

In the face of unexpected events, Lynn & Mark accommodated our needs and gave us a home to return to. The last few days of sailing have been outstanding. The boat is immaculate and the food a continually unfolding gastronomic delight! I shall miss all the company, the laughter, learning about shepherding. Come to Canada. We sail there too! Thank you

Diana Canada

George & Jennifer, Diana & Ian, Diana, Sarah - Canada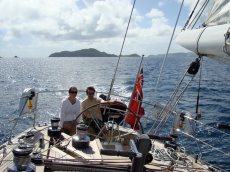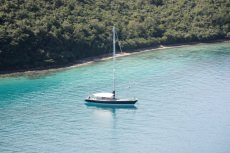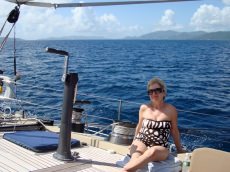 7 - 14 July 2009 - BVI – Family of 2 Adults & 3 Children
Our second voyage on Pacific Wave, this time with the three kids. A magical trip again. You showed us beautiful scenery, stunning anchorages, wonderful times. And ... the kids loved it! I have rarely seen them engaged to this extent. Thanks again for your hard work and companionship. We always feel safe with you guys.

Guy, Isabelle, Mike, Steve & Lara Canary Riverside,London & Gent, Belgium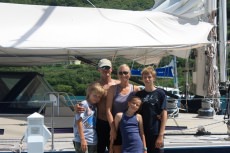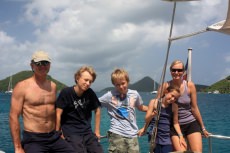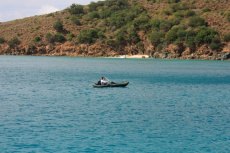 27 June - 4 July 2009 - St Martin - St Barts - Anguilla - BVI – USVI - 1 Couple
Great trip, everything was wonderful, thank you! Good times, lots of laughs, enjoyed the Forests (Pacific Wave special rum punches), all our meals, snorkeling, etc. Willie Ts quite the show ha ha! Happy Birthday me and Mark! (Christine celebrated her birthday onboard, the same day as Mark celebrated his). Enjoy!

Bob & Christine Wolfson New Jersey, USA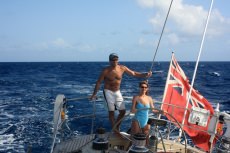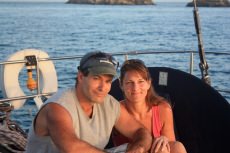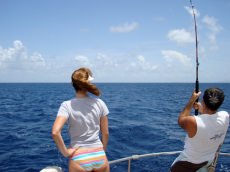 19 - 26 April 2009 - St Lucia - Grenadines - St Lucia - 1 Couple
"One word only: MAGIC ... We had a fantastic cruise thanks to your very professional skippering, your attention to detail and service. THANKS!."

Guy & Isabelle - London, England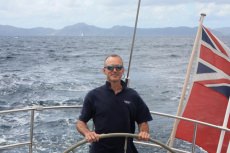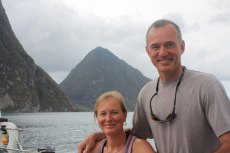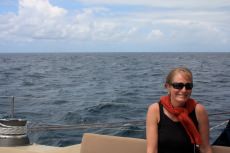 21 - 28 February 2009 - Antigua - Nevis - Monserrat - Guadeloupe - Les Saintes - Antigua - 1 Couple
"Lynn & Mark
You all gave us a great and memorable week aboard Pacific Wave. She is a beautiful, seaworthy boat and sails magnificently, a rare combination. Our sail to Nevis, Monserrat, Guadeloupe & Iles des Saintes was tremendous fun. You all looked after us wonderfully and worked so hard in some fairly lumpy seas. Marks work both above and below decks amazed us. Out one minute working the boat, the next producing terrific meals. We have both sailed all our lives and therefore really appreciate the hard work you put into making our week with you special.
Let us know if you bring Pacific Wave North we would love to see you there too. Thank you all for a really terrific week."

Hugh & Helene New York, USA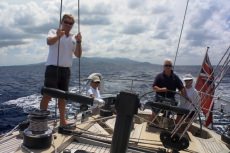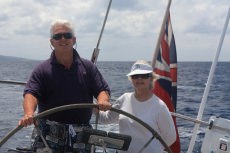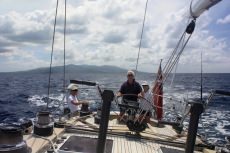 January 2009 - Antigua - 3 Couples
"As a final touch to our two week holiday to Antigua Lynn & Mark took us all (6) on a fantastic adventure on their beautiful boat. We started off from Falmouth Harbour and set sail towards Green Island for a wonderful and delicious lunch followed by a nice swim and chilled rose wine on deck. Thursday morning we had our Scandinavian morning swim and tea, breakfast of fruits and croissants, before yet again setting sail to Carlisle Bay where hundreds of turtles welcomed us and we had a lovely lunch and more rose! Weve had a wonderful time with you both. Thank you so much for giving us this amazing final touch to our holiday. Lots of love xxxx"

Pernille, Gina, Tonja, Jan P, Oystim, Axel - from Oslo, Norway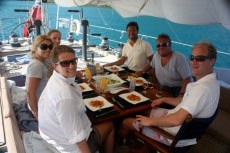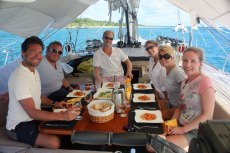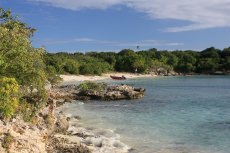 January 2009 - Antigua - Family of 7
"A fabulous day out for the whole family. Lynn and Mark made us very welcome and it felt as though the boat was our own! A delicious lunch whipped up by Mark went down very easily along with a superb glass of white wine. Thank you both very much."

John, Christine, Helen, Nicholas, Elisabeth, Jennifer Thizackerley & Somja - a family from London, England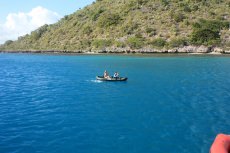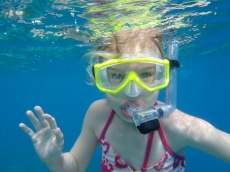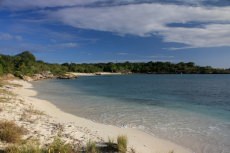 December 2008 - Antigua - Family of 7
"Fantastic day to Green Island, Antigua. Absolute highlight for whole family from age 7 to 70! Lynn & Mark made our charter a totally relaxing, special experience."

Alison, Mark, Giles, Eliza and Seb Thompson from Norfolk, England & Laura & Packer Wilbur from Southport, CT USA