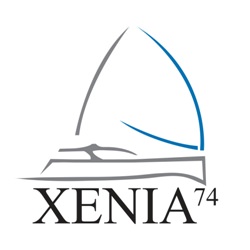 Previously named Lady Alliaura 2

XENIA 74 GUESTS COMMENTS
June 2019
The ABSOLUTELY BEST CATAMARAN CHARTER EXPERIENCE IN THE CARIBBEAN.

We were four couples celebrating important wedding anniversaries and wanted the best. The Xenia 74 boat, accommodations, crew, meal service and sailing experiences EXCEEDED all expectations as we spent the week recently sailing among the British Virgin Islands.

The Xenia 74 is 74.5 feet long catamaran with a handsome and magnificent master bedroom and three other bedrooms all with top notch out fittings and superb air conditioning.

Captain Tony with 20 years of experience provided smooth sailing and excellent access to snorkeling, scuba and beach combing sites.

Chef Kate in our unanimous opinion is the BEST in the Caribbean. From elegant omelets and fresh made croissants in the morning to wonderful salads for lunch and perfectly cooked to preferences fish, chicken, lamb chops and steak at dinner we were blown away by her preparations. Did we mention the fluffy pancakes, the decedent French Toast or what she does with balsamic glacé? Desserts were also superb. Her chocolate raspberry cake has to be the best in the Western Hemisphere.

We did stop one day for an on shore lunch at Cooper Island for local lunch and ice cream. Go a bit before noon to get your orders in and proper choice of tables before hoards arrive.

We brought along a case of our favorite wines which were amply fortified by the Xenia 74 inventory of American and French wines.There is an extensive variety and supply of various liquors on board .Additional crew members Katie and Nick provided superb support and added tremendously to our wonderful experience.

This was a marvelous once in a lifetime wish made perfect by this handsome boat and superb crew.
Booking on any lesser boat would be a shame and missed opportunity for perfection.
We should have booked for two weeks!
Best regards,
David B
NYC

March 2019
LOVED EVERY MINUTE! Decadent Crazy Fun. Thank you Tony for taking great care of us! Events to remember - Tony's dancing, music, all of Kate's meals!!! Beautiful presentation and delicious! Thank You Kate for cooking ALL vegan for Ken and Car. We loved it!
Tony, Kate, Katie and Nic all have a place to stay if you come down San Diego way!
Steve, Jen, Scott, Sophie, Mick, Joanne, Kennedy, Carley
March 2019
All made this a spectacular trip. From the guidance and flexibility of Captain Tony to the attention to cuisine and flavors at every meal, to Nic's ability to allow us to experience all things and keep our ship tip top, to the beautiful table settings and sparkling eyes and personality of the adorable Katie, this crew was the best we could have imagined.
Debbie, Beth, Ann, Julie, Buck, Tom and Dave

February 2019
Amazing Boat and 5 star meals and drinks. Plenty to do every day in-between the laughter and fun. The crew is First Rate - Tony and Kate, Katie and Nic are the best and made us immediately comfortable in unfamiliar surroundings. Sunny days, late breakfasts, water sports, island walks, bar hopping, storytelling, motor and sail, beautiful rooms, incredible service, our every wish honored and a full moon rising. We loved every moment of our adventure and love the crew.

This adventure is simply one of the best.
Leslie, Rosemary, Ronald, Amy, Joan and Sean.
February 2019
The Top Class crew of Xenia 74.
Kate your cuisine can't be beat.
Katie you giggle is ever so sweet.
Nic you rescued us from the deep.
And Tony has steered us awake and asleep.

Thank you for an amazing trip. For the professional way you kept us from harm. We will never forget this beautiful boat. But most of all your kindness and charm.
Pat and Billy
February 2019
Staff on the ship were excellent! Chef Kate made excellent meals. Katie and Phillipa served and spoiled all 8 of us. Captain Tony is an excellent Captain, taking extra effort to make sure we were all safe throughout.. Love the vacation and walked away with an adopted Granddaughter Katie.

Nitin, Leena, Dinesh, Rita, Bhupat, Hansa, Rohit and Maureen
New Year's 2019 Charter
We had an absolute blast on the trip. The Xenia 74 is an awesome boat, huge master suite, great other bedrooms and really nice outdoor space. The crew was amazing. Kate is a fabulous chef and we marveled how she could accomplish so much in a tiny kitchen. She kept us well fed with delicious breakfasts, lunch, snacks and dinner. Adam was a great first mate, friendly and outgoing, great with my kids and generally fun to be around. Katie was a great stewardess, always there with a drink or anything we need and super friendly and outgoing. I can't imagine having a better captain than Tony. Clearly he has been doing this a very long time, he knew everything about the islands and where to go and not to go. He is very adventurous and fun which was a great fit for my family and even took the kids on several treasure hunts through the islands and even had them bury some treasure of our own for others to find. I would recommend the boat and crew to any of your clients and will definitely send some of my friends your way who are now interested in the trip and tell them to book the Xenia 74.

Thanks for getting everything set up so seamlessly for us. Sign me up for the newsletter for sure.

Happy New Year,

Josh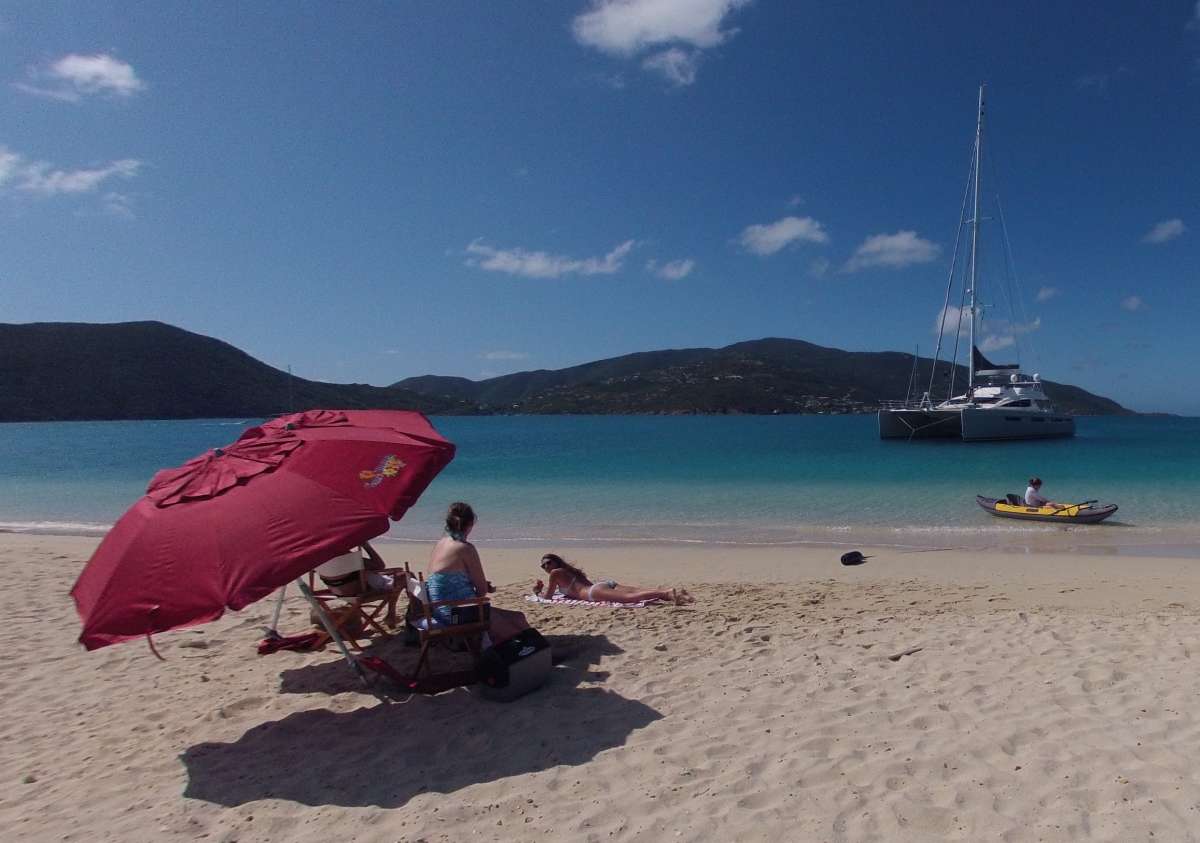 December 2018
The crew was phenomenal! Tony is tremendous fun, Kate is the most amazing chef, Katie and Remi are jacks of all trades and masters of all. They truly made our family vacation and birthday celebration the best it could be!
Ken, Liz, Kevin, Laurie, Kenny, Paige, Tommy and Brooke.
October 2018

This vacation ranks up there with one of the best vacations we have taken. Many times we said to each other that this couldn't be real, it was too good to be true. Each day was relaxing and stress free – just as we wanted.
We can't rave enough about the captain and crew. Adam was the perfect scuba guide, showing us all the awesome underwater sites and keeping us safe. Katie kept us well hydrated and made sure we were having fun. We knew we were very spoiled when she delivered drinks and appetizers to us while we floated off the back of the boat on the inflatable raft. Kate worked her food magic on us. We still can't believe the meals she was able to produce from a boat galley. It was like fine dining in a 5 star restaurant every day! And all the while, Captain Tony made sure our travels were safe and enjoyable. His knowledge of the islands and local landmarks were very appreciated.

The meals were fantastic! Kate definitely paid very close attention to our sheets and our expectations were exceeded. The yacht was very clean and well maintained. Cabins were great. There was plenty of shade and sunny lounging areas. We also enjoyed listening to our music over the sound system.

Most liked – large lounging area in front. Least liked, maybe the many steps in the master bedroom as they are kind of treacherous in the dark. But honestly, I almost feel guilty even mentioning that because we really loved everything about that yacht. Pace and itinerary were perfect for our group. We described what we were looking for and Captain Tony and mother nature delivered! He was able to take us to out of the way quiet spots, which was just what we were looking for. And, he also found beautiful, breathtaking spots to anchor at night.
-C.C



October 2018
The diving and snorkeling was great. Tony knows a lot about the various islands which helped us make decisions and try new things in different islands. Beware the circle of death! (the island float 😀). Kate's meals were all amazing! WE all gained at least 5 Pounds! Best crew and vacation ever.

Carol, Kurt, Julie and Mike
July 2018
My husband and I, along with friends, had the great pleasure of sailing with Tony and Kate the week of June 29th through July 7th on the beautiful Xenia 74. We had never been to the BVI, so the entire trip was a new adventure for us. The ship and the crew combined to make this a once-in-a-lifetime, never-to-be forgotten experience.

Thank you for providing us the best Captain in the Caribbean, Tony. Tony's masterful command, not just of the ship, but of the entire experience, was comforting, reassuring and perfect for first-timers. He made everyone feel at home and even joined us as we played games on the aft deck at night. He is funny, but in command; truly a sincere and gracious host and a very capable Captain.

For us though, the real star of the trip, was Kate and her cooking. Oh my goodness, Kate created a Michelin-starred restaurant on our boat. Each meal was not only beautifully and tastefully prepared, but creative and delicious without being pretentious or overthought. She is a remarkable chef and along with Tony, they make the perfect couple to manage the boat and its guests.

The rest of the staff was very hospitable and warm as they delivered outstanding service to all on board. Katie and Kerry took care of our every need – sometimes before we even asked. They were super customer-focused and fun to be with. In fact when we returned home, my husband and I often remarked how much we missed Katie asking us, as she did multiple times throughout the day, "What can I get you to drink, eat, etc." They all made us feel special and welcome on the beautiful cruise.

The relaxation, fun, food, and friendships of this voyage will stay with us long after our return home. Thank you for providing such a comfortable, clean, well-equipped yacht for our journey. And huge thanks to Tony, Kate, Katie and Kerry for giving some Texas landlubbers the cruise of a lifetime.

Donna


May 2018
" Tony, Kate, Kerry and Su were all very professional, friendly and knowledgeable. They made everyone feel so comfortable. They each possessed a lot of knowledge about the Virgin Islands from the history, to the landscape and geography as well as about the waters the creatures within. The attention they gave to us was perfect - we didn't want for anything. We couldn't have asked for a better crew for our first charter and for the Xenia. - a match made in heaven."
Thanksgiving 2017
After a long day of travel, we are back home in San Francisco.

My recommendation to you, Patty, is to recommend Xenia with your highest praises. Xenia 74 should be first choice for your charterers. The boat itself was clearly the finest in the Caribbean. And, while the boat and location are enough to make a very memorable trip, it was the crew that took the trip to extraordinary levels. I have no experience with other crews but I cannot imagine a better crew than Bernie, Matt, Angie, and Dessi.

Thanks for everything,
Kenny