DREAMING ON GUESTS COMMENTS
February 2018
Thank you for helping us with a memorable first sailing trip in Belize. Geoff and Iza were wonderful. They went all out and showed us the best of the best. We will be back!
Peggy and Dave, New York
February 2018
Good morning Geoff and Iza,

A wonderful time on Dreaming On with you folks. Iza, thanks for all the recipes you sent. Can't wait to get home and "get cookin'"!

Best of luck with the ongoing construction on Funk Caye. Please send a photo of progress from time to time.

Best regards,

Dave


January 2017
Geoff & Iza
Thanks for a trip full of memories.
When we look back on the week spent together, our fondest memory will be the gracious and loving hospitality the two of you showed us. While on the water and a couple of thousand miles from the north east, we couldnt have felt more at home. It will only be a matter of weeks before we again Dream On and set our minds towards our next journey on the water.
You have instilled in us a passion and purpose, a way of life that cant be matched on land.
Michael and Eugenia
January 2017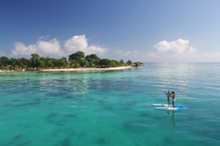 March 2016
Wow what a trip! Thank you so much for encouraging us to go to Belize. The Turtle Inn is a very special place, and Dreaming On even more so. We truly enjoyed the crew; they were professional, passionate and great company. The food was off the charts as was the service. A trip to be remembered by all!

If you get the chance, please extend our praises to Geoff and Iza.

All the best,

Suzanne

January 2016
Thank you so much for a wonderful trip! Your hospitality was unequaled and the food was amazing!
Well take home many special memories. Nathaniel and Ali will be talking about the tubing for years to com.
Very much appreciated all the little details. This was a wonderful family vacation and will, indeed, provide many memories. Thank you.

Tim, Jennifer, Abby and Nathaniel and Beth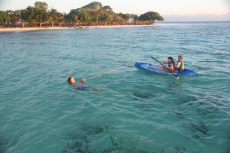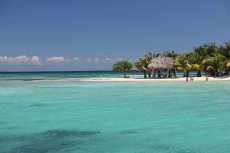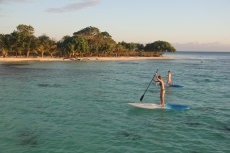 New Years 2015/16
Dear Geoff and Iza
We would like to thank you for the most amazing trip! We made so many memories that will last a lifetime. We will cherish them and the time we spent together on our journey. You made our 16th Anniversary very special and our New Year the best! Marie and Anthony
I will never forget the day I first went snorkeling. You guys made the experience a never ending fun! Alessio (age 11).
Thank you for the 5 star meals. Vinnie (age 13)
Thank you for letting us explore Funk Caye. Anthony (age 15)
Best wishes on your journey, until next time. We will miss and the sea. Keep Dreaming On!

The Pasquesi Family
Chicago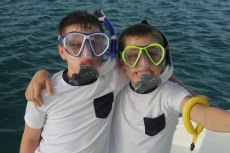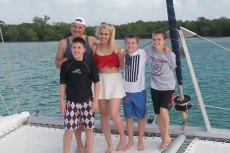 BELIZE November 2015
Dear Geoff and Iza

We feel so fortunate to have been on your maiden charter in Belize. It was incredible to experience the waters of Belize. Food and service were the best; so much more than we expected!
We will be dreaming of another cruise on Dreaming On.

All the best

Kathy and Bruce
W Virginia


Geoff and Iza

All has been perfect. Each snorkeling spot better than the last. Incredible food and drink and presentrd with such grace.

Thank you both for such a wonderful time. Belize is fantastic and so are you!

Margaret and Dick
West Virginia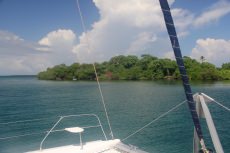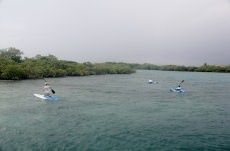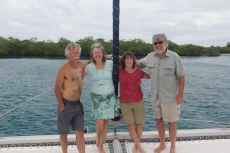 March 2015
Geoff and Iza
Thank you so much for a spectacular nine days of cruising. Your warm hospitality and meticulous attention to every detail have made this a vacation to remember!
Bob and Bari
Vancouver, BC

Geoff and Iza
On behalf of the Diamond family, we want to thank you for an amazing vacation a sea. We have numerous and fond memories which will last a lifetime! One of our best vacations ever! We greatly appreciated your kindness, warmth and caring ways. The meals and specialty drinks were terrific. Hope our paths cross again sometime . Belize perhaps??! XO
Chuck, Jodi, Alyssa and Sarah
Vancouver, BC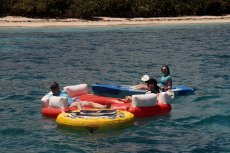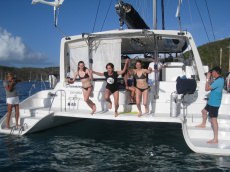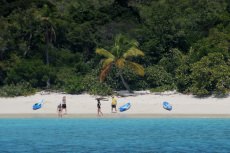 February 2015
Cheers to Geoff and Iza
Thank you for treating us to a fabulous sailing vacation with the perfect balance between action, adventure and repose. The outdoor adventure was thrilling, unique and perfectly orchestrated. The relaxation was a feast for us.
Senses; delicious, beautiful meals, fun and tasty drinks, breathtaking views, cozy spaces to eat, read and rest.
Your sailing expertise made for a stress free adventure!! We thoroughly enjoyed being your guests and will follow you to Belize.
Fay, Mark, Mia and Ella
Boston Feb 2015

THANK YOU!
I will never want to go back to snowy, cold Boston, thats for sure! I have truly enjoyed this wonderful event in my life and will not forget it for my life! I really believe that Iza should become a professional cook just saying that her meals are absolutely perfect, like she can read your mind and make it even better than you could imagine!
Geoff should work at an EVERYTHING SHOP! He can do, fix, or divide everything and knows about everything a person could! These two amazing people never argue and work together perfectly. The meals have been immaculate and I do not look forward to home cooked meals again!! 
I also loved having a personal snorkel guide Geoff around to talk to. Hes also a great bartender with drinks that are blue to red! I have done about everything I wanted on this trip, relaxed, swam, sunbathed, sailed and snorkeled while smiling all the time!
Dreaming On really was a dream come true and I wanted to give Geoff and Iza a big shoutout for all their work on our stay!
THANK YOU!
Ella aged 10

Dear Geoff and Iza
From the start of this miraculous adventure, to the finish, I had nothing but a blast. The beginning included a cool bubbly Shirley Temple and a warm welcome. The end of the voyage concluded with an experience of the lifetime; snorkeling in the clear aqua waters with dazzling parrot fish, skiddy squids and slick stingrays. Could it get any better? Of course with Geoff and Iza at our sides, it did!!
The man that knows everything about the BVI, Geoff and Iza, the most exquisite chef and talented crew, accompanied us during this 80 degree weather trip. This made the excursion 100% fabulous.
I will never forget you both! And of course who could forget the boat, Dreaming On! We had everything we wanted and more. These special boat features included; the most comfortable bed I have ever slept on, cozy bean bags in the front, sprawling deck space including a trampoline to relax on, swaying hammock and the perfect dining area. The dinghy rides were exhilarating and the paddle boards were SO useful! Thanks so much for your time and hospitality!
Love
Mia aged 12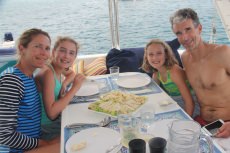 January 2015
Dreaming On - Right On!
A group of 6 of us (3 couples, longtime friends) just returned from a fantastic trip with Geoff and Iza aboard the Dreaming On. What a great time. Geoff and Iza were fantastic hosts for our trip. They were very knowledgeable about the BVI's, the local attractions, where to go, when to be there, etc. The Dreaming On was perfect for all 3 couples, we had plenty of space to relax, get some sun, enjoy the toys, have a beverage (or two) and just enjoy the ride. The meals were also fabulous. Iza did an amazing job with each of the meals we enjoyed. We had some special requests and each and everyone was met. We didn't want to leave the Dreaming On to eat anywhere else. Truly, Iza does a wonderful job with the food, including the beautiful presentation.

The trip couldn't have been better, the hosts more friendly and knowledgeable, the area more beautiful. It was a fantastic trip all the way around, made even more special by our time on the Dreaming On.

Thank you for a wonderful trip full of fun memories.
Dreaming On is definitely the right choice!
Kevin and Shannon
Jnuary 2015
Dear Geoff and Iza
Thank you for an amazing 5 Star experience in the BVI!!
Your hospitality was warm and friendly. The food was absolutely divine. Your knowledge of the area was spot on and the overall experience was nothing but relaxing and entertaining!
This was the trip of a lifetime and would not have been the same without the two of you! We are so grateful for you making this trip so enjoyable for all of us!
We cant thank you enough for taking such wonderful care of us this week! We were pampered on a daily basis and loved every minute of it!
We hope to sail with you again for Shannons 50th!!
Kevin and Shannon, Todd and Karie, Ren and Diane
Idaho and Washington State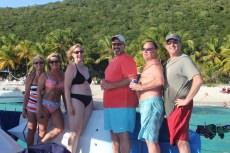 January 2015
It was as if we were received by old friends who extended their hospitality and generosity to us.
Amazing food, and kind and intelligent discussion, advice about sailing and knowledge sharing regarding the joys of sailing in BVI.
Thank you Iza and Geoff for an amazing vacation.

Nancy and Bill
Toronto.

Thank you for one of the best vacations we have ever had. Your kindness, amazing food and hospitality made it more wonderful than we could have imagined. Each day was better than the last. We definitely will sail with you again.
Thank you for making my birthday so special.

Much love

Ferdi and Katina
Toronto

This past week has been a unique adventure in the BVI. We have appreciated your genuine warmth, unfailing attention to detail and sophisticated and generous hospitality.
Please include us among your grateful alumni and keep us posted regarding your developing plans in Belize waters.

Joe and Mary Jane
Toronto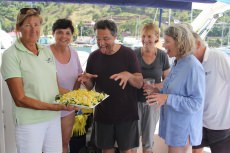 New Year 2014/15
Dear Geoff and Iza
It simply doesnt get any better than this. Kudos to you both for setting the bar so high when it comes to sailing the BVIs in a catamaran. You have succeeded in proving that the devil is in the details.
Your genuine kindness and thoughtfulness when it comes to hospitality extended to us over the past week and what that means to our family will never be forgotten.
May all those who sail aboard Dreaming on be so fortunate.
The Hurley Family
Urbana, Virginia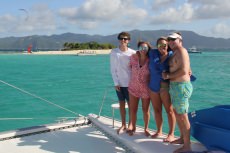 Christmas 2014
Geoff and Iza
What a beautiful experience! So pleasant and relaxing, with exceptional dining. How fortunate to have the wisdom and experience of the two of you. We felt safe and secure. A wonderful time for both kids and parents.
Thanks so much.
Ben.

This trip has been amazing on all accounts. It far surpassed my dreams such comfort, beauty, fun, delicious meals and a wonderful time exploring so many islands.
It has been a perfect family escape. We will never forget the blessings of it or the two of you.
Happy Sailing and best of luck with all your adventures.
Betsy.
Ann Arbor, MI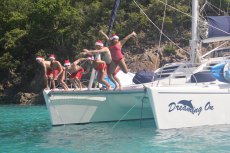 October 2014 Honeymoon
We spent 8 days aboard Dreaming On for our honeymoon sailing around the BVI's. The islands are quite something with idyllic beaches, tropical waters, and fantastic Caribbean weather to match. Dreaming On is a privately owned charter catamaran which sleeps 6 plus the crew Geoff and Iza very comfortably. The boat is extremely well equipped with all the essentials and more, most notably a dedicated drinks fridge which was never empty, separate ice maker and freshly made filtered drinking water on tap, comfortable bean bags, cushions and hammock to relax on the deck. An airy cockpit houses the dining area with an additional indoor dining area adjacent to the galley. The cabins are extremely comfortable with wide double beds and ample storage as well as hanging space for clothes. Each cabin has en suite facilities with a very effective hot shower.

Geoff and Iza the hosts are quite simply magnificent. They made our stay from start to finish so easy and nothing was ever too much trouble. No detail is spared and their combined knowledge of the BVI's and sailing is second to none. There were areas of the BVI's that we visited that most other chartered boats don't and this truly separates them from any other charters. Geoff and Iza are extremely hospitable and their drink and food is five star. Geoff has a good knowledge of the local cocktails and makes a delicious 'painkiller' a must in the BVI's. Iza's food is consistently to a very high standard. She makes fresh bread daily and takes pride in all that she prepares. Her breakfasts, lunches and three course evening meals with additional cakes and snacks throughout the day are all equally as delicious. She caters for all dietary requirements and has some very original ideas.

Dreaming On offers a variety of additional activities and we thoroughly enjoyed participating in snorkelling, sea kayaking, paddle boarding, wake and knee boarding, walking, swimming and helping out on board sailing. As part of our honeymoon, Geoff and Iza also organised a romantic beach set for some stunning photos for us to remember our special time away. There are plenty of activities within the islands and we would recommend the Baths, snorkelling at the Caves, a walk on Peter Island and a visit to the Soggy Dollar and Foxy's too!

We would highly recommend Dreaming On as it caters for a wide variety of party groups as well as intimate romantic breaks. We will certainly be back!

Dave and Heidi, UK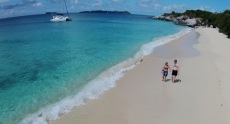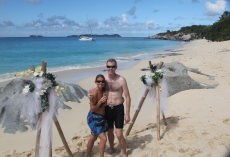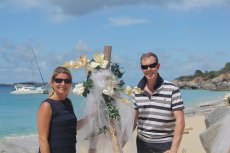 JULY 2014
Sailing for a week on Dreaming On was an awesome way to visit this beautiful piece of paradise. Geoff and Iza's knowledge of the area not only provided us with interesting facts, but created an itinerary full of wonderful snorkeling spots (we saw squid!), beaches to ourselves, calm bays to kayak, waterski, and paddle board in and places to explore. We enjoyed becoming part of the crew and helped out with the sailing. The food was awesome and healthy! Iza had my children eating foods they don't touch at home! And she can bake bread, each day, on a boat!! Geoff's cocktails were delicious. The boat was spacious, clean and very comfortable with many different places to sit and enjoy the view while having a morning cup of tea or under sail. Geoff and Iza are warm and welcoming and made us feel right at home. We thoroughly enjoyed getting to know them. This vacation was a wonderful blend of relaxation and adventure. We would sail on Dreaming On again.
Visited July 2014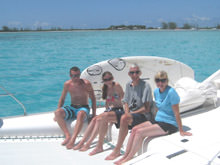 JUNE 2014
Geoff and Iza
Wow! What an incredible week. The food, the attention to every detail and the kindness will be remembered for years to come. We had no idea that our experience on the boat would be just as magical as the BVI itself. The patience that you showed to our energizer kid, Tessa was so wonderful. This was all due to the impeccable way you anticipated our every want or need.
Iza thank you for the beautiful and delicious family meals. I cant understand how you create such culinary magic in your small kitchen!
Our 20th Anniversary Vow Renewal was so very special Thank you for creating a day we will take with us forever.
Your warm and genuine hospitality make Dreaming On one of the magical wonders of the BVI.
We loved, loved, loved our week and will be back.
Rich, Shannon, Hannah, Emma and Tessa
June 2014 St Helena, CA.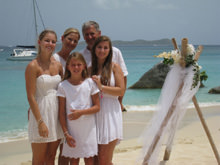 JUNE 17-24, 2014
Our family of 5 spent a week in June on "Dreaming On" with Geoff and Iza and it was an amazing trip. Their boat was beautiful and very clean. We could sail wherever we wanted but they know the area so well, we went with their recommendations and were not disappointed. We loved the kayaks, paddle board, tubing, hiking, and especially snorkeling. The food was amazing. Our favorite was Iza's daily fresh baked bread. We were worried that the 5 of us in such small quarters would lead to some sibling bickering, but actually we all got along great. Geoff and Iza were interesting, hard working, and very kind. They take great care of their "home" and were gracious hosts. The photo CD they sent home with us was a lovely reminder of a very special week.
MAY 2014
Best ever
5 of 5 stars Reviewed May 17, 2014 NEW
This was the 6th time we have had a crewed charter in the Caribbean and it was the best, Geoff and Isa were the most accomplished cooks, cocktail makers,pleasant, knowledgeable crew that we have ever had. If only all crews could be as good. The boat was immaculate and unlike other boats the crew were not precious about what we did. Nothing was too much trouble at any time of day. Any one who chooses this boat and crew are getting the very best.

Visited April 2014
MAY 2014
Fabulous
5 of 5 stars Reviewed May 13, 2014 NEW via mobile
We have just returned from a 10 day charter on Dreaming On with the wonderful Geoff and Iza. The catamaran provided exceptional comfort and the professionalism, high standard of cooking (and cocktails!), and knowledge of the BVI made for an incredible holiday. The memories will live long and we really hope to return one day.

Visited May 2014
May 2014 \"Simply the Best!\"
Dear Geoff and Iza
What a fantastic time! The very best of everything. Hosts, food, knowledge, kindness-I cant think of anything that could be bettered.
Peter and Pam UK
May 2014


We have had such a fabulous 10 days with you both. Thank you for all your hard work and hospitality. It really had been a very special holiday. Many tanks for looking after us so well, weve loved every minute and are sad to go home. You are simply the best!
Anyone who has the good fortune to sail with you is very lucky.
Nicky and Phil, UK
May 2014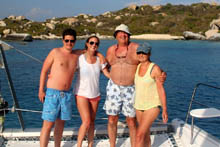 February 2014 Charter - \"A Most Wonderful Experience\"
Geoff and Iza
This has been A-M-A-Z-I-N-G. Every place you took as too topped the one before! How is that even possible?!
I especially enjoyed turning 40! This was my best birthday ever. Thank you for making that happen.
Best snorkeling ever.
Melissa and Tony
CT

Our gracious hosts Geoff and Iza made certain that our charter on the beautiful Dreaming On was an unforgettable week spent visiting the exquisite Virgin Islands.
Accomplished sailors and well traveled, they helped us better understand the marine life we saw around us, the places we visited, the art of sailing and delighted us with stories of their experiences.
Iza is truly talented in the galley and kept us very happy with marvelous dinners and goodies baked fresh.
We've always dreamed of seeing the blue Caribbean from under sail, and it finally came true.

We can easily say that this has been one of the most memorable events in our lives. Thank you for helping us see the beauty of the islands and sea and sailing!! Your warmth and patience have framed our memories and the wonderful food cannot ever be forgotten.
Best wishes
Geoff and Helen
CT

It was a dream come true. To charter a sailboat with friends and you both have made it the most phenomenal experience. We had no idea how spectacular it would be! I cannot think of anyone who could have made all of my firsts as memorable as you two have. This was my first trip to the Caribbean and first snorkeling adventure.
Thank you for showing us all of your favorite, special places they are truly etched in my brain forever.
Your hospitality and five star gourmet masterpieces were the icing on the cake. (Pina Colada cake?)! We cannot wait until the next time.
Fondly
Michelle
I would also like to thank you for my sail training. I love boats and being on the water. My lines will be perfectly coiled from now on. Michelles life will never be the same now that she is a diehard snorkeller. Trust me, a day will not go by when we do not look back on our Caribbean adventure with our new friends.
Until we meet again.
Alan and Michelle
CT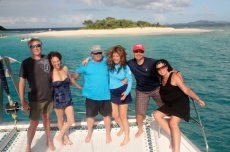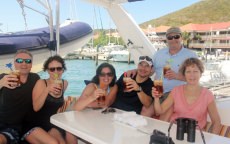 February 2014 Charter - \"Amazing Experience On Dreaming On\"
We just returned from a week on Dreaming On. We were a group of 3 couples. Geoff and Iza were incredible hosts and anticipated our every need. Geoff's expertise at the helm and Iza's in the kitchen was just the beginning of the contribution they made to this fantastic week. They really care about sharing the yacht they love with their guests. We met Geoff and Isa at the beginning of the week as clients and truly felt we left as friends. They are unique hosts! We can't wait to do this again and have certainly recommended our experience to our friends. Everything was perfect. Judy and Dave from Toronto Canada

Geoff and Iza
As we sit here getting ready to sail back to Red Hook, we are all thinking there are just not enough words to describe our week together with you both on Dreaming On.
It was an amazing experience and a big part of the experience aside from the wonderful food and the great adventures was our time with both of you!
Thank you again for your hospitality. You are great people and we all hope we have the opportunity to sail together again!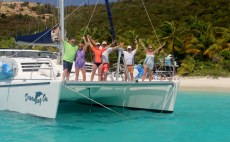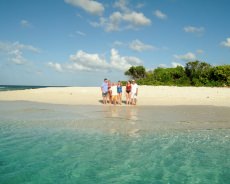 January 2014 Anniversary Charter
Dreams..We all have them, but how many people are lucky enough to live them!
What a magical week. Our fortieth will always be a constant reminder of a special time, in a special place, with special people. Thanks for your passion and joining (even embracing) our craziness. We loved it all. Thanks for making our dream complete.
Always
Gail and Maurice
Texas


Iza and Geoff

Wow! What a wonderful way to celebrate our fortieth anniversary. You went to great lengths to make our ceremony beautiful and memorable. Your attention to detail will be remembered as it greatly impacted our ceremony, our meals, and most of all our lovely like new cat!

Thanks for everything! We cant imagine a more perfect way to spend a special vacation!

Janeece and Tony
S Carolina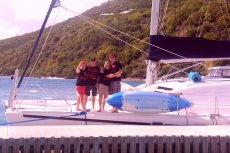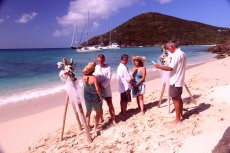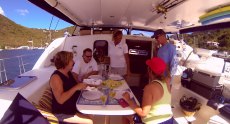 December 10, 2013
Geoff and Iza
Although we have been thinking about chartering for some time, our trip with you in the BVI was our first experience. We were unsure about how much we would like it, but now that we have been on our initial journey with you, you may rest assured that we will be back.
We feel very fortunate indeed to have discovered the two of you and Dreaming On. You are both much more than we could have hoped for in a Captain and First Mate/Chef. In addition to professional seamanship, knowledgeable commentary and gastronomic excellence, we feel we have made two new friends. You made us feel like family, we cant thank you enough.
Stan

Were hooked! Already thinking about who would enjoy sailing with you. Will definitely be back.
Very enjoyable time with our two new friends, Geoff and Iza.
Carol

Geoff and Iza
This was our first charter trip of this type. We thoroughly enjoyed getting to know you guys and the trip on Dreaming On was a wonderful experience. Thank you for your work on our behalf. The food was excellent and we are anxious to come back and try it again.
Lee and Sharon
Dallas, TX
December 2013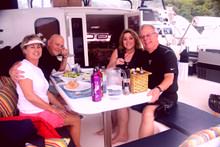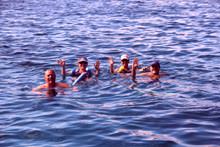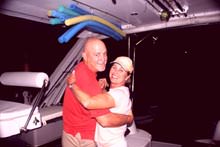 Life is better aboard Dreaming On
Life is better aboard Dreaming On
5 of 5 starsReviewed December 11, 2013 NEW
We just returned from our second trip aboard Dreaming On and Geoff and Iza somehow managed to exceed our expectations for a second time. Geoff and Iza are the owners of Dreaming On and they strive to provide their charter guests with all that you could ever want aboard a private Catamaran. They have such a passion for their boat, sailing and the BVIs which they impart upon their guests in a gracious and humble way. Dreaming On is kept in pristine condition, they are dedicated to making sure the boat has all of the extra comforts you might desire; Clean state rooms, lovely linens, exceptional outside dining with comfortable seating and shade, as well as awesome extras such as an ice maker with filtered water and beautiful table settings. What really makes traveling aboard Dreaming On so indulgent is Iza's amazing culinary skills. So much attention and care is put into every meal that the dining experience is one of the highlights of the trip. Another great experience is all of the amazing snorkel spots that Geoff took us to, he even captured it for us on his GoPro camera. One of our favorite stops was Guana Island with a beautiful white sand beach. Geoff and Iza are both expert navigators, they got us in and out of every island in a very safe manner that felt seamless to us. Our experience aboard this beautiful vessel is one that we will never forget. Thank you again for providing us with yet again another magical experience. We can't wait to see you again soon. Chris and Lindsay

Visited November 2013
DECEMBER 2, 2013
Dear Geoff and Iza
Many thanks to both of you for another spectacular experience. Your hospitality and kindness is what brought us back for our second adventure on Dreaming On. As we remembered, the meals prepared by Iza were outstanding and Geoffs guidance amongst the islands is what makes these trips so special. We will cherish the memories we made on this trip.
Thank you, thank you, thank you for taking us to Guana Island, Peter and Cooper, three islands we hope to return to again. We cant wait to join you again for another magical experience. Next time Anegada!
Chris and Lindsay
Connecticut
November 29-December 2, 2013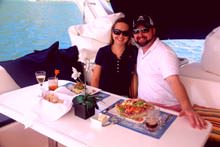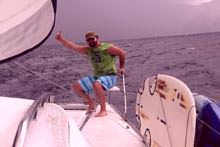 JUNE 17. 2013
Still Dreaming of Dreaming On
I had never been on a sail boat or to the BVI. What a wonderful treat to do both at once! And I am so glad that my first experience was with Geoff and Iza on their lovely yacht, Dreaming On. We cruised in early May and the weather was fantastic. We had plenty of time under sail and hit every stop on our very busy itinerary. The six of us traveling together each had our own list of "must sees" and Geoff and Iza worked everything out for us. The biggest surprise for me was the outstanding snorkeling off of Peter Island. It was like floating through a vibrant garden teaming with fish and all manner of colorful corals. Be sure to go see the Caves, too. As for food... you can go ashore and the food is good, especially if recommended by the crew. However, you might as well stay on the boat for all your meals because you won't get better food than what Iza creates in her kitchen. If you are even considering a catamaran cruise, look at Geoff and Iza's availability first. They are top-notch hosts, tour guides, mixologists, chefs, captains and historians. What a lovely trip and I will continue to dream about this vacation for years to come.
MAY 19-25, 2013

Luckily for us, we chose Dreaming On for a lifetime dream of cruising the BVI. Myself and my 3 adult children were treated like royalty from beginning to end of our 6 day adventure. Iza and Geoff lovingly cared for us anticipating our every need and desire. The healthy meals were prepared and presented as if in a 5 star restaurant. Iza baked special breads every day to our delight and astonishment and Geoff was not only the master Captain taking us safely to one amazing place after another while sharing his extensive knowledge of the BVI but also excelling as a master mixologist surprising us with new cocktails every day. Iza and Geoff both tried to think of every little detail that would make our experience more enjoyable and they succeeded beyond our expectations. We enjoyed, snorkeling, kayaking, hiking, skiing, swimming, sightseeing, exploring, nightclubing, dancing, fishing, you name it "Dreaming On" delivered. They even took pictures of all our activities and presented us with a DVD of our itinerary and adventures of the trip when we left. Truly a dream of a lifetime which we will never forget. Thank you so much Iza and Geoff. The Kimmells love you and you haven't seen the last of us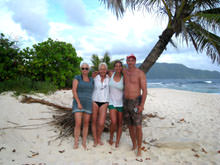 APRIL 7-14, 2013
Dear Geoff & Iza..Wow! Where to begin!.....Our time with you aboard the magnificent Dreaming On has been nothing short of perfection! How many hats can two people wear
Captains of a dream vessel, Master 5 star Chef.! (Yum!), dish-hand and bartender extraordinaire!, tour guides unparalleled, Activities Managers second to none!, fountains of all BVI knowledge, professional photographers ready to capture the moment, patient and nurturing companions to two small children, but most of all, two of the most wonderful, hospitable people we have had the pleasure of meeting!
All-in-all, you have both, each in your own way, made this holiday intensely pleasurable, full of firsts and one we will forever hold as a standard for all our future holidays! Our quality family time aboard Dreaming On with you both will never be forgotten!
Thank you both from the bottom of our hearts!
Much love and endless thanks.

Barry, Leonie, Dane & Harper Seattle, WA.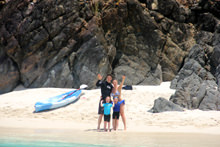 MARCH 30-APRIL 6, 2013
Geoff & Iza. (Captain & Admiral).

Thank you so much for a wonderful vacation! It was amazing! We all had a great time and enjoyed experiencing new adventures. Eric and Luke really enjoyed learning to sail & drive he dinghy.
We are so happy Ella finally learned to enjoy snorkeling, (even if she is a loud snorkeler!).

The food was truly spectacular! We could not have asked for better. The nightly dessert was a highlight of the kids day as the nightly cocktails were a highlight of the parents day.

We are very sad that it has to end and really hope that we are fortunate enough to sail with you again some day soon.

Thank you.
Eric, Rachael, Luke and Ella. NC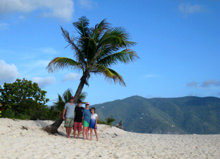 FEBRUARY 2013
Geoff and Iza
We cannot imagine a more beautiful vacation. You have been exceptional hosts, guides, gourmet cooks.
We look forward to seeing you again in Paradise. Rob and Kathy Gabler, Annapolis, MD
Geoff and Iza
Wow!!! What a fantastic time we have had in the BVI! Thanks so very much for the awesome job you both do. Your knowledge of where to go and how to accommodate our interests is amazing. We loved the food, the presentation and the love you have for preparing it, Iza, lots of fresh and nutritious food and we really enjoyed getting to know you!
Wishing you all the best in your future charters. You are the best! Don and Elaine, Portland, OR
Geoff and Iza
What a wonderful time you gave us. You both are amazing! The weather was fabulous, the food incomparable, the beautiful boat so accommodating. We saw the BVI through your eyes. We loved the stories, the weather couldnt have been better and we are sure you ordered it.
Thank you for sharing your beautiful home with us. Hopefully we will get to see you again, that would be a treat. Glenn and Jane, Allentown, PA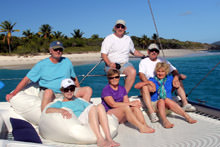 NEW YEARS 2012-2013
What a great week. I was so excited to share my favourite corner of the world with my niece and her sweet husband. The fact that my two sweet daughters came along only sweetened the week.
Great food, great sails and wonderful time all along. Thanks for the perfect bringing of 2013. Hope the year brings fair winds to you and yours.
Lisa B., Huntsville, Alabama

What a trip! As first time boat trippers, we cannot imagine a more perfect mode of travel. You are such gracious hosts, only adding to the magic of the trip. Jason and I have not been away from our children together. What a treat! Great adventures, fun and exciting sailing, time with some of my most favourite people ever and we feel like we will leave with two new friends!
Cannot thank you enough for the fab food and beautiful memories!!
Lee Ann and Jason, Savannah, Georgia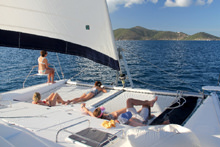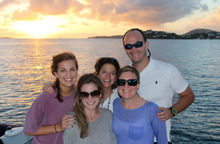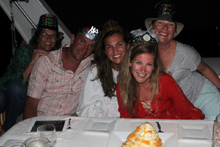 CHRISTMAS 2012
Dear Iza & Geoff.
What a vacation! The entire Bergstrom clan had a blast on your Dreaming On yacht. What a beauty and the BVIs are such a fantastic place to explore. Snorkeling, kayaking, hiking. So many fun things to do.
Then there was the food. Need I say I was in Heaven everyday, being waited on like the queen.
Thank you Iza & Geoff for a vacation of a lifetime which I will remember always. I will be dreaming on about Dreaming On and her crew.
Maybe one day we may meet again we hope. Thank you again & again for an adventure of a lifetime.
Happy travels.
Eric, Cindy, Keith, & Craig Bergstrom

Posted on TripAdvisor:
What could be better?
What could improve upon warm sandy beaches, crystal clear water filled with vibrant fish, brilliant sunsets, and the relaxing action of the waves?

How about a private charter on a boat with a first-class chef, a friendly and knowledgeable captain, roomy cabins with private baths, loads of toys like kayaks, paddleboards, wind surfing boards, and snorkling equipment? How about stopping in secluded coves, deserted beaches, and island towns at a relaxed pace that still lets you see everything? How about fresh gourmet dinner every night beneath the stars with the quiet sounds of waves lapping on the shores. How about fresh coffee with island sunrises?

Geoff and Iza really do it right-- it feels like they're inviting you into their home, but they're also there to pamper you with evening cocktails and fantastic dinners. It's hard to believe that a boat can improve upon a tropical paradise, but I just can't imagine a better experience in the BVI.

Eric, Cindy, Keith and Craig
S Carolina, Delaware and California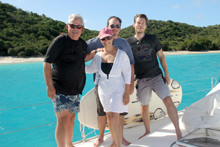 November 2012 - The Neufelds
Our very first chartered sailing trip and thanks to both of you, certainly not our last.
The sailing, beaches, meals were wonderful, but most of all, we enjoyed your delightful company and great conversation.
See you again soon.

Joe and Randa
Montreal November 2012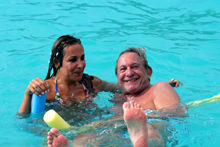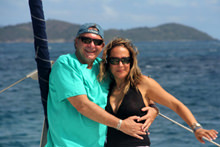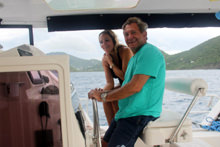 November 2012 - Perryman Family
It was amazing and wonderful! Back to reality is hard. Geoff and Iza are absolutely gracious hosts and such fun too! Dreaming On was exceptionally clean and well maintained-- a beautiful yacht! From meeting us at the ferry dock in West End, to taking professional quality photos of our many activities (over 200 pictures), to the 5 star meals, teaching the kids to paddle board and wind surf and SAIL-- wow! The knowledge of the islands and history was great, but they didn't stop with that-- we even had Thanksgiving trivia! The snorkel spots and dive partners were also great as were lunch and dinner suggestions. Iza is an awesome chef and Geoff makes great cocktails. As we sailed or moored or anchored Geoff and Iza worked together seamlessly. I know that this teamwork isn't always easy as Drew and I have done this on our 30 foot Baja down the inter-coastal waterway before kids, ha! Jason, 13 and Haley, 11 had a most active and enjoyable time-- raising the Jolly Roger, all the water sports-- tubing, paddle board, kayak, and wind surfing-- helping catch the mooring ball, selecting the music, oh, and quietly reading in the hammock on the bow. Geoff and Iza made charting Dreaming On a vacation to be remembered and hopefully returned to someday.

Thank you for your help!

All the best,

Beth

Beth, Drew, Jason, Haley and Janette
N. Carolina Novemberm 2012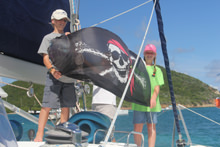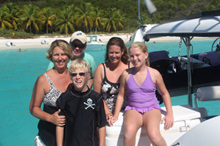 Upton charter October 2012
Dear Geoff and Iza
Thank you so very much for making the start of our honeymoon so remarkable. It will be a hard act to follow the fantastic meals, splendid preparation, the wine and the conversation, all amazing.
Your expert knowledge, and all the history you recounted, demonstrated time and time again just what a professional pair you are.
Thank you so much for accommodating our timetable and being so flexible in our daily itinerary.
We look forward to coming back and again and exploring some more.
All our best
Chris and Kristen
San Antonio October 2012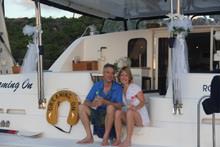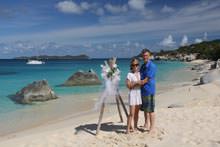 July 2012 - 25th anniversary vow renewals
Dear Iza and Geoff
Dreaming On is where dreams come true!
Our journey with you has been one surprise after another. I love all your attention to detail. We started this adventure to celebrate our 25th renewal of vows. I love that we chose you to make it such an amazing day. It started with a double rainbow, flowers on the beach, sharing our vows before God and friends with sand between our toes. The day was perfect! We will have so many stories to share when we return to Cape Cod.

Thank you so very much! We hope to witness future sunsets with you one day.

Enjoying our journey.

Lisa and Peter, Cape Cod, MA
July 2012


Dear Geoff and Iza
Thank you for the most amazing 10 day adventure. This was an experience of a lifetime! Thank you for always taking the time and extra care in everything you did.

To be part of Lisa and Peters 25th Wedding Anniversary and Vow Renewals was just spectacular. Nothing could have been better.

The sights seen, the food devoured, the drinks drunk, and the laughs bellowing through the BVI valleys could have never been possible without the two of you!

What a great trip and thank you again for being a part of our beautiful journey!

All the best, Lynn
Boston July 2012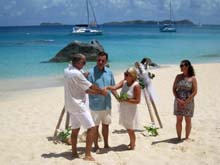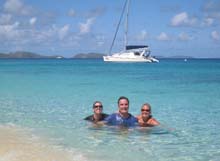 JULY 2012
7/2/12

Dear Geoff & Iza.

What an amazing vacation weve had!

Dreaming On is such a beautiful boat and you both have been so kind and so gracious to our family. The children will always remember these memories on board where they learned to do so many new things with your guidance.

Izas culinary skills are superb! The best food ever! We have enjoyed every moment. Thank you!!

Gabriela, Tommy, Eva, Tomaso, & Emilia.
San Juan, PR.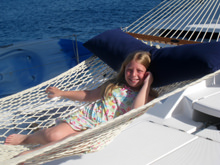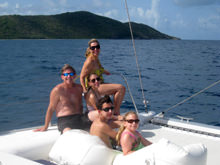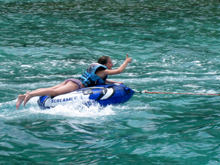 July 2012 - Abogabir family
Geoff and Iza
It was a pleasure for our family to have spent this fantastic week with you.
Service delivered was exactly as promised: excellent! You both were always willing and able. One finds this degree of compromise rarely found and we really thank you for that, especially as we came here from far.
Muchas gracias por todo!! Mey bueno el viaje. Victoria Abogabir (Age 15)
Hugs and Kisses
The Abogabir Aldunate family
Santiago, Chile
July 2012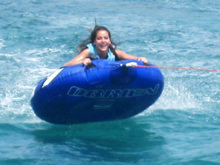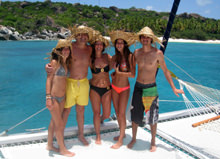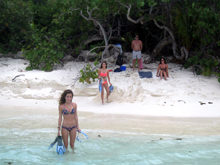 June 2012 - 40th birthday for EVERYONE
We'e been dreaming about taking a vacation on a catamaran with close friends for years. Thank you so very much for making this such a fabulous trip it exceeded all our expectations!

What a wonderful way for the six of us to enter our 40s!!

Great boat, great food, great hosts. Thank you!

Christina, Brian, Dave, Jess, Peyton and Ashley
Washington DC
15 June 2012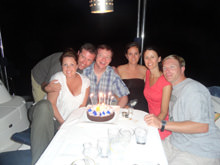 JUNE 2012
We can't thank you enough for a truly memorable holiday in the BVI. A very special time for our family! We especially appreciate the care you took with our girls, they loved every minute.
We have been to the BVI many times and our time with you and on Dreaming On is our most memorable experience! You are wonderful hosts and guides and Dreaming On is a truly special boat.
Thanks for everything. See you again soon.

Many thanks for a perfect family holiday. We appreciate the time and care you took getting to know us, to tailor an itinerary and activities that we loved. We hope to see you next summer.

Sean, Jodie, Kerala and Kiran
New Jersey
Bombay, India
June 2012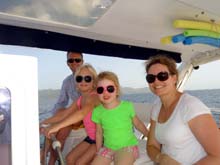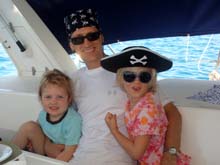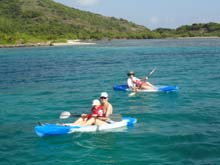 JUNE 2012 Honeymoon
The "Dreaming On" charter was exactly what I wanted. The experience was awesome and we definitely got some R and R. Geoff and Iza are and an amazing crew. They made sure we were well taken care of, allowed us to participate, and gave us our space as well. Iza's cooking was outstanding and we hope to be able to try making some of her dishes at home. They both were very easy to talk to because of their vast experience traveling the world. Chartering their boat suits them well and we would love to sail with them again some other time.

Ryan

We had such an amazing honeymoon, sailing the BVI, with you on Dreaming On. We loved your impeccable attention to detail, including arranging transport when our ferry cancelled, having Dive BVI pick us up right from the boat and insuring the dinner music fit our taste exactly. Your homemade gourmet meals looked as good as they tasted. We can't wait to try them at home but doubt they will look or taste as good as yours!
Thank you for sharing your home and your life stories with us. We enjoyed every minute and will never forget our trip.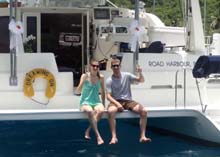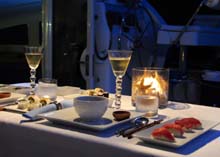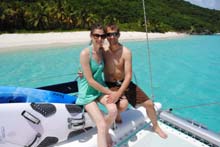 June 2012 - Family Fun in the BVI
Dear Iza and Geoff

What a wonderful vacation! The memories you created at the many locations are unmatched to those experienced before. Your hospitality, gourmet meals and great activities were truly outstanding.

Looking forward to doing another Dreaming On trip soon
Kindly
Kathryn Brierre

Awesome on every level views, accommodation, activities and meals. All of it only out done by your camaraderie and graciousness.
Many thanks
Stephen Brierre

The food was amazing! And everything else! This trip may be the best one in my life! Thank you for everything. It was wonderful. Have fun sailing BVI.
Jeanne Brierre (Age 10)

This was an amazing vacation! I loved it all! Thanks for everything!
Grace Brierre (12)

Sailing the BVI was the coolest, most amazing and wonderful adventure I have EVER been on. I wish I could describe everything that amazed me this week. I hope I can come sail again!
Lindsey Brierre (Age 15)

18-22 June 2012
Baton Rouge
Lousiana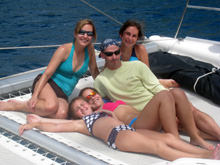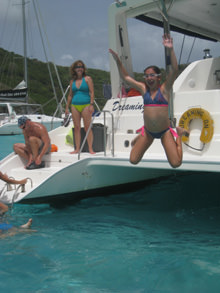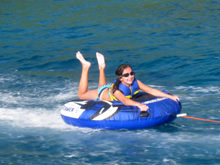 MAY/JUNE 2012
This amazing week is unforgettable for us. Your kindness and dedication has made this possible.
Iza; your cooking is delicious.
Geoff: your understanding of what we wanted to do and where we wanted to be made our dreams come true.
So friends, hoping to be able to repeat this wonderful week, we say A tout a lheure .
Will, Marcela, Lily and Chacho
Buenos Aires
May/June 2012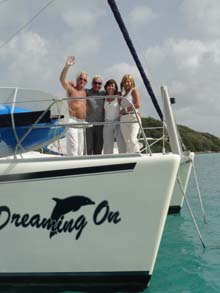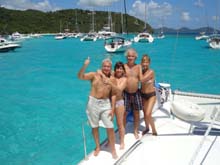 May 2012 - Hughes party
Our best vacation EVER thanks to Geoff and Iza on Dreaming On!! as posted on TRIP ADVISOR: http://bit.ly/KIOJzl

Reviewed 8 May 2012 NEW
We're just back from a week on board Dreaming On, sailing the BVIs in the capable hands of our wonderful crew, Geoff and Iza. This was our belated honeymoon but we were also vacationing with another couple, Amy and Skip, and we all agreed that the whole experience exceeded our expectations by far, to the extent that we have already booked again for next year!
This is all down to Geoff and Iza who are a very special and generous couple - it was like sailing with good friends - the chemistry was perfect and we just hit it off. They welcomed us on board their beautiful home and anticipated our every need. Iza is an amazing cook - the food (presentation, quality and variety) is better than you get in most good restaurants and all prepared in a galley kitchen - the sushi in particular was unbelieveable! And Geoff...well, in our opinion he makes a better Painkiller than the Soggy Dollar (as well as being a great Captain) :).
They had arranged an itinerary for us (but it was flexible) and we went to different, islands and/or bays every day, including a sail to Anegada, followed by a fabulous lobster dinner at the Reef Hotel - highly recommend this! They took us to all their favorite spots in the BVIs and we couldn't get enough of the clear blue waters and white sandy beaches - plenty of snorkeling, kayaking and paddle boarding to be had. In fact, we didn't really have enough time just to hang out in one place for a day or go tubing or waterskiing, which is why we are returning next year. Now we know all the best spots and where we'd like to go back to and spend more time.
The catamaran is comfortable and has plenty of space, both out the front on the 'trampolines' and the shady area at the back by the cockpit where we enjoyed breakfast, lunch and dinner.
Overall, for anyone out there considering a yacht charter, I would highly recommend,without hesitation, Dreaming On and Geoff and Iza - it will be one of the (if not THE) best vacations of your life! We certainly can't wait to get back on board next year.....

Visited April 2012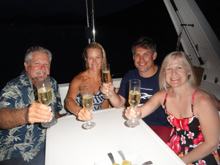 Gibbs Family April 2012
Dearest Geoff & Iza,

Thank you so much for taking us on the wonderful adventure of teh BVI - It has been the vacation of a lifetime ~ one we will cherish forever!! The delicious meals, the beautiful spots and all the fun watersports ~ not to mention the fabulous "PAINKILLERS" - all one big blur of enjoyment. The trip was everything we hoped for and more! It was lovely getting to know you both. We wish you well on the open seas!! Much love & gratitude, The Gibbs Family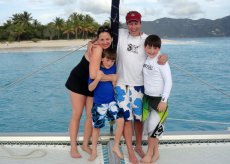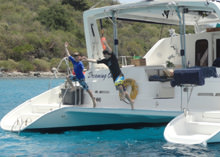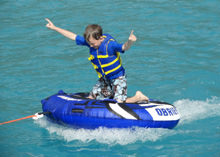 April 2012 - The Three Amigos
Beautiful waters, great sights, but the greatest of all was sailing aboard a 47 foot catamaran named Dreaming On owned and operated by the best crew ever. A British couple, Iza and Geoff, Iza nicknamed the Admiral, who performed numerous duties from cook, bottle washer, cleaning, setting sails and other duties as required. I said cook, this is no way near what this Lady created in her tiny galley. World class meals, so delectable, even during preparations of the meals the aromas permeated throughout the vessel making your mouth water. The portions were ample enough to satisfy even the hungriest. Cook is not an appropriate title, a more befitting honour would be World Class Chef.
Now Geoff titled the Captain maneuvered Dreaming On with such skill and technique like they were one. The Captain performed many of repairs and upgrades on the vessel. Upon boarding we thought we were on the maiden voyage of Dreaming On with its gleaming decks and the orderly fashion that items were stowed. It was almost like its christening had just happened the day before and the champagne still fresh on its bow. Dreaming On wore her years well and proved to be a worthy veteran. A tribute to the crews hard work and dedicated ownership of Dreaming On.
Another factor about Iza and Geoff is their worldly experiences that provided them great insight into their guests and their willingness to share their life experiences. Iza and Geoff are not a crew, but a well coordinated and oiled team and Dreaming On is the third member of the team.
THANK YOU! The Three Amigos.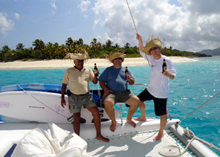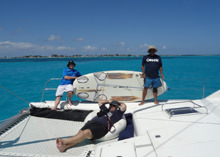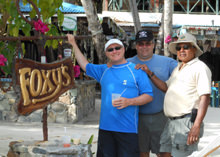 Johanson party March 2012
My wife and I and our three boys, ages 7, 11 and 13, spent eight days aboard Dreaming On in March of 2012. From the beginning, Geoff and Iza gave our family a first class experience. We love to eat and were hoping for a few good meals, but we never could have imagined the quality of food we experienced! Meal after meal after meal exceeded our expectations. Our 13 year old son even started writing down a description of each meal so that we could remember it later. We still aren't sure how Iza manages to do that while out at sea and in such tight quarters?

Geoff and Iza were also very knowledgeable about the islands and did an outstanding job of tailoring the trip to what our family wanted to experience. Geoff was an excellent captain, was great with our boys and has a wealth of life experiences to share.

There were too many other things to mention here, but a few other efforts that stand out - the boat was kept extraordinarily clean, they went above and beyond to help us celebrate our son's 11th birthday, they put together a photo book for us after our trip (using a combination of our pictures and pictures they took), Geoff pulled our boys in an inner tube with their dingy and also taught us to kneeboard, and they kept lots of fun toys (paddle boards, kayaks, etc) on board for us to use.
Geoff and Iza also walked the line well between being friendly and conversational, but also making sure we had plenty of time together with just our family.

February 2012 - Hess party
Geoff and Iza
Thank you both so much for the vacation of a lifetime; your knowledge of the BVI, patience and the pleasure of your company made this a wonderful experience for our whole group. We look forward to a future adventure aboard Dreaming On.

Jon and Deana, April and Mark, Caroline and Dave

Also from Mark Burnett, who enjoyed the sailing!

Geoff and Iza
Awesome time! Thx so much for the sailing and nautical lessons. I absolutely had a blast learning some of the basics of sailing and operating the boat. Your patience and wealth of knowledge are great gifts you have.

Thank you very much, Mark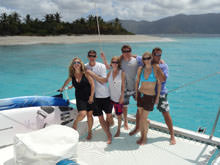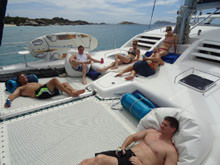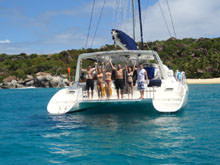 December 2011 Dimson Family
We just returned from a week aboard Dreaming On with Geoff and Iza cruising from St. Thomas to various islands in the BVI and finishing up in Soper's Hole in Tortola. For my wife and I and our two teenagers it was like being taken around the islands by good friends who want to show you everything they love about the place.

Dreaming On is a 47 foot catamaran with three cabins which mean't everyone had their own cabin and head making it very comfortable. The catamaran makes for a very stable ride, both underway and at anchor which reduces the chances of anyone being seasick if it does happen. The cockpit is very roomy and shaded which makes for wonderful meals outside as well as relaxing at anytime of day. The foredeck and trampoline between the hulls at the bow are also nice and roomy so laying out in the sun, or hanging from the hammock is very relaxing. We all liked sitting in the beanbag chairs on the trampoline while underway, a nice, relaxing breeze while watching the waves pass by. Did I mention toys? Dreaming On has two windsurfers, one that can become a paddle board, two kayaks, masks, snorkels, fins, noodles, etc. If they are missing anything, I can't think of it. The kids had a blast, they kayaked, snorkeled, went on the tube pulled by Geoff in the dinghy and windsurfed. We all had lots of relaxing time listening to music and reading, laying about.

Each day we visited a different area. Geoff and Iza know so much about the islands and their history and your itinerary is based on your wants, needs and the weather. I can't say enough good things about the entire trip.

The food onboard was excellent, fresh with great presentation and variety. We enjoyed every meal. Before your trip Geoff and Iza send you a questionnaire which covers everyone's preferences (food, drinks, allergies if any, etc.) and from there Iza develops a great menu. We enjoyed every meal and all were better than we found ashore.

I could go on but in summary, we all had an excellent time and the trip provided us with warm memories we will have with us forever. I would recommend Dreaming On and Geoff and Iza without hesitation to anyone and when we have the chance to return to the Caribbean we will take a charter with them again.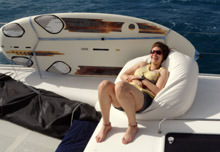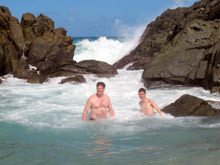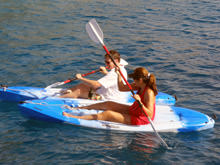 October 2011 - Kraycar party
The vacation was absolutely amazing!!! It was such a magical
experience and Geoff and Iza are two of the main reasons for that. I
can't say enough about the hospitality they offered, their kindness,
the comfort, they are the ultimate in hosting this type of trip. To
say that they exceeded our expectations is an understatement.

The food was a 15 out of 10, every meal was better than the last.
Homemade bread every day!!!! Iza made sure that all of our requests
were met when it came to the menu. She was even considerate enough to
remember which one of us didn't like eggs and also made the portion
sizes perfect for each individual. The four of us all love to eat and
enjoy good food and her food was above and beyond. I have requested
all of her recipes but I don't think I will be able to replicate her
touch when it came to preparing our meals.

The boat was always clean and unfortunately Geoff and Iza spent quite
a bit of time picking up after us.... We found the boat to be the
perfect size for us, the best part was the front bow with the
trampolines. Laying out there when the sails were up and we were
crashing into the waves was an experience we will never forget. I
should also mention the hammock and being able to drink a mimosa while
laying out there in the morning sun was wonderful. The cabins were
clean and bathrooms were always clean. The outside dining table was
the only place we ate, the fact that it was shaded and out of the sun
was perfect and the seating was so comfortable. Oh, and I would be
re-missed if I didn't mention the table settings that she had. Please
see the attached pictures, one of which is our Halloween table. Like
I said, the thought, the time, the effort that was put into our
vacation is unmatched.

Geoff was a wonderful captain. Our itinerary was perfect and it
allowed us to see what we wanted, the only flaw was that we didn't
have more time to continue our journey. We can't wait to book our
next trip with Geoff and Iza and see some of the other islands we
weren't able to squeeze in this trip. I have traveled all over the
world and between the four of us on this trip we have covered most of
the world. This was by far the best vacation I have had. I have a
villa booked in St. John for a week in January and we are trying to
figure out a way to cancel and stay with Geoff and Iza instead. If we
can't cancel then we will be with them for at least two nights and go
to the full moon party.

I think this summarizes our experience and provides with the feedback
you are looking for. If you are looking for more detail please let me
know. Bottom line, Geoff and Iza are the best of the best! The trip
wouldn't have been half as wonderful if we had a different crew.
There hasn't been a day so far that we haven't said "I miss Geoff and
Iza".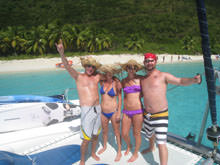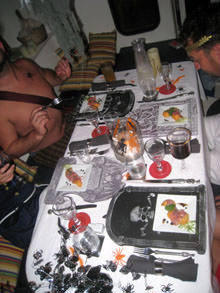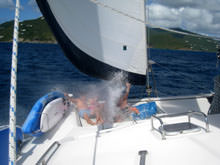 Steve, Fatima, Chris and Lauren, Stamford Ct. - April 2011
We're safely home, our children back to work in London, and we all now wanted to thank you both for making our Virgin Island charter such a memorable experience and a perfect family holiday.

Your hospitality was superb, with a balance of attention, while allowing us space to spend time as a family. Iza's cooking was everything the website suggested. Your sensitivity towards Fatima's sea legs helped make the trip a resounding success. She has been enthusing about the sailing since the day we returned home, so I have no doubt we will be back for another trip on Dreaming On.
Thanks again.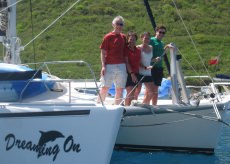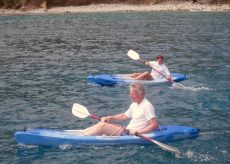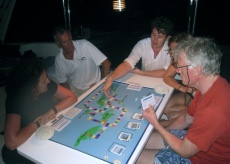 The McCarthy's - Paul, Cindy, Dillon, and James, New Jersey - April 2011
We were guests aboard Dreaming On with Geoff and Iza from April 15-22, 2011 and had the best time! This was our best family vacation ever. Our twin boys (age 14) and my husband and I felt at home the entire week and were so pampered that I was completely relaxed and had no cares at all.
Geoff and Iza are the best hosts and were extremely flexible with us offering a number of options/plans for the week. They catered the itinerary and meals to our preferences. The meals were truly gourmet. My husband continues to comment how every day we felt as if we were in a 4-star restaurant being served our meals in paradise.
The boat itself was also very spacious and allowed us plenty of room to spread out and relax. This was our first sailing trip and we were a bit nervous but we all found the accommodations to be extremely comfortable.
The boys had a blast going new places every day and they especially loved knee-boarding and tubing. Geoff was so patient with them and took them out a number of times over the course of the week.
This trip allowed us to be very close as a family and experience a different adventure every day. I could not imagine a better vacation with better hosts.
Thanks Geoff and Iza for allowing us to spend a week aboard Dreaming On. It truly was our best vacation ever.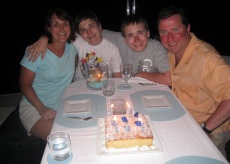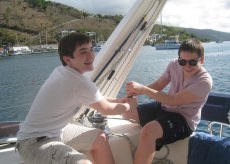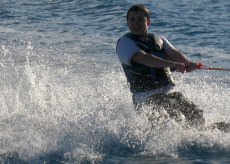 Christophe, Aude, Thomas, Capucine and of course Thibault. New York - April 2011
Years ago our family had a dream, a family cruise on a exclusive boat. Dreaming On is a dream that will never be forgotten !!
We felt at home, because the food was excellent and refined.... Your breads... your apple crumble... your pancakes and French toast....
We discovered magic beaches, magic bays; sometimes we found ourselves in the middle of an aquarium.
Thanks to your special attentions for members of the family! We were in paradise in the real life.
You transmit to us during those seven days your passion for the sea, for nature and for sailing.
We miss you already !!!!!
Thank you so much !!!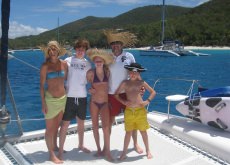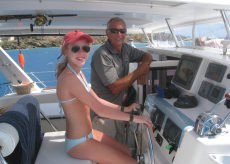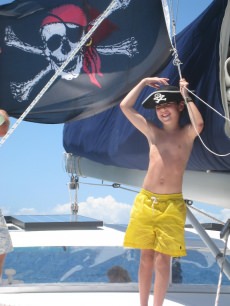 Rick, Ann, Kyle and Drew. Washington State - March 2011
We had a fantastic week with Geoff and Iza on their floating home, Dreaming On. Some of our family members had reservations before going on the trip of how we would get along in tight quarters for a week with people we had never met. We can honestly say that Geoff and Iza made us feel comfortable and were so easy to be around; our fears were soon dispelled. Seriously, the week went fast without any time of feeling we needed our own space. They gave you space and they seemed to sense it, before we realized it, that it would be nice to be only with our family. They truly were a joy to be around.
Geoff and Iza let us help with the boat and sailing, but didn't expect us to. We wanted to learn and offered to help and only then did they accept the assistance. We had fun learning some sailing and captaining of the boat.
The food was wonderful! Iza is very talented. She was organized and had fresh ingredients and a great blend and variety. We had various fish dishes, pork, steak and chicken! She even prepared to perfection some fish we caught. She was easy going and went with the flow. A few meals we elected to eat on the Island we were visiting. Geoff and Iza always wanted us to do what worked best for us! One of our kids wouldn't eat green food (vegetables); Iza always had something extra for him when we had our salad!
The sailing was awesome! We learned and we relaxed. Iza and Geoff had great snorkel and diving suggestions. We knee boarded and kayaked. They always were eager to assist us in any way; we wanted to see some NCAA tournament basketball games and they called to places to see where we could find a T.V. They were accommodating in ALL ways.
We, unequivocally, would highly recommend renting Dreaming On to couples and/or families. We had the vacation of a lifetime and would do this again in a second.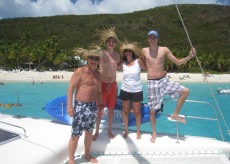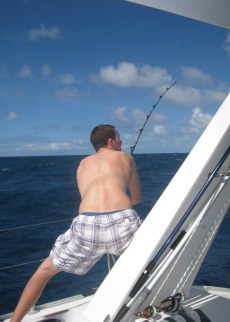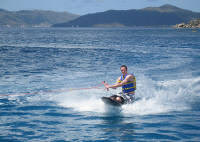 Tim, Renee and Family. Toronto - February 2011
Congratulations on your good fortune to have found the perfect hosts of the British Virgin Islands. Geoff and Iza, and their luxury catamaran Dreaming On, are very well equipped to make everyone on your sailing adventure relaxed and happy.
On our trip, we set sail and explored the many different islands in the BVI. We visited beautiful beaches and water caves, explored deserted islands, stopped at shops, restaurants, resorts and did much much more. Our group had people with various recreational requests ranging from total relaxation to total adventure - and Geoff and Iza made sure every-one's needs were taken care of. Our activities included slumbering in the hammock, trying various motor water sports including tubing and knee-boarding, snorkelling and exploring, all the while being well fed with gourmet meals and snacks, and also enjoying fine wine and discrete but delightful company at night.
From the chocolates presented on our beds each evening, to our favourite breads being made for us for a snack every morning, we felt taken care of in every way. Leaving the boat felt like we were leaving our comfortable home. Our trip ignited a taste for sailing that will live with our entire family - although we all agreed we're not sure how we could go on another sailing trip without Geoff and Iza.
Congratulations on finding these excellent hosts - have fun and wear sunscreen!