MUSE GUESTS COMMENTS
December 27th - January 5th 2014 CARIBBEAN
An amazing trip put on by amazing crew. It was a spectacular way to close out 2013 and ring in 2014. If our MUSE experience is an early indicator, 2014 will be a brilliant year for all.
Our family had the time of our lives and this trip will live with great memories captured in priceless pictures!
April 2017 - Caribbean
I wanted to take a minute to let you know how much we enjoyed our charter on MUSE. Obviously, the ship is incredible. However, our trip was made by the crew. The hospitality was wonderful and the food was incredible. Thank you.

We will definitely be chartering again and want to make sure we keep in touch.
August 2017 - Corsica
Nous avons adore la croisiere! Nous connaissions le bateau et nous etions ravis de sejourner a nouveau a bord.
January 2017 - Caribbean
I wanted to thank you and your amazing crew for making our family holiday so special. Blair and I looked at a lot of boats with the help of Alicia. The Muse was above and beyond what we could have hoped for. The Muse is a wonderful and comfortable boat and so clean and orderly. The food was just wonderful.

We really just cannot thank you enough. Please thanks Chef Eddie as well

Cruise November 11 2017
Cruise Tortola - Tortola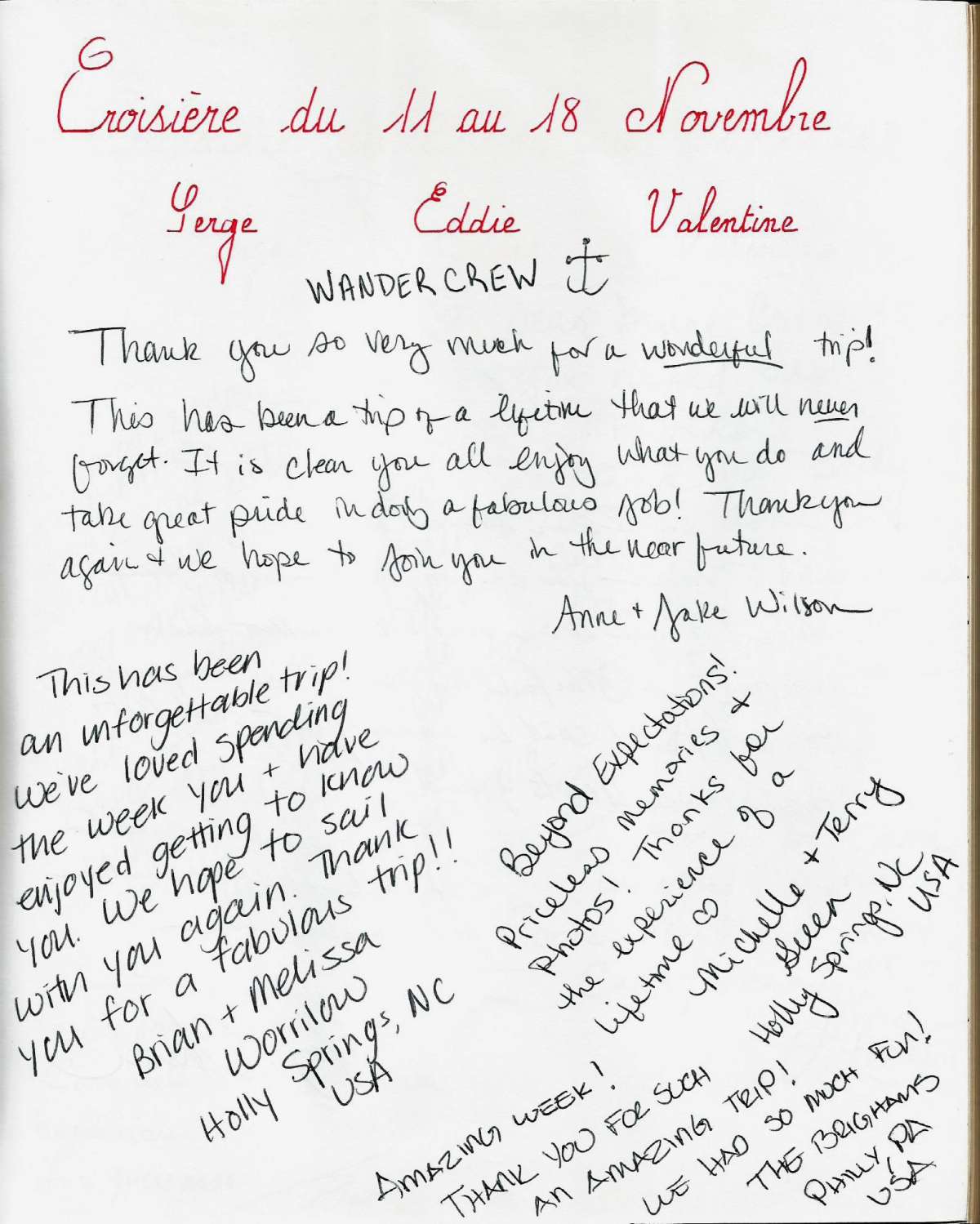 Cruise November 25 2017
Cruise Martinique - Martinique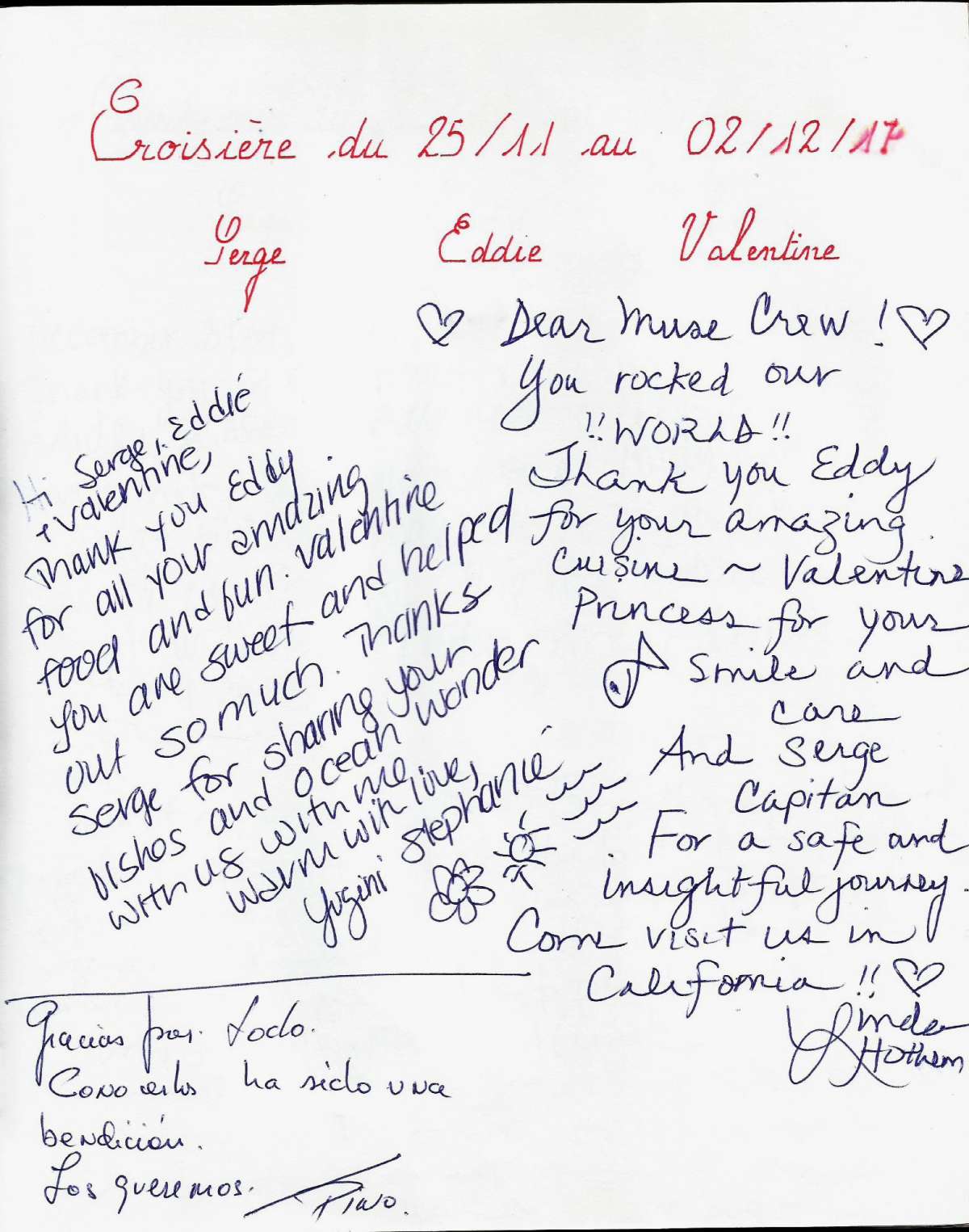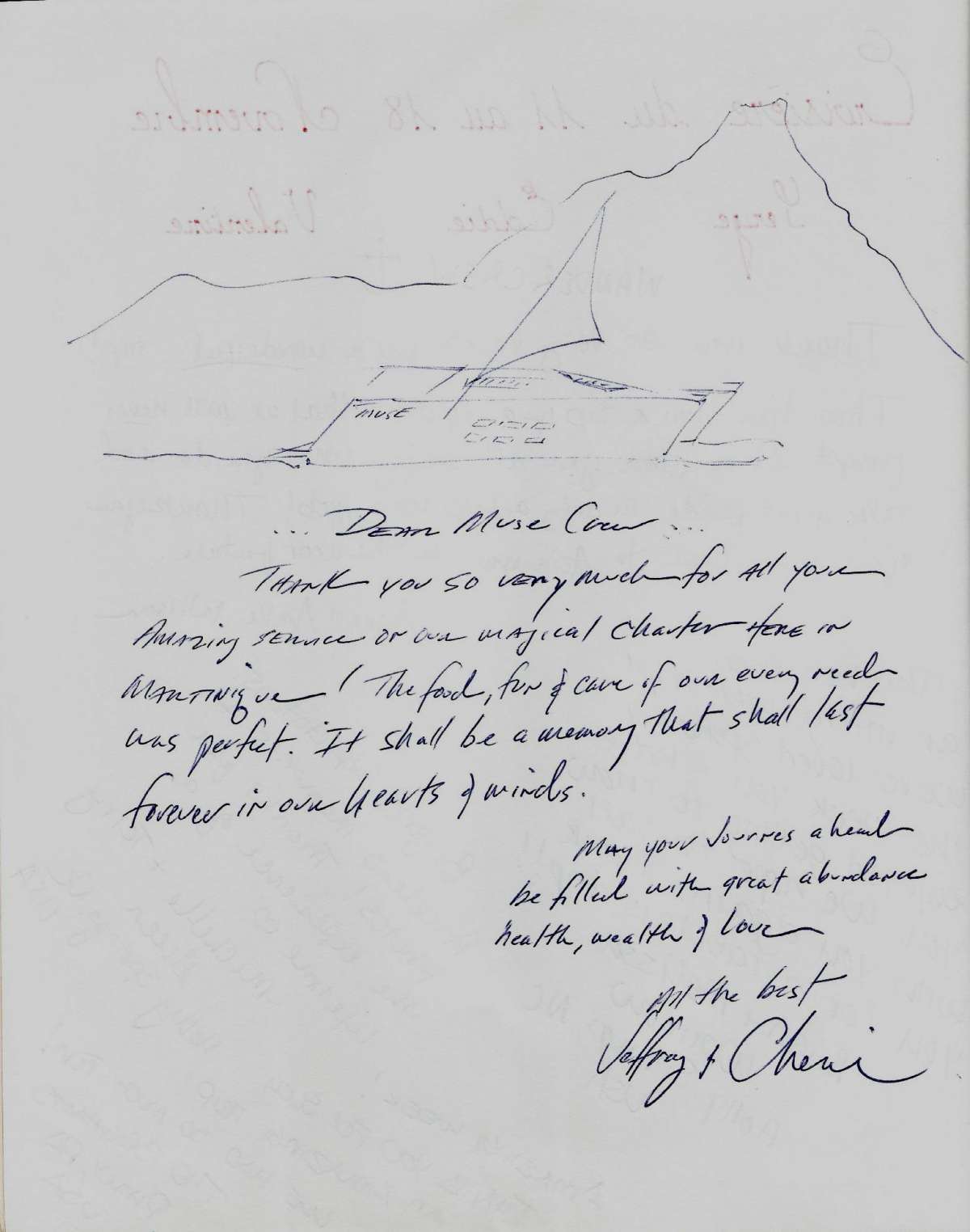 Cruise December 23rd 2017
Cruise Tortola - Tortola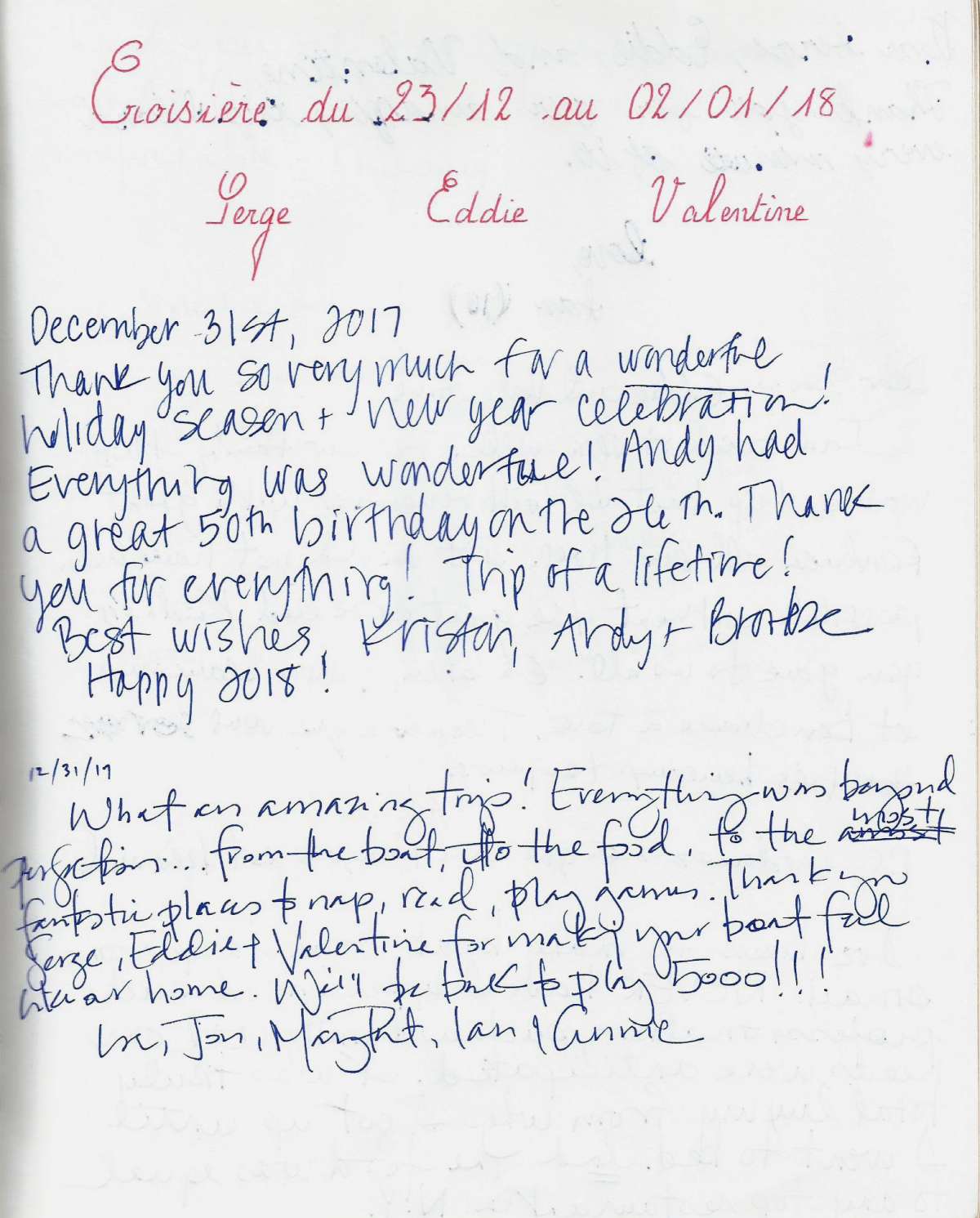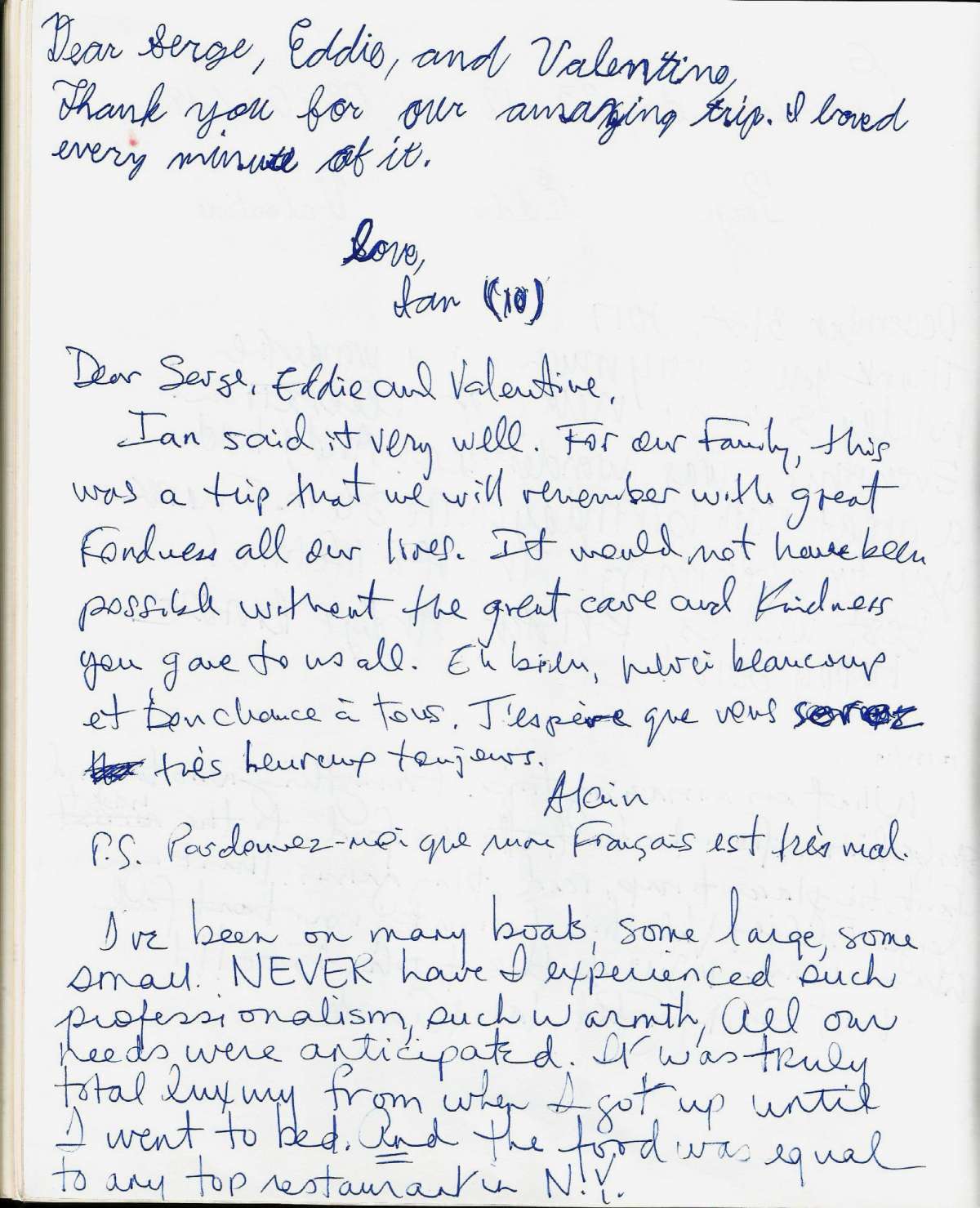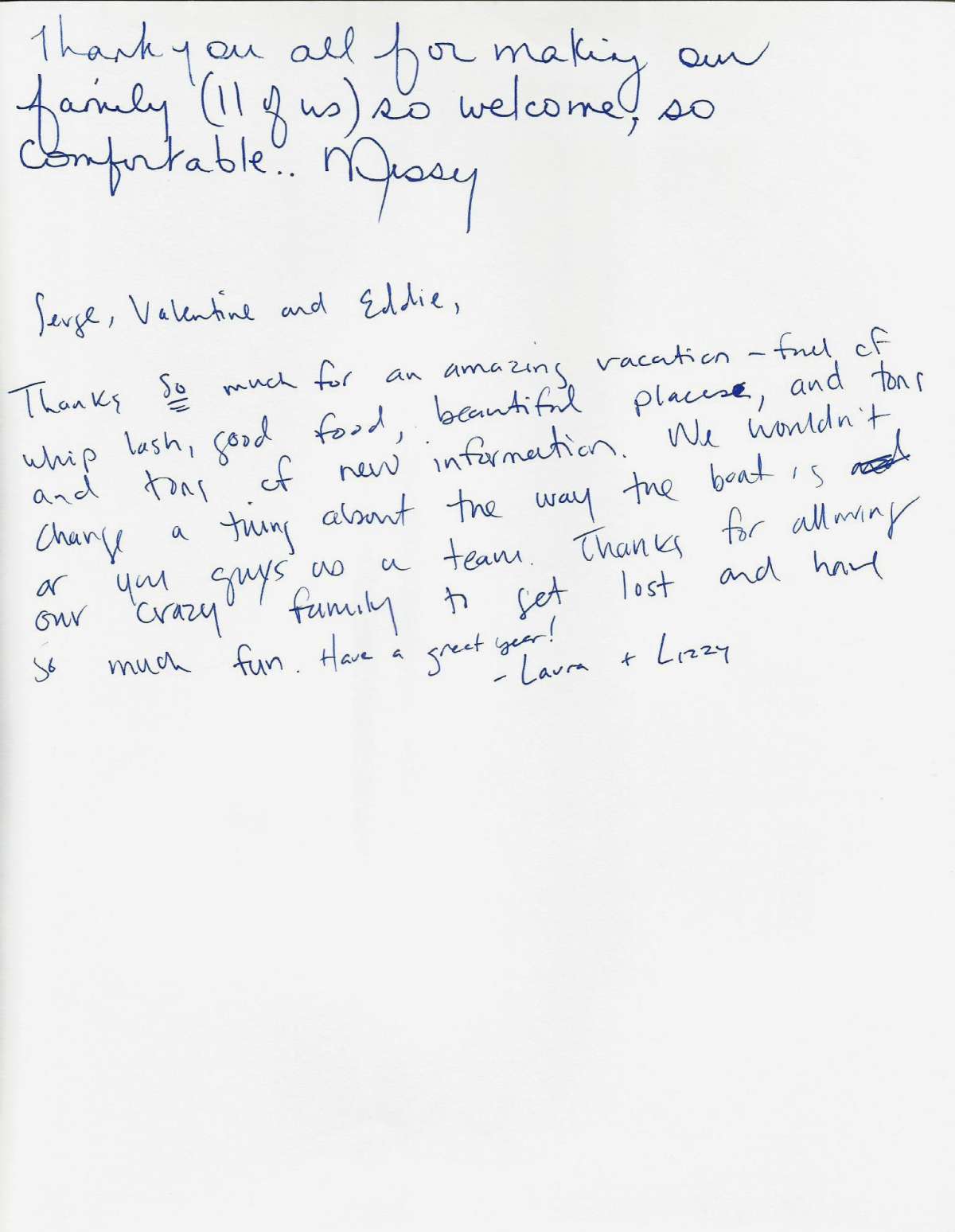 Cruise 25.01.2018
Cruise Tortola - Tortola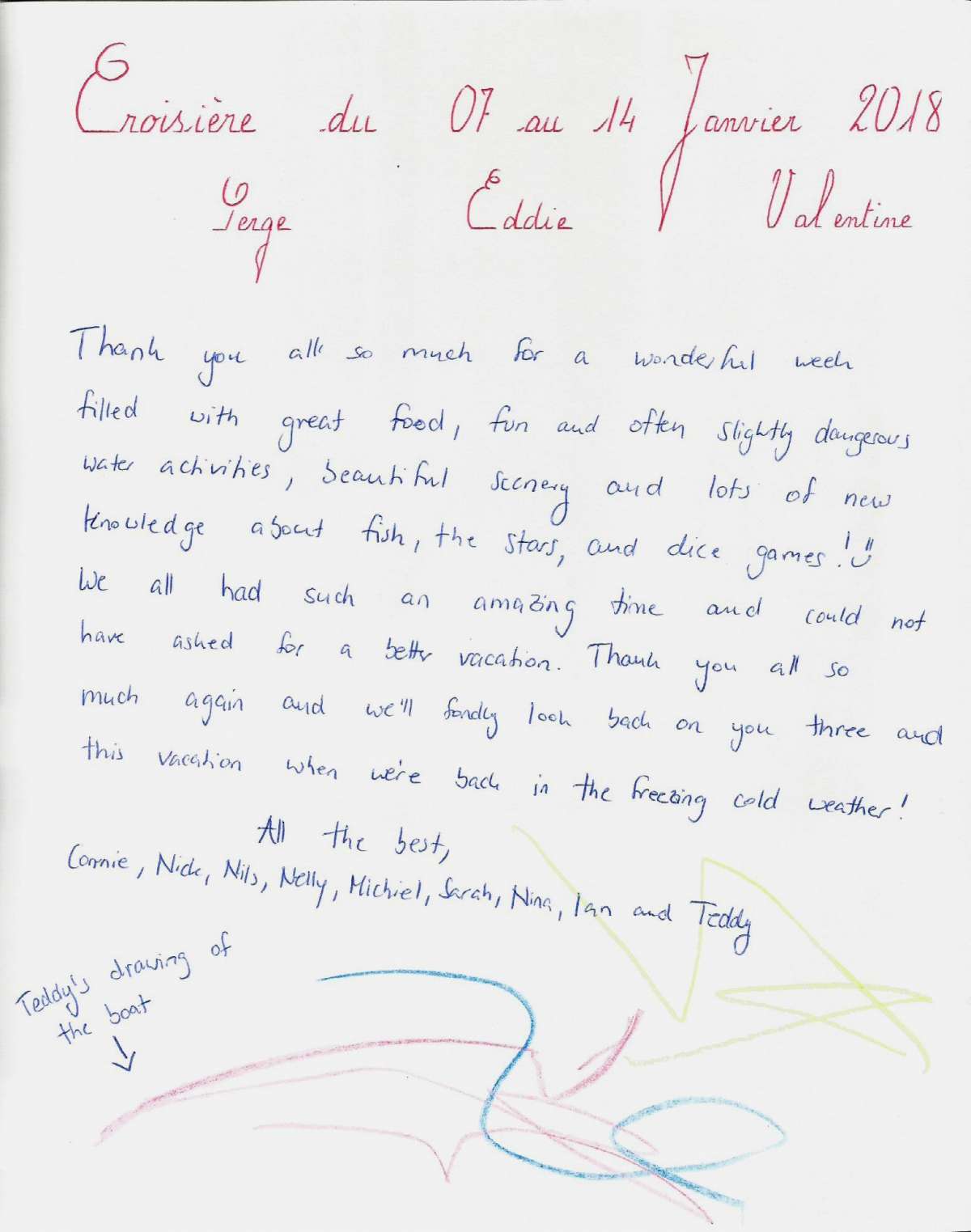 Wonderful Week -January 2018
Thank you all so much for a wonderful week filled with great food, fun water activities, beautiful scenery and lots of new knowledge about fish, the starts, and dice games!!
We all had such an amazing time and could not have asked for a better vacation. Thank you all so much again and we'll fondly look back on you three and this vacation when we're back in the freezing cold weather.
All the Best, Connie, Nick, Nils, Nelly, Michael, Sarah, Nina, Ian and Teddy
Cruise March 2nd - 9th
Antigua - Antigua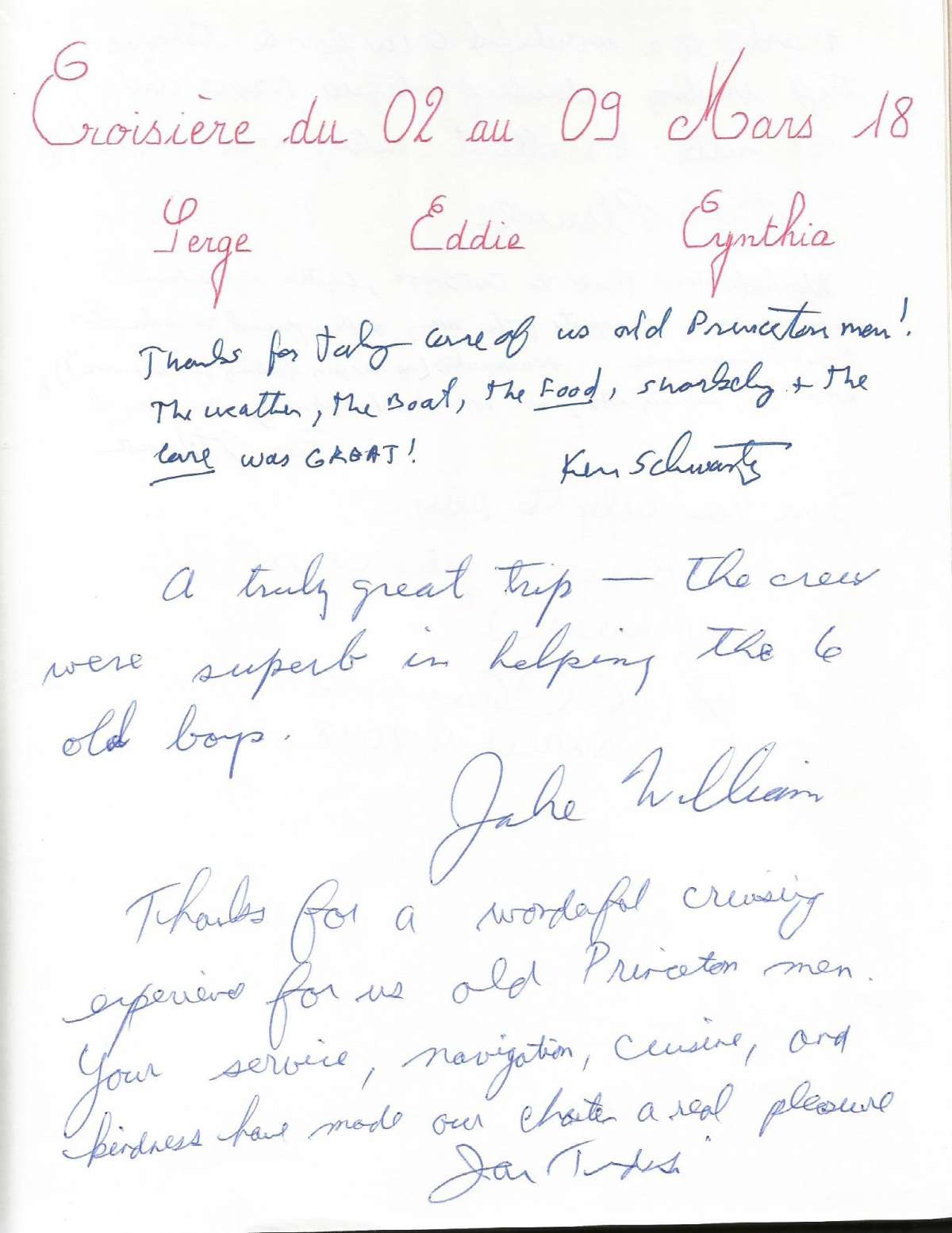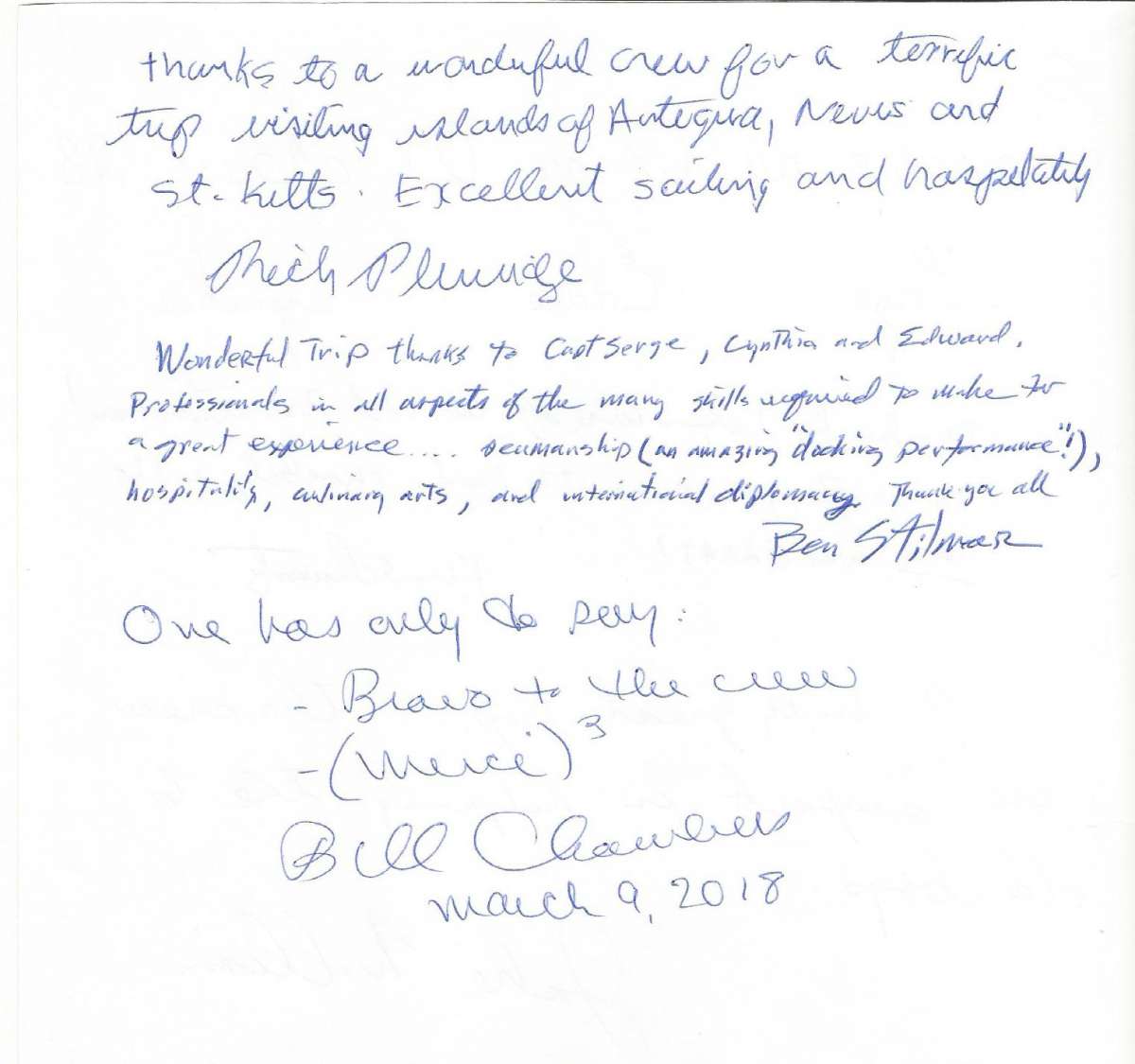 March 19-26th 2018
Cruise Tortola - Tortola

"What a wonderful tripulation and boat ! I had a great time here. Thank you so much especially Serge who changed my life pushing me to go to see the plancton at night"
"Love this team"
"Thank you to Serge, Eddie and Sylvie for an amazing week ! Best food in the 7 seas"
"thanks for a great cruise, see you next time"
March 31st - April 7th 2018 - BVI
"The trip was wonderful. I will never forget it. Thank you so much"
"I have loved every bit of this trip. The memories will last for ever. Thank you"
"Muse has been a wonderful home away from home this week. Thank you crew for the amazing hospitality and services, it was all so great"
"the meals were great, crew you have become part of our family this week"
April 13th - 20th Cruise Martinique - Martinique
Une semaine de rêve dans un cadre idyllique avec une Dream Team aux petits soins. Que demander de plus si ce n'est de revenir ? Merci à toute l'équipe ! Yann

Du rêve, une ambiance très agréable et un équipage parfait. Merci à Eddie, Sylvie et au "captain" ! Boris

April 28th - May 5th Cruise Tortola - Tortola
Thank you for an awesome and enjoyable trip.
Sailing on Muse was on of the best holidays ever. The crew was amazing and without them it would not have been the same
Thank you for a fabulous holidays, we all had a wonderful time with a great crew and chef Eddie !
July 16th - 23rd 2018 - Cruise Bonifacio / Olbia
"Beautiful week in these magic waters ! Thank you Captain, Sylvie and Eddie, everything was lovely, I enjoy it all the way"
"Thank you very much Serge, Eddie and Sylvie for an unforgettable week, we've had a wonderful time on board the Muse exploring this amazing sea. The food was incredible, Serge was so friendly and Sylvie simply wonderful ! Hope to meet someday again soon"
"Since I got to the boat I felt very welcoming, all the services and nice treatment felt like we were friends. I had an amazing time here. All I have to say is thank you very much for everything ! Best crew ever !"
August 6-13 2018 / Bonifacio - Olbia
"Thank you very much to the full crew ! We have enjoyed a wonderful and amazing cruise all accross the week. We strongly appreciate the dedication and care you have devoted to our family.
We hope to come back again.
Best wishes to you all"
August 17th - 25th 2018 / Corsica - Sardinia
"Fantastique semaines, fantastique Corse, fantastique équipe. Merci Serge pour toute ta volonté pour nous faire plaisir. Merci Sylvie pour ton savoir-faire et de nous faire rien faire.Merci Eddie pour tous les délicieux plats si joliment présentés.
A la prochaine, au Portugal, aux Antilles ... A tout à l'heure !!"

"Thank you so much for making us feel at home for the past days. Everything was perfect, from the view to the food and the company ! It was an amazing experience to remember and hopefully repeat !"

OBRIGADA A TODS E UN BEIJINHO
July 28th - August 4th 2018 - Ajaccio / Ajaccio
Tout était formidable, une croisière de rêve, des paysages formidables, des grandes découvertes (étoiles) et une équipe extraordinaire !
Merci pour tous ces moments de bonheur et de grande détente !
On repart avec vous sans hésitation !
BVI - December 27th 2018 - January 3rd 2019
Cruise Tortola - Tortola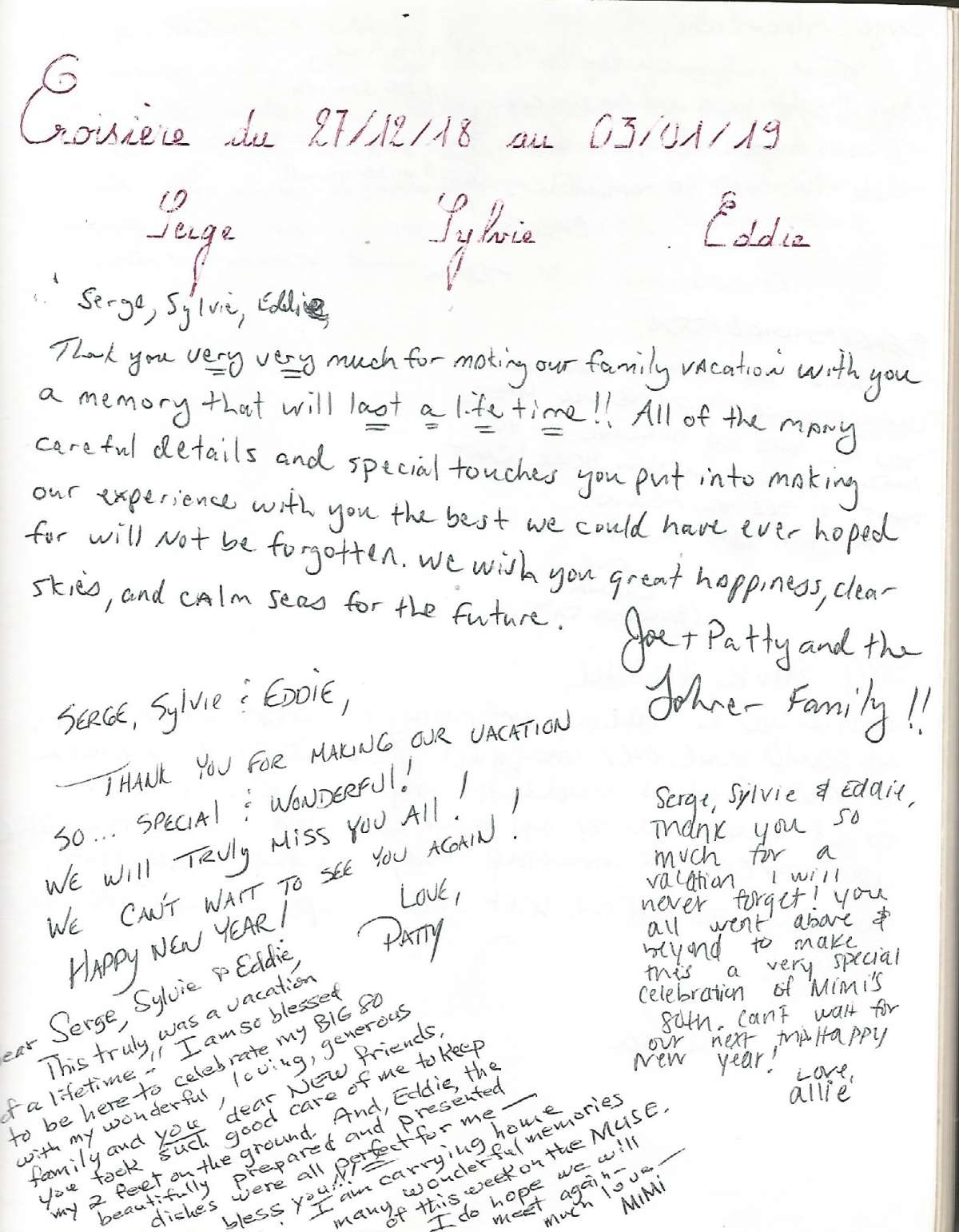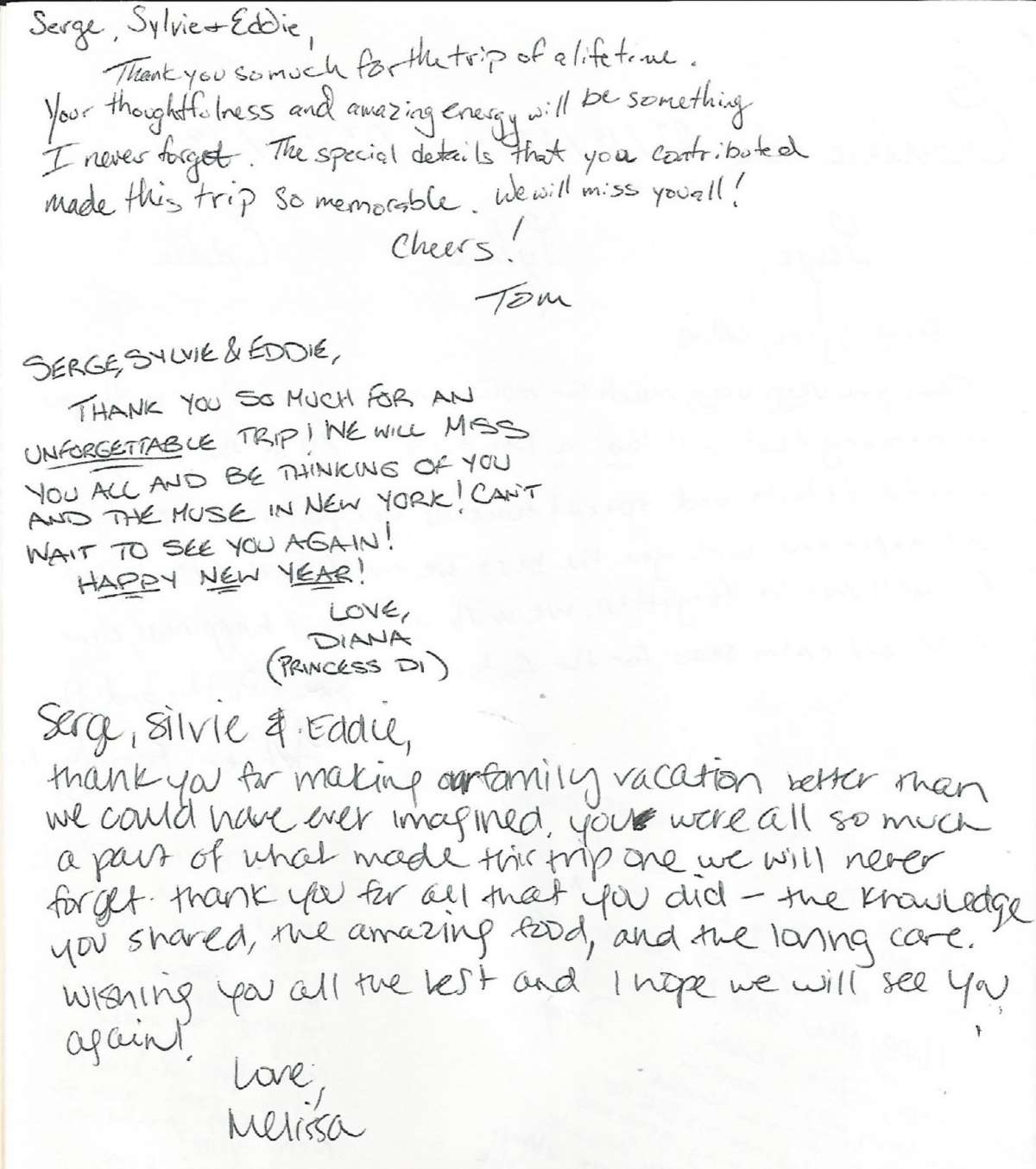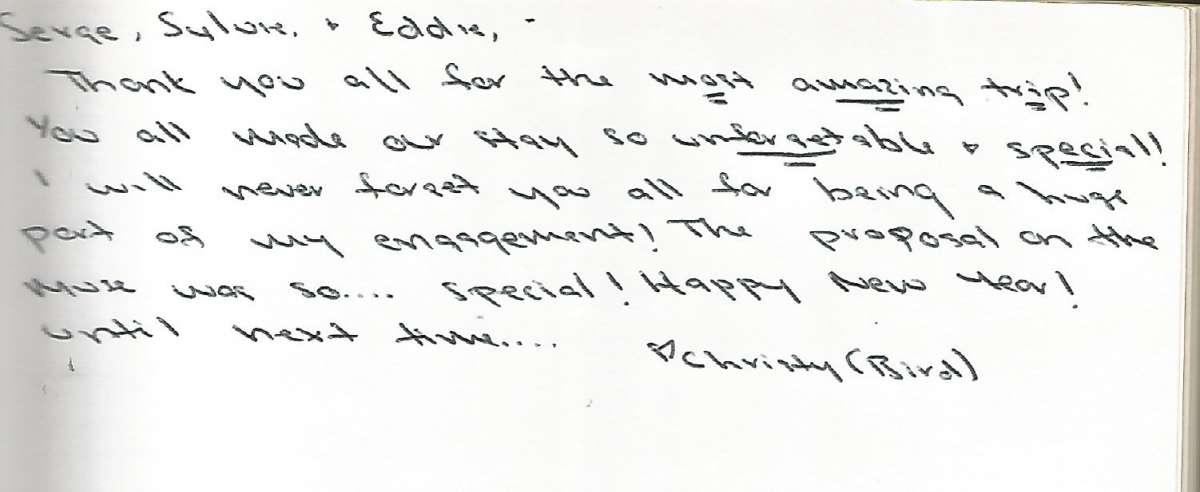 BVI - January 6th -13th 2019
Dear Serge and Team
Thank you very much for our cruise ! We never forget our best sea time !
You are the best crew we ever met
Thank you for all you did for us !
Best wishes and good luck


Awesome, Awesome, Awesome...
I had an amazing time with a special crew! Best charter ever! Food was incredible!
Eddie outstanding cook!
Sylvie fun and very attentive to each detail!
Serge super captain, knows available about sailing and stars!


Amazing trip! Lovely places and friendly few. A the end we feel that we want to stay longer with the Muse Family - Eddie

St Martin - January 2019
Feb 15th - 22nd 2019 / Guadeloupe - Martinique cruise
Super vacances avec Serge, Eddie et Sylvie !
Good food, fine wines and a lot of fun with my beautiful family. What else ?
Feb 26th - March 9th / Cruise Martinique - Martinique
"tout était parfait, une semaine magnifique, éducative avec une ambiance géniale. Bravo et merci pour tout"
"Voyage très réussi grâce à une excellent équipe, souriante et efficace, bravo!"
"Voyage inoubliable"
"Voyage de rêve avec un équipage au top, aucune envie de quitter Muse et son équipage!"
A. Bieutot
Thank you to all three for making this such a memorable trip of a life time. I'll never for it. Thank you for you kindness and hospitality for all your education It was truly a memorable trip.
Capone
To Muse,
Great trip! The captain and crew were wonderful. The Muse a an extremely comfortable boat and my first BVI vacation was perfect.
Dennis Griapponl
This trip was one of the best experiences of my life. Muse is a beautiful boat and our crew was extremely knowledgeable, skilled, and pleasant... and the food was exquisite. I hope to be able to do this again.
April 13th - 20th / Cruise St Marteen - Caribbean
"Thank you Serge, Eddie & Sylvie for making this trip so wonderful. We had a really good time and enjoyed it a lot. Everything was perfect ! Hope to see you soon. Abnil"
"Thank you for all the good food , smiles & attentions . Rocio"
"Thank you Sylvie, Eddie & Serge for such a beautiful trip. You took us to the moon. Everything was amazing, we will always remember you. Sol"