CREW PROFILES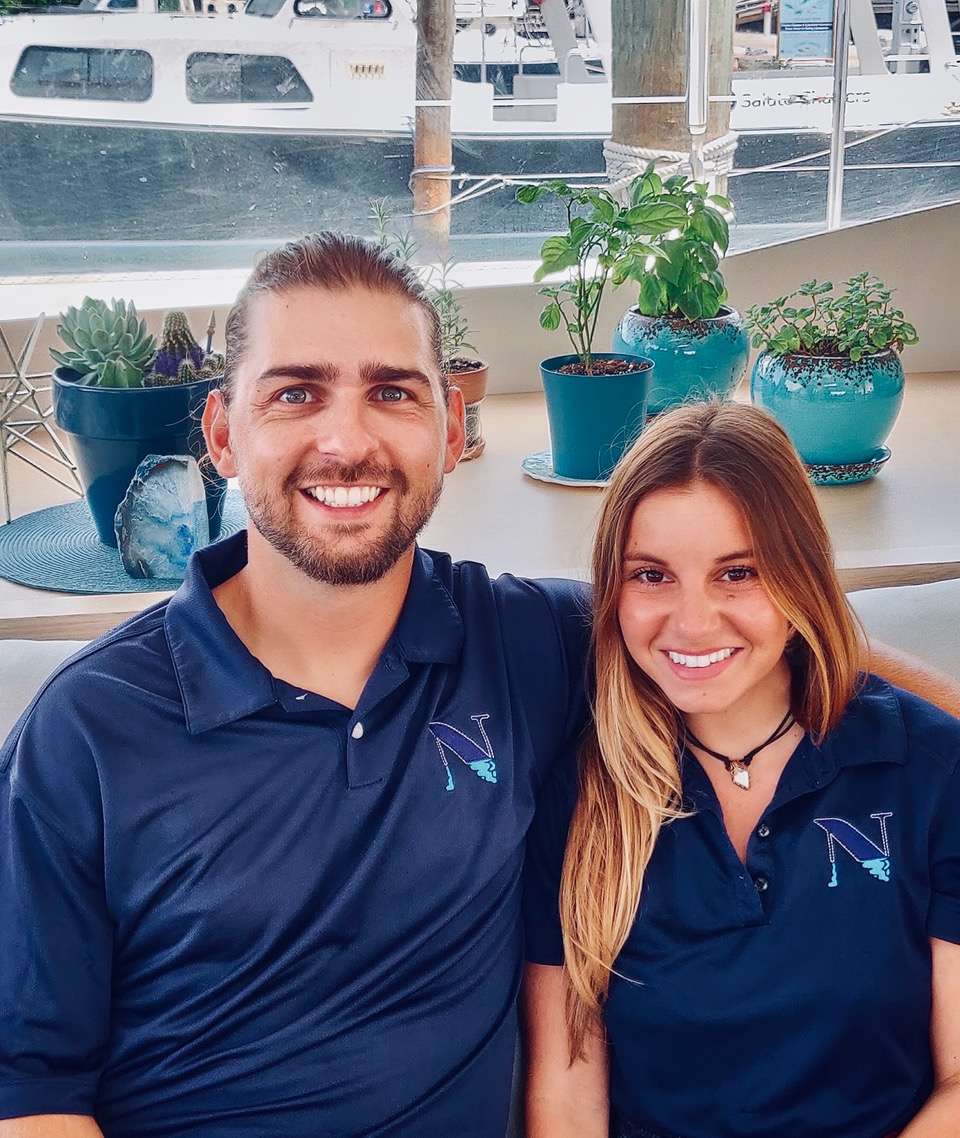 Title
Name
Nation
Born
Licenses
Captain
Jacob Beman
USA
1989
RYA/MCA Yachtmaster
Chef/Hostess
Christina Astuto
USA
1988
STCW
Number of Crew: 2
Languages: English
Crew Profiles:
JACOB & CHRISTINA - CREW STARTING NOVEMBER 2019

Captain Jacob:
Originally from Chicago, Jacob moved to the west coast in 2010 where he discovered his love for sailing. A single day trip in San Diego had him hooked and pretty soon he was chartering and eventually purchasing his first sailboat in 2014. In 2017 after spending several years sailing the coast of California and Mexico he quit his job as a hospitality manager and decided to pursue a full time career on the water.

Over the last two years Jacob has spent the summer season in the Med working charters for everyone from honeymoon couples to giant flotillas of nearly 200 yachts! During the winter season of 2018 he moved to Australia to sail charters in New South Wales for the summer down under. When it warmed up in the north he returned to sail California and Mexico once again along with the Abaco's islands in the Bahamas. Since making the Virgin Islands his home he has explored the hidden gems and tourist hot spots to provide the trip of a lifetime for any guest.

Always pursuing additional knowledge, Jacob has spent his time gaining experience on vessels ranging from 25 ft race boats to 85 ft luxury cruisers. Whether it's a mono hull or catamaran; big or small; as long as it's sailing the ocean blue it's the right boat.

Chef Christina:
A true New Yorker born and raised in Staten Island from two parents who grew up in Brooklyn, Christina prides herself on her personality and respectful family values. She believes this is what has shaped her personality which has been the foundation for her life. As an Italian American, food has always been an important part of her life. She believes there is no better way to spread love than with a home cooked meal, some great wine, and really good company.

After graduating with a Masters Degree in Special Education, Christina worked as a preschool teacher in the greater New York area for over 5 years. It wasn't until she took a trip to South Africa to teach English did she realize that her passion for travel, culture, and exploration exceeded her expectations. It was then that she realized she was settling for a comfortable life which she was good at, but ultimately it did not feed her soul.
Unexpected events, call it serendipitous or not, have brought her to the sea and she could not have been more grateful. She has worked two seasons as a chef in destinations such as Greece, Croatia, and Montenegro. She has worked on a variety of different sailboats which allowed her to really grow her passion for sailing.

As a chef Christina likes to keep her meals as healthy and tasty as possible. To her, flavor is most important and shouldn't be compromised. Christina likes to cook with the best ingredients she can find, and believes freshness is key. Her cuisine is very exploratory in that she likes to use a variety of flavors, spices, and herbs rather than stick to one specifically. Christina believes people should have a cultural culinary experience when they are eating. She wants you to remember your sailing experience from that moment you see the breathtaking morning sunrise over the horizon to the smell of roasted chicken coming fresh out of the boat's oven. She truly believes that sailing is an experience for your senses and she's fully on board to give the best experience she possibly can.


MARCUS & SARA - Crew through July 2019

Captain Marcus has lived on all of the US Virgin Islands: St Croix, St John and St Thomas and has been entertaining island visitors here for the past eight years. On St. Croix he worked in the service industry as well as running various day sail boats as first mate and then as Captain. After delivering a yacht to Portugal he spent the summer of 2014 skippering charter yachts in the Mediterranean. Marcus holds a USCG 100ton Masters License and a STCW95.

Chef Sara hails from the farmlands of North Dakota. Although her former years were spent on a landlocked farm, she spent all her summer weekends at her family's lake cabin in Northern Minnesota and fell completely in love with being on the water. She decided to turn her passion into reality and leave her career in sales to live a life at sea – trading in miles of pounding the pavement for miles of exploring the open ocean.

Sara has traveled all over Europe inspiring her throughout her new life. She has worked as chef and first mate on many different yachts in Greece, Croatia, the Bahamas, and Italy (Sardinia & Corsica). Eventually she made her way to the beautiful crystal blue waters of the Virgin Islands this past winter. She's so grateful for her travels and experience around Europe, but is truly thrilled to call Neverland and the Virgin Islands her new home.

The summer of summer 2018 Sara took a French, Cuban and Classic American cuisine course at the Institute of Culinary Education in NY City.

She loves cooking almost as much as she loves eating. Her farm roots inspire her made from scratch recipes and her work ethic is demonstrated by her enthusiasm in the galley.

Marcus and Sara are thrilled to be aboard the beautiful Neverland. They look forward to welcoming guests to the island paradise they have come to call home and showing guests the time of their lives.

(305) 926-8457 / (305) 858-2822
Cruzan Yacht Charters has been providing bareboat, crewed, luxury and party yacht charters in South Florida, the Florida Keys, the Bahamas, the Caribbean, New England and many other worldwide locations since 1980. Whatever the occasion may be - sailing, snorkeling, deep sea fishing, dinner cruises, corporate meetings, wedding parties, honeymoons, or a romantic moonlight cruise for two - we will be glad to arrange the perfect yacht charter for you.
http://www.cruzan.com
charters@cruzan.com