CREW PROFILES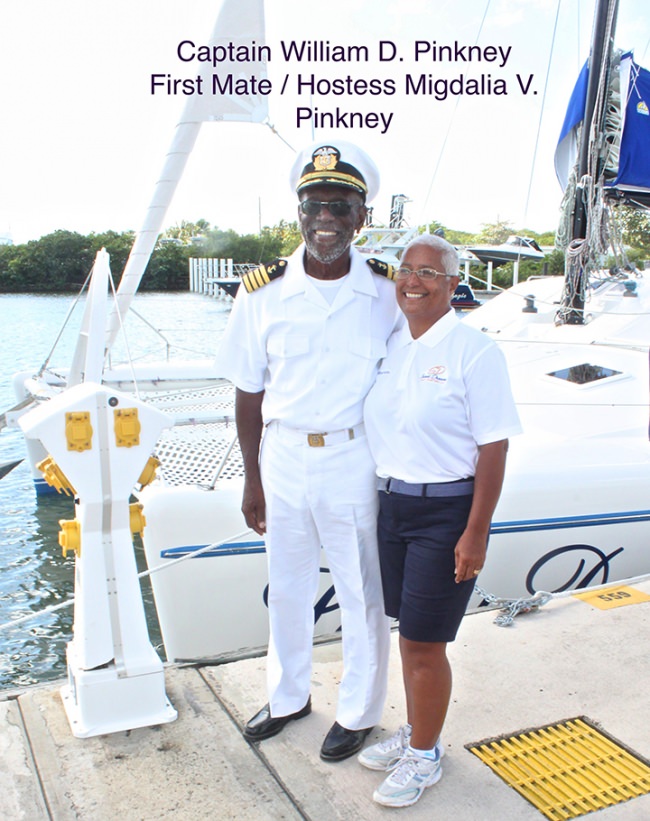 Title
Name
Nation
Born
Licenses
Captain
Bill D. Pinkney
US
1935
150 Ton USCG Masters
Migdalia Pinkney
US
1960
Number of Crew: 2
Languages: English and Spanish
Crew Profiles:
Captain William "Bill" Pinkney was born and grew up in Chicago. Migdalia Vachier Pinkney was born in Fajardo, PR. From very different cultures and backgrounds they found themselves kindred souls upon meeting in Connecticut where Bill was Master of the Schooner Amistad and Migdalia was on Staff at Wesleyan University. When they married their plan was to return to Puerto Rico where Bill was stationed in the Navy and lived for three years after his discharge. The warm breezes, beautiful beaches, and great atmosphere of the Caribbean culture drew them "home". Restless, they found work in and about boats and the dream of sharing their experience and love of the Island was spawned. They have sailed the BVI yearly for seventeen years and have a treasure of experiences to share with their guests.

Captain:
Sailor, Author, Lecturer Captain William "Bill" Pinkney is the first Black man of any nation to solo circumnavigate the earth via the Southern Ocean and Cape Horn. A sailor for nearly fifty years, Captain Bill started his nautical career in the Great Lakes. He is Master Emeritus of the Freedom Schooner Amistad the reproduction of the ship that spurred the Nations first Human Rights Case in the Supreme Court. "Bill" wrote a children's book "Captain Bill Pinkney's Journey, a collection for young scholars" which was published by McCraw Hill and is on their 1st grade reading curriculum. A gifted raconteur, his stories of the sea, his corporate years with Revlon and stint as a limbo dancer are sure to amuse enlighten and entertain. Honored by Presidents, academia and media alike he is a true renaissance man.

First Mate/Cook:
Migdalia Vachier Pinkney retired from Wesleyan University, CT after eighteen years where she was staff in the Financial Aid office and the Center for Community Partnerships. Returning to her birthplace of Fajardo Puerto Rico she found a love for the sea and sharing her knowledge of Caribbean culture. Many years of collecting recipes gives her a wealth of mouth watering meals to share with her guests during their sailing vacation. Migdalia has completed a culinary course at the legendary Biltmore Hotel in Florida.

"Bill" and Migdalia love children and families are very welcome.

(305) 926-8457 / (305) 858-2822
Cruzan Yacht Charters has been providing bareboat, crewed, luxury and party yacht charters in South Florida, the Florida Keys, the Bahamas, the Caribbean, New England and many other worldwide locations since 1980. Whatever the occasion may be - sailing, snorkeling, deep sea fishing, dinner cruises, corporate meetings, wedding parties, honeymoons, or a romantic moonlight cruise for two - we will be glad to arrange the perfect yacht charter for you.
http://www.cruzan.com
charters@cruzan.com