JET STREAM SAMPLE MENU
MENU AVAILABLE ON FULLY-CREWED CHARTERS ONLY 1-4 GUESTS:
As Ann is a professional chef, meals are a very special part of your holiday aboard Jet Stream IF you are selecting the Fully-crewed option. Every meal is as beautiful as it is delicious. No two menus are the same - they are planned and executed with your preferences in mind.
Breakfast
CONTINENTAL: Fresh Fruit - chilled pure fruit juice - Tropical Smoothies served with Freshly Ground Coffee - Indian, China or Herb Tea - Iced Coffee - Parisienne Hot Chocolate, A Selection of breads, croissants, muffins, scones, doughnuts, bagels and sweetbreads 
FULL ENGLISH or AMERICAN: this includes your choice from the continental selection plus more substantial fare which might on occasion be enjoyed sas Brunch.
Home Baked Virginia Ham, Scrambled Eggs, Rosti Potatoes

Field Mushroom Cobbler with English Pork Sausages

Smoked Fish Soufflé and Crisp Home Fries

Scallop and Bacon kebabs with Foaming Hollandaise

Pumpkin Waffles with Strawberry Maple Syrup

Banana Walnut Pancakes with Rum Butterscotch Sauce

Cherry Blintzes

Apple Mango Crisp

s
Lunch
Chargrilled sliced sirloin steak and gorganzola cheese on toasted rye bread with salad leaves and fresh tomato and olive relish

A warm salad of roasted fresh local chicken, baby potatoes and French bread in a sherry vinegar and mint dressing

Terrine of Duck with green peppercorns served with a salad of wilted endive and orange

Homemade poppardelle pasta with portabellos, spinach and pine nuts

Provençal seafood salad with aiõli

Calamari ceviche with Greek salad
 Dinner
Consommé of wild mushrooms, Arugla salad with figs, walnuts and blue cheese, Chargrilled Fillet Mignon Bernaise with shoestring "pomme frites"

Chilled tomato, roasted garlic, & basil soup, Gravlax on a sweet onion tart, Three mustard Stroganoff  of Pork Tenderloin with sauté of bell peppers in sage butter and timbales of Pomes Anna

Warm Crab Pancakes, Roasted pumpkin and coconut Soup, Roast Rack of Spring Lamb with rosemary and Madeira spiked gravy, Moroccan couscous and ratatouille

Roast Dates with smoked ham, Coquille St. Jacques, Twice cooked duck served with its own juices seasoned with thyme and port, whole wheat crêpes stuffed with olives, anchovies & Tomatoes

Cornets of goat cheese and sundried tomato, Vichyssoise, Pan seared Mahi Mahi served atop garlic mash drizzled with saffron and roasted red pepper sauces

Parmesan cheese soufflé, Spinach and mushroom salad with balsamic vinegar and truffle oil, Rum and soy glazed yellow fin Tuna over a rice noodle and cilantro slad with fiery mango-papya salsa
 Dessert
Profiteroles with chocolate sauce

Hazelnut Meringues and Apricot Coulis

Bavarian Apple Tarte

Sticky Toffee Pudding

White Chocolate Cheesecake with Caramel Bananas

Raspberry

 Syllabub

Peaches in Champagne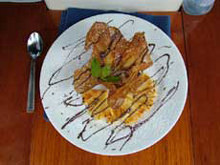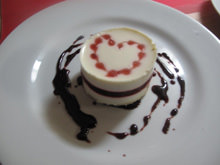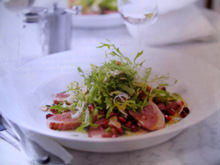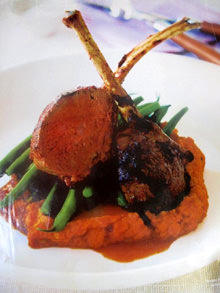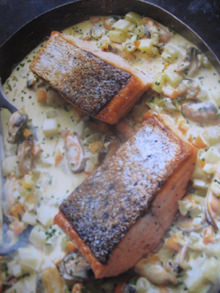 (305) 926-8457 / (305) 858-2822
Cruzan Yacht Charters has been providing bareboat, crewed, luxury and party yacht charters in South Florida, the Florida Keys, the Bahamas, the Caribbean, New England and many other worldwide locations since 1980. Whatever the occasion may be - sailing, snorkeling, deep sea fishing, dinner cruises, corporate meetings, wedding parties, honeymoons, or a romantic moonlight cruise for two - we will be glad to arrange the perfect yacht charter for you.
http://www.cruzan.com
charters@cruzan.com