po box 295, Belmont, Bequia, St Vincent, 00000, St. Vincent and the Grenadines
1784 526 8554
http://www.grenadines.net
http://www.islandtimeholidays.com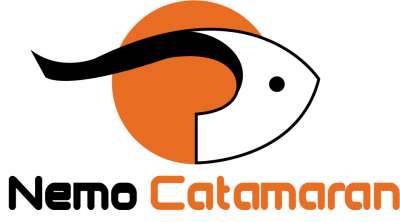 CREW PROFILES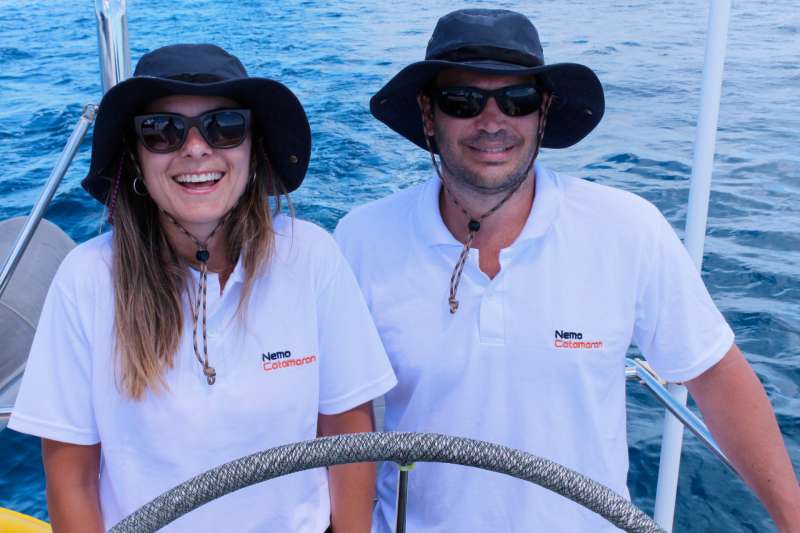 Title
Name
Nation
Born
Licenses
Captain
Andrea Aliverti
Italian
1971
BVI / Italian Captain License, STCW, Advanced Diver, RTF
Chef
Roma Stopforth
USA
0
Number of Crew: 2
Languages: Italian, English, and Spanish
Crew Profiles:
CAPTAIN ANDREA ALIVERTI

Captain Andrea grew up on the dramatically beautiful shores of Lake Como in Lombardy, Italy. His love of sailing began by racing smaller boats for fun; J24, Asso 99, and B25. His commitment strengthened when he became a sailing instructor for the Italian Federation, teaching adult classes on First 40.7 and B25 Beneteau, J24 and SunFast 35 Jeanneau. He went on to launch his own sailing association, and realized he much preferred this second job to his land-based career. In 2009, he purchased NEMO and set sail. He chartered throughout Greece and the Caribbean, his favorite destinations.

Since 2009, Andrea has achieved numerous yachting licenses and certificates. However, he is most proud of his innovations to NEMO that have won several "Going Green to Save the Blue" project awards. This crusade encourages the yachting industry to implement green initiatives. He explains, "I have engineering skills and a strong interest in environmentally friendly projects. NEMO was conceived and designed to be eco-friendly and self-sufficient. Nowadays, any design brief of mine for future upgrades is always driven by the goal to protect nature, marine life and the environment."

When Captain Andrea has time, he likes to cook and prepare his own liquors, especially Limoncello, that of course is sampled during every charter. It's one of the many ways he likes to teach people the best of Italian traditions, and one of the many reasons guests become fast friends, almost immediately. He says, "My Italian blood means a very warm, open and welcoming character. I enjoy sharing the sailing experience with my guests, getting to know them and often building strong and long-lasting friendships. They feel like part of my family, I love to share my passion for the sea, nature, food, wine, sailing stories and more. I think that is the secret key to NEMO's successful charter history."

CHEF ROMA WENDY STOPFORTH

Roma is driven by two great passions, friendships and cooking, which is the perfect paring for a top charter yacht chef. She cares for guests as she would her best friends. When it comes to menu planning, every day is a scrumptious holiday, even for those with dietary restrictions.

Roma has worked on charter yachts all over the world and picked up wonderful recipes and techniques during her travels. She prepares a wide range of dishes to suit guest preferences; from comfort food to new and exciting dishes that guests will enjoy. Her formal training at Seasons Cookery School provided the basics, but her creativity has long since taken over the menu.

A talented and experienced business woman, Roma has been the Owner of several successful restaurants. But being a yacht chef is what makes her the happiest. When she not in the galley preparing something amazing, or lending a hand on deck, she loves to be making a splash, above and below the waterline.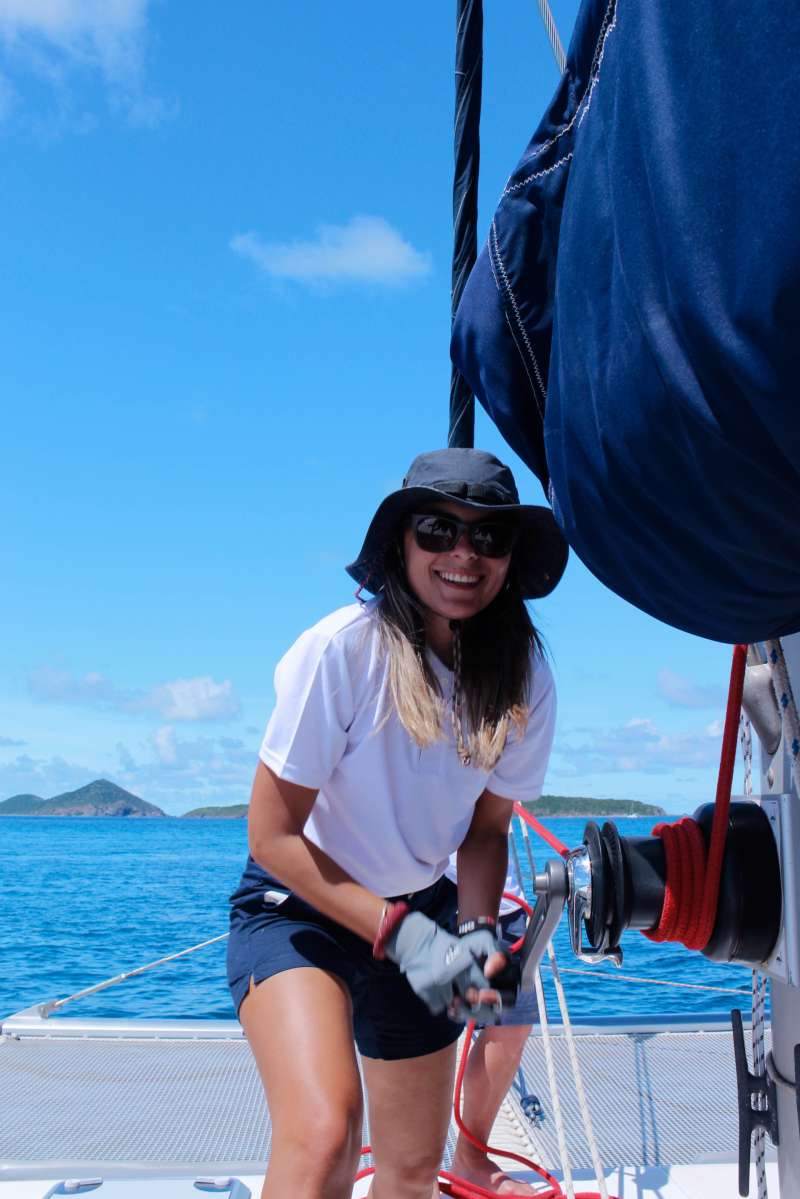 Captain Andrea
---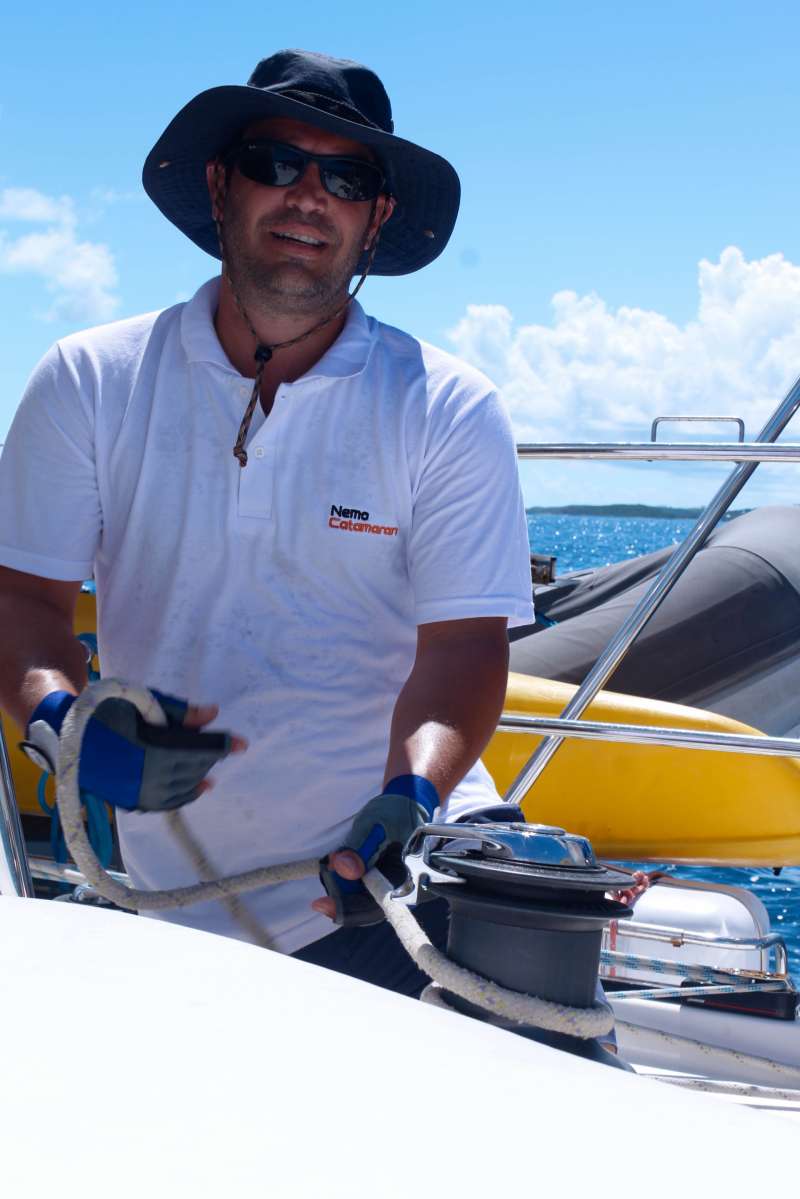 Andrea fishing on NEMO
Captain
---
Roma Stopforth
Chef
---
Andrea
Captain
---