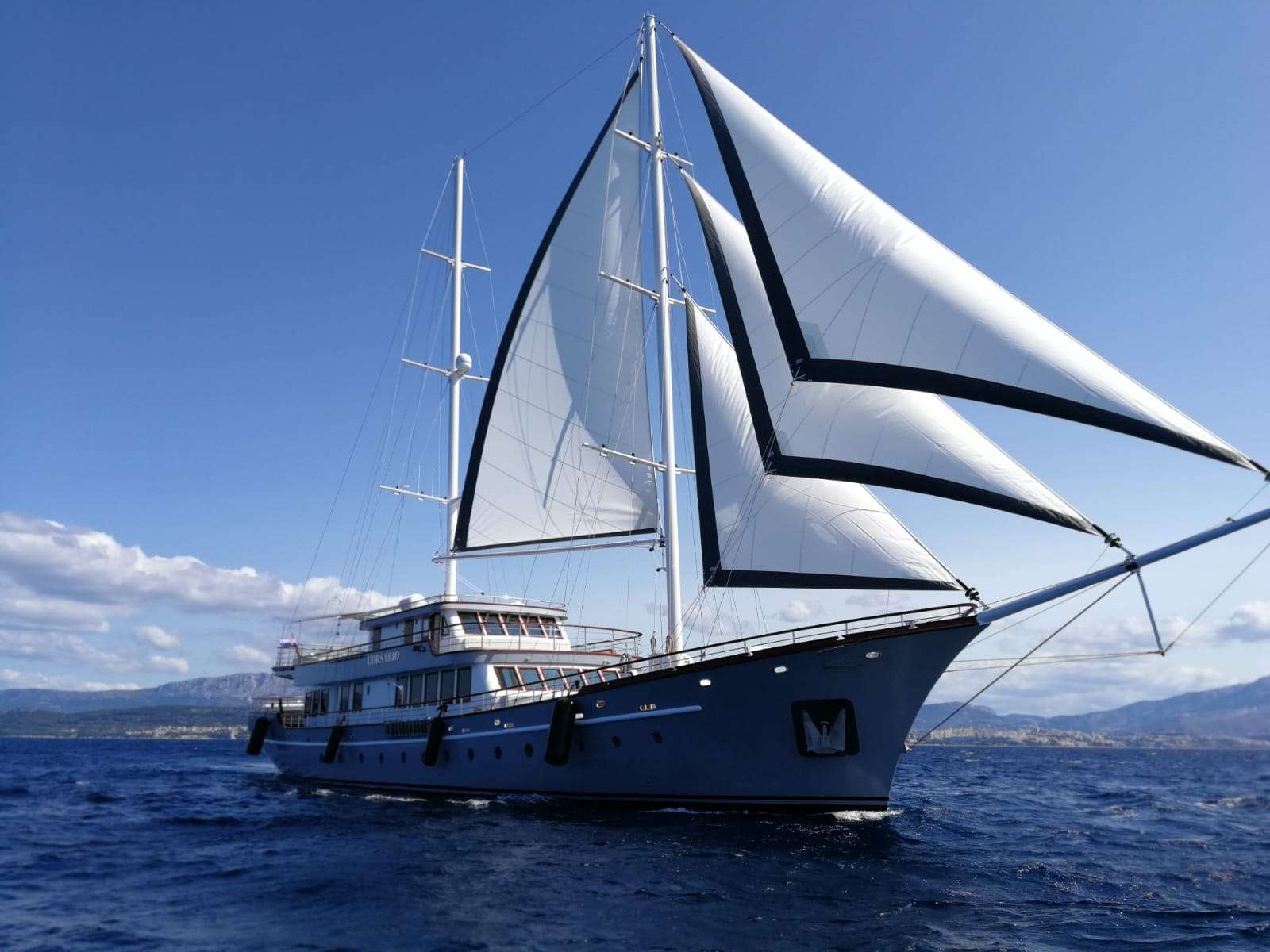 Magnificent newly built luxury yacht CORSARIO is ready for the charter season 2019. This spectacular 48m long and 8,7m wide sailing yacht provides accommodation for up to 12 guests in 6 double-bed, luxury en-suite cabins.
Name Corsario (Spanish word for "Pirate") was chosen to remind that your holiday is more than number of days available to be spent in another destination, that your senses strive for more than "That was lovely". From the first line drown on the paper, Corsario was a concept; compilation of goals, strategies and measures for implementing a larger and therefore strategically planned project.
So, Corsario had to implement elegance, luxury, impeccable service, quality of materials, design, atmosphere, amenities, water toys, audio system, jacuzzi, sunbathing area, main deck, sun deck (well, all that any yacht of that level has) and finally – fun.
Because fun is what it's all about. Enjoying, chilling, soaking up the sun while sailing along Adriatic coast is lovely. Having fun at the same time makes all the difference.
As truth Pirate – Corsario is here to provide feeling of being entitled to take the most of what the opportunity allows. Combination of exterior inspired by a traditional tall ship and modern, elegant interior are designed to provide luxury, elegance and above all precious moments.
Main idea of the creators /owners of SY CORSARIO is; time is precious. There are many ways to spend time but sailing on CORSARIO is one way to save it.
Modern and elegant interior lines, beautiful cabins, comfortable spaces on decks and numerous amenities are perfect setting for extraordinary gourmet experience onboard and attention of highly professional and welcoming crew with incomparable knowledge of the area.

Side note: charter price of CORSARIO includes fuel and Croatian VAT.


Accommodations:
6 En-suite cabins for 12 guests: 1 Master cabin (32 m2) with king size bed, 1 Vip cabin (30 m2) with king size bed, 2 Cabins (18 m2) with queen size bed, 2 Cabins (17 m2) with 2 twin beds
Safe box in every cabin, Flatscreen TV in every cabin, WiFi & Interphone in every cabin, Surround system with separate controls in every cabin.